See by Year: 2013 2012 2011 2010 2009 2008 2007 2006 2005

Company News in 2011: Page 1 2 3
For the convenience of visitors, TravelChinaGuide plans to add a stripe at the bottom of each attraction page, with travel information on it for printing. The print version provides transportation details bilingually in Chinese and English. It is concise and easy to carry, and is especially useful for independent travelers and backpackers. With the print stripes, they can bridge the language barrier and easily get help from the local people.

At present, only the travel information to print for the attractions of Beijing, Shanghai, Xian, Guangzhou and Huangshan have been finished and are available for printing. All the city attractions will gradually have the print stripes.
For an example, see the print strip on the Forbidden City, Beijing.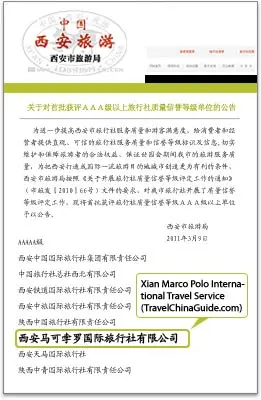 TravelChinaGuide.com honored
by Xian Tourism Bureau

As per the bulletin issued on March 15, 2011 by Xian Tourism Bureau, Xian Marco Polo International Travel Service Co., Ltd (brand name website TravelChinaGuide.com) ranks in the AAAAA grade, the highest level in the newly launched service quality and credit standing evaluation of all the travel agencies in Xian City.

The quality and credit grade estimation was conducted according to a government announcement, which aims to further improve the service quality level and customer satisfaction, and to provide a reliable and clear quality and credit grade mark and related information for tourists' reference. The evaluation is divided into five grades, A to AAAAA, from low to high. A list of travel services at or above AAA grade has been published first. Our company has the honor of being one among those in the top grade, together with another eighteen travel agencies. The original web address on the official website of Xian Tourism Bureau is for your reference (Chinese version only): http://www.xian-tourism.com/article/?type=detail&id=17295

The quality and credit grade estimation offers sound guarantee for better tourist environment during the upcoming International Horticultural Exposition 2011, Xian, and furthermore, it will do good to future Xian, a highly sought-after travel destination.

Once ratified by the Xian Tourism Bureau as one of the top ten travel agencies in Xian with an official recommendation letter, our company appreciates again the bestowed honor and endorsement. We will live to serve, as always with high quality service and give you an unforgettable China trip.

TravelChinaGuide.com has just finished updating its 'Photo Album'. The column has been given a brand new homepage showing latest photos and photo albums, featured and the most popular albums. Both TravelChinaGuide's guests and registered members can upload photos and create their own photo albums. In addition, it is possible to rate and comment on the photos and share photos with friends via email. Members can login and manage their photo albums in the 'Control Center' to use some privileged functions. They can edit, delete or move the photos (album), can set their photo albums 'Public (Everyone can see them)', 'Visible to Friends', 'Password Required' or 'Private (only you can see them)', can add watermarks to photos and can also decide whether to let other visitors post comments via 'Comment Settings'.

Please try our new 'Photo Album' and keep your memorable moments here.

To vividly present the tour itineraries combined with practicality, TravelChinaGuide has reworded all the tour descriptions. The newly adapted tour itineraries give noteworthy information on the attractions involved in each visiting day, as well as travel tips. Apart from the full version, every itinerary also has a brief schedule that sums up destinations, activities and meals arrangement each day in a straightforward way. Some itineraries are provided with virtual galleries where the highlight pictures are shown.

To see our newly adapted China Tours.

The 2011 Spring Festival Holiday begins on February 2 and ends on February 8. During the one-week national holiday, TravelChinaGuide will, as always, offer wholehearted 24/7 service to our customers. At the time, we kindly remind all that supermarkets, shopping centers and malls will remain open as usual with the exception of small businesses and some restaurants so there is no disruption in your travel schedule.

Each year, TravelChinaGuide staff enjoys celebrating the accomplishment made over the year and praying all together for a good year coming up next. The 2011 annual dinner banquet was hosted at 17: 00 in a nice restaurant serving authentic local dishes. Our manager proceeded with a speech first with a vote of thanks to the company staff who make us a success. Reviewing the past year, he encouraged the entire staff team to be confident that we can get rid of the influence of economic recession, make constant progress and offer better service to our customers in the future. The awards ceremony came next for model staff members who were picked from each department. The manager and the chief leaders gave them prizes and certificates to praise their outstanding jobs. A sumptuous banquet follows after some funny games which made the atmosphere more amicable. During the dinner, staff members toasted and gave their blessings to each for the New Year. The company get-together began happily and ended in cheerfulness in a couple of hours.

| | |
| --- | --- |
| Our staff with God of Wealth | Awarding Ceremony of TravelChinaGuide |

Photo Gallery of 2011 New Year Banquet
For the convenience of guests, TravelChinaGuide has just opened up a new booking platform for China Airport Transfer Service. Now you don't have to worry about means of transportation to take after arriving in the destination airport. With our chauffeur driver service, you can avoid unnecessary troubles and just be ready to embark on a happy and easy journey!
There is a Pick-up Transfer, See-off Transfer and Pick-up-See-off Transfer for you to choose from. Airport transfer booking in TravelChinaGuide.com is very easy. Visit the website and enter China Flights. You can handle your flights and airport transfer booking at the same location.

Company News in 2011: Page 1 2 3