Ngong Ping 360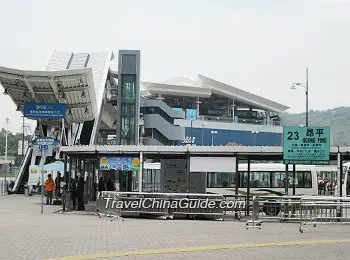 Ngoing Ping 360 Cable Car Station

Ngong Ping 360 is one of Hong Kong's must-see attractions. Located on Lantau Island, it includes an incredible cable car journey and the culturally themed Ngong Ping Village.



Cable Car Cabins & Services
Ngong Ping 360 Cable Car System is owned by Hong Kong MTR Corporation, the operator of Hong Kong's rail system. The system has 112 cabins, each of which has a modern design with seating for ten and standing room for another seven. It also incorporates features to meet the needs of disabled passengers, including the elderly and wheelchair users. The system can move 3,500 people per hour in each direction. Two levels of service are offered—standard cabins and crystal cabins. The crystal cabins are distinguished by their glass bottoms and tickets are charged at a premium rate. Both sets of cabins circulate on the same ropeway with passengers being segregated by queuing systems at both termini.



Cable Car Route & Scenery
Ngong Ping Cable Car is a spectacular 5.7km bi-cable ropeway linking Tung Chung (connected to the MTR Tung Chung station) and Ngong Ping (where the Po Lin Monastery and Tian Tan Buddha are located). As the first of its kind in Hong Kong, the cable car journey starts from Tung Chung Terminal, runs across Tung Chung Bay to a station of Airport Island where it turns about 60 degrees toward North Lantau. The total journey time is between 24 to 30 minutes depending on the weather. It saves up to forty minutes' time over the New Lantau Bus Line 23 that traversed a tortuous mountain road to get to Ngong Ping. Passengers enjoy some spectacular views during the fun-filled ride, viz., the vast South China Sea; the rolling grasslands of North Lantau County Park; the hustle and bustle of the city and Lantau's famous natural landscapes. Eyes can also feast on panoramic views of the vibrant Hong Kong International Airport; the Tian Tan Buddha Statue and the Ngong Ping Plateau. The number "360" in "Ngong Ping 360" means that passengers have a 360-degree view of Lantau Island.




Ngong Ping Village
This is a 1.5 hectare site adjacent to the Ngong Ping Cable Car Terminal. As a culturally themed village, it boasts several attractions including Walking with Buddha; Monkey's Tale Theater and Ngong Ping Tea House. It also has a diverse array of retail, dining and entertainment establishments. Street performers entertain visitors with Kungfu demonstrations and acrobatic shows. Additionally, visitors can make wishes at the Bodhi Wishing Shrine. The Buddhist Po Lin Monastery and the world's largest Buddha statue, the bronze Tian Tan, are a leisurely five-minute stroll from the village.



Opening Hours:
Weekdays
09:00 - 18:00
Weekends & Public Holidays
09:00 - 18:30
Scheduled Serving Days
Cable Car Service is closed for scheduled maintenance.
The Themed Village remains open as normal

Tickets & Fares (HK$):
Ngong Ping 360
Adult
Child (aged 3 to 11)
Senior Citizens (aged 65 or above)
Journey of Enlightenment Package (Standard / Crystal Cabin)
Including: Round Trip Ngong Ping Cable Car Journey, tour of Walking with Buddha and Monkey's Tale Theatre.
169 / 219
86 / 136
128 / 178
Private Cabin Service (Standard / Crystal Cabin)
Including: Round trip cable car ride in a private cabin, queue-free ticketing service, priority boarding and free admission to Walking with Buddha and Monkey's Tale Theatre.
3000 / 3600
Ngong Ping Cable Car (Standard / Crystal Cabin): Round Trip
135 / 213
68 / 146
98 / 176
Ngong Ping Cable Car (Standard / Crystal Cabin): Single Trip
94 / 149
48 / 103
70 / 125
Ngong Ping Cable Car (Crystal Cabin from Tung Chung and Standard Cabin from Ngong Ping):
Round Trip
190
123
153
Walking with Buddha
36
18
28
Monkey's Tale Theater
36
18
28

Getting There: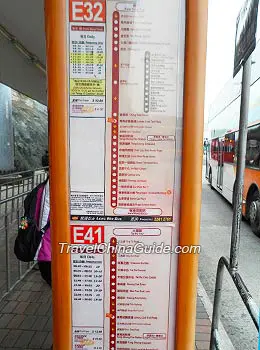 Bus Station at Ngoing Ping 360

From the City
By MTR: Tung Chung Cable Car Terminal is 2-minute walk from Exit B of MTR's Tung Chung Station.
By Direct Bus: Take Bus E11 at Hong Kong Island, E21, E22, E23 at Kowloon, E31, E32, E33, E34, E41, and E42 at New Territories, get off at Shun Tung Road and it is just 10 to 15 minutes' walk to Tung Chung Cable Car Terminal. On Sundays and Public Holidays, visitors can ride on New Lantao Bus 1R from Hung Hom to Ngong Ping.
By Taxi: The estimated journey time and taxi fare: 31mins and HK$280 from Central, 27mins and HK$195 from Tsim Sha Tsui, 31minutes and HK$260 from Shatin. Note that these trips are subject to traffic condition.

From Hong Kong Int'l Airport:
By Bus: Catch Bus S1 to Tung Chung Bus Terminus, which is next to the Ngong Ping Tung Chung Cable Car Terminal. The bus journey takes about 10 minutes.
By Taxi: A Lantau Taxi (blue) journey from Hong Kong International Airport to the Ngong Ping 360's Tung Chung Cable Car Terminal is around 10 minutes with a cost of around HK$35.