Tiantongyuan North ↔ Songjiazhuang
(Identification Color: mauve )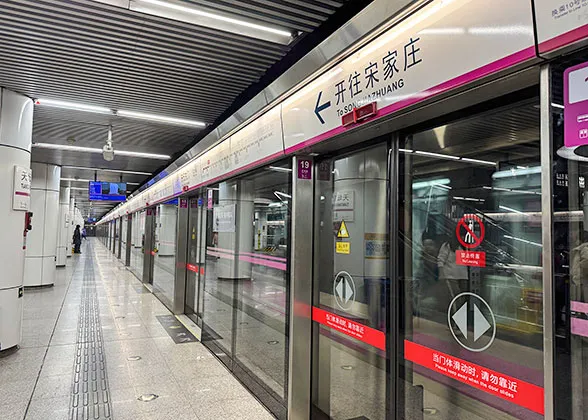 Subway line 5 stretches 27.6km, connecting five districts, namely, Fengtai, Chongwen, Dongcheng, Chaoyang and Changping. On the subway map, the light purple line 5 is just like a giant dragon bridging the northern and southern Beijing. The completion of subway line 5 solves the problem of spending as long as 3 to 4 hours traveling between the north Beijing and south Beijing. Together with two terminals, Tiantongyuan North and Songjiazhuang, line 5 has totally 23 stops. The whole journey runs for 49 minutes with a 2 minutes 50 seconds minimum interval.


See subway maps for reference.



Time for the first train and last train of subway line 5
Tiantongyuan North: 04:59 – 22:47
Songjiazhuang: 05:19 – 23:10
Check the following timetable for detailed information



Timetable
Station
To Tiantongyuan North
To Songjiazhuang
First Train
Last Train
First Train
Last Train
Tiantongyuan North
----
----
04:59
22:47
Tiantongyuan
06:06
23:57
05:01
22:49
Tiantongyuan South
06:04
23:55
05:03
22:51
Lishuiqiao
06:02
23:53
05:05
22:53
Lishuiqiao South
05:59
23:50
05:08
22:56
Beiyuanlu North
05:57
23:48
05:10
22:58
Datunlu East
05:53
23:44
05:14
23:02
Huixinxijie Beikou
05:50
23:41
05:16
23:04
Huixinxijie Nankou
05:48
23:39
05:18
23:06
Hepingxiqiao
05:46
23:37
05:20
23:08
Hepingli Beijie
05:44
23:35
05:22
23:10
Yonghegong
05:42
23:33
05:25
23:13
Beixinqiao
05:40
23:31
05:27
23:15
Zhangzizhonglu
05:38
23:29
05:29
23:17
Dongsi
05:36
23:27
05:31
23:19
Dengshikou
05:34
23:25
05:33
23:21
Dongdan
05:32
23:23
05:35
23:23
Chongwenmen
05:30
23:21
05:37
23:25
Ciqikou
05:28
23:19
05:39
23:27
Tiantan East Gate
05:26
23:17
05:41
23:29
Puhuangyu
05:23
23:14
05:43
23:31
Liujiayao
05:21
23:12
05:45
23:33
Songjiazhuang
05:19
23:10
----
----

Transfers along Line 5


Lishuiqiao: Transfer with Line 13


Huixinxijie Nankou: Transfer with Line 10


Yonghegong: Transfer with Line 2


Dongsi: Transfer with Line 6


Dongdan: Transfer with Line 1


Chongwenmen: Transfer with Line 2


Songjiazhuang: Transfer with Line 10


Ciqikou: Transfer to line 7


Datunlu East: Transfer to line 15 (Closed)



Surroundings and Bus Routes near Subway Stations of Line 5
('

' Subway Transfer Stations)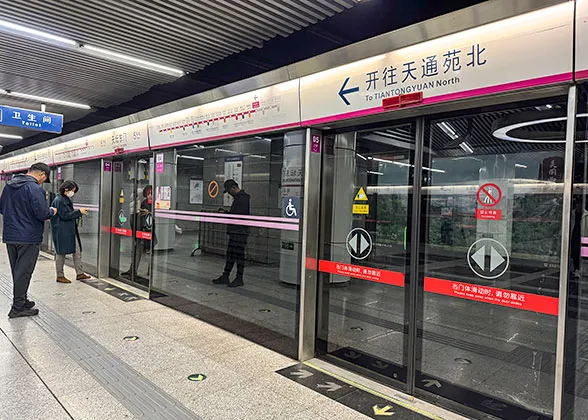 Tiantongyuan North
Buses Exchangeable: 2, 9, 10, 22(of Changping District), 426, 428, 430, 487, 522, 643, 758, 803, 836, 850, 851, 949, 966, 984, 985 (get off at Dongsanqi Stop)

Tiantongyuan
Buses Exchangeable: 417, 426, 430, 432, 464, 465, 487, 522, 643, 751, 758, 803, 836, 850, 851, 852, 949, 966, 984, 985 (get off at Dongsanqi Nan Stop)

Tiantongyuan South
Buses Exchangeable: 358, 417, 426, 430, 432, 464, 465, 643, 751, 758, 803, 836, 850, 851, 852, 949, 966, 984, 985 (get off at Tiantong Xiyuan Bei Stop)

Lishuiqiao
Surroundings: Lishuiqiao Park
Buses Exchangeable: 727 Branch, 966, 858, 852, 836, 358, 847, 713, 751, 358 Branch, 912, Yuntong111

Lishuiqiao South
Buses Exchangeable: 22, 27 (of Changping District), 358, 417, 426, 464, 465, 479, 629, 751, 758, 803, 836, 849, 850, 851, 852, 858, 949, 966, 984, 985, Yuntong117 (get off at Lishuiqiao Stop)

Beiyuanlu North
Buses Exchangeable: 358, 415, 417, 426, 430, 464, 466, 479, 484, 602, 629, 643, 644, 653, 695, 751, 758, 803, 836, 849, 850, 851, 858, 949, 984, 985, Yuntong117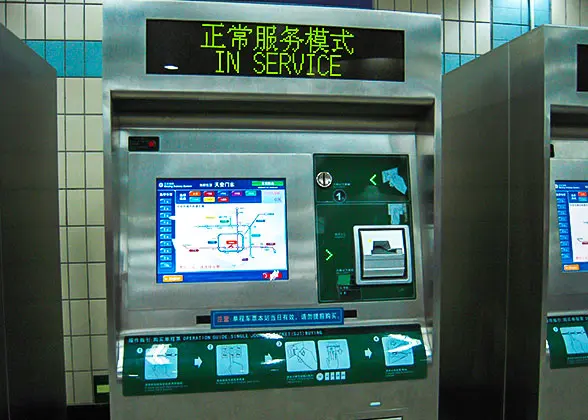 Tickets Service Machine

Datunlu East
Buses Exchangeable: 415

Huixinxijie Beikou
Buses Exchangeable: 18, 119, 361, 984, Yuntong201

Huixinxijie Nankou
Buses Exchangeable: 119, 125, Yuntong101

Heping Xiqiao
Buses Exchangeable: 117, 125, 361, 367, 407, 422, 464, 641, 671, 718, 8001, 839, 967, 984, 985, Special Line 8, Yuntong 101, 104, 201, Night 207



Hepingli Beijie
Buses Exchangeable: 125, Night 201

Yonghegong
Surroundings: Capital Museum, Yonghe Lamasery
Buses Exchangeable:
A exit: 909, 606, 62, 18, Te2, 820, 800, 44, 13, 116
B exit: 44, 800, 820
C exit: 909, Te2, 62, 18, 13, 116, 807

Beixin Qiao
Buses Exchangeable: 13, 116, 117, 635, 684, Trolley 106, 107, Night 204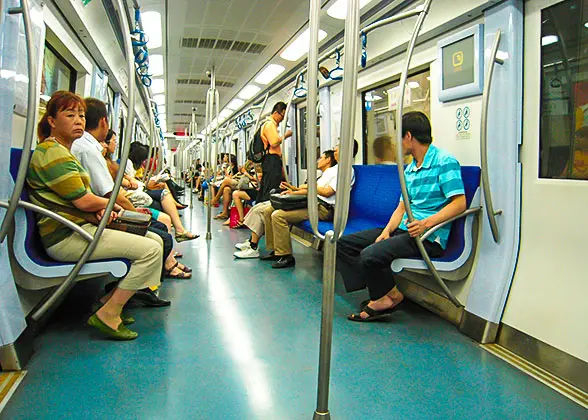 Zhangzizhong Lu
Buses Exchangeable: 13, 42, 113, 701, 758, 823, Trolley 115, 118



Dongsi
Buses Exchangeable: 110, 116, 420, 684, 685, 810, 846, Trolley 101, 106, 109, 112, Night 202

Dengshikou
Buses Exchangeable: 110, 684, 685, Trolley 106, 108, 111, Night 204

Dongdan
Surroundings: Dongdan Park, Dongdan Sports Center, China National Children's Art Theatre
Buses Exchangeable:
A exit: 108, 111, 116, 106, 807, 812, 813, 1, 4, 52, 728, Special Line 1
B exit: 10, 20, 37
C exit: 10, 37, 39
D exit: 110, 117, 807, 812, 813, 41, 1, 4, 52, 728, Special Line 1

Chongwenmen
Surroundings: New World Department Store, Beijing Tongren Hospital, Beijing Hospital, Dongdan Park, Ming Dynasty East Wicket Wall Relic Park
Buses Exchangeable:
A1 exit: 103, 104, 3, 8, 54, 60
A2 exit: 211, 808, 703, Special Line 2, 848, 821, 7, Night209, 9, 48, 729, 744
B1 exit: 41, 812, 807, 813, 106, 110, 116
C exit: 108, 111, 39, 39 Branch, 44, 43, 820
D exit: 103, 104, 808, 3, 211, Special Line 2, 808, 821, 703, Night209, 848, 48, 7, 744, 9, 729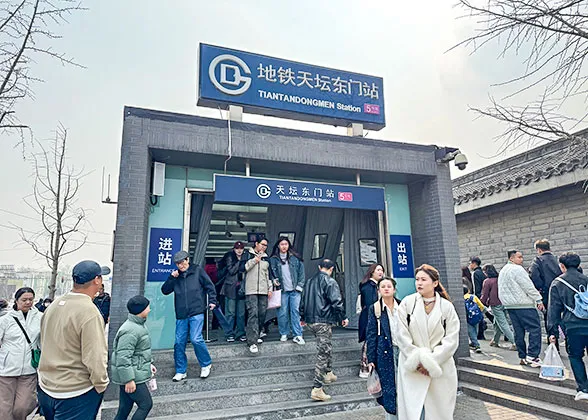 Ciqikou
Buses Exchangeable: 23, 25, 39, 41, 43, 57, 60, 116, 525, 684, 685, 715, 723, 814, Trolley 106, Circle Line8, Night 204, 208

Tiantan Dongmen
Surroundings: Temple of Heaven, Beijing Amusement Park, Longtan Park
Buses Exchangeable: 6, 25, 34, 35, 36, 39, 41, 43, 60, 116, 525, 684, 685, 687, 707, 723, 743, 814, Night 208

Puhuangyu
Buses Exchangeable: 39, 43, 53, 122, 685, 686, 723, 957, Special Line 3

Liujiayao
Buses Exchangeable: 7, 17, 39, 43, 51, 300, 368, 434, 610, 627, 654, 686, 723, 732, 741, 803, 826, 927, 954, 957, 973, 988, Yungtong 107, 202, Circle Line 12, Special Line 8

Songjiazhuang
Buses Exchangeable: 17, 39, 511, 684
-