TravelChinaGuide.com is now offering on-line train tickets booking service. Currently, we could help you to book the tickets of trains departing from Beijing. Please search your trains and start a reservation at our China Train Ticket Booking Center!
As the most bustling train transportation hub in China, Beijing has many railway trunks passing the city. Traveling to and from the city by train can not be more convenient. Everyday, over 700 trains run to and fro, linking the city with almost every corner of the country. There are even several trains shuttling daily between Beijing and some major destinations like Shanghai, Guangzhou and Xian.


See details of the Train Schedule.

Beijing has five railway stations in total, including the East Railway Station for cargo and the four stations for passenger transportation: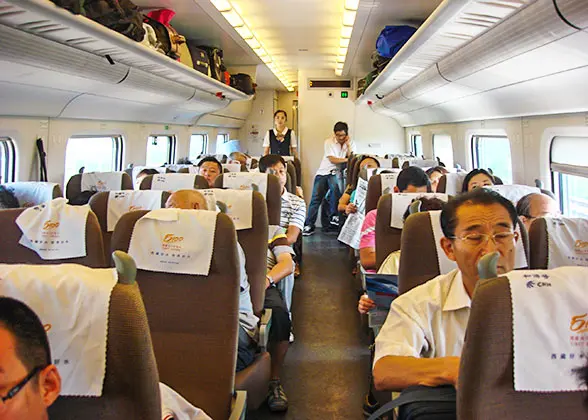 On Multiple Unit Train

Beijing Railway Station
: Located between the Chongwen Gate and Dongbian Gate near the city center, this station originally built in 1901 is the earliest one in Beijing. It now mainly operates the trains to Shanghai, cities in northeast provinces, and some southeastward trains to Shandong. International trains to Pyongyang, Ulan Bator and Moscow also departure from this station.

West Railway Station
: Located at the East Lianhuachi Road near the 3rd West Ring Road, it is one of the largest railway stations in China. Everyday, there are over 200 trains passing the station, transporting passengers from / to destinations mainly in south, southwest and northwest China, including Hong Kong, Guangzhou, Shenzhen, Wuhan, Xian, Zhengzhou, Chengdu, Kunming, Guilin, Hangzhou, Urumqi, etc. What's more, it operates the
Beijing-Guangzhou High-Speed Train
.

South Railway Station
: Located at the Yongdingmen Outer Street, it is the largest railway station in Asia. It mainly operates the
Beijing-Shanghai High-Speed Train
and other high-speed trains to Tianjin, Hebei and some destinations in East China.

North Railway Station
: Located at Xizhimen in Xicheng District, it operates the train S2 to
Badaling Great Wall
in Yanqing County.
---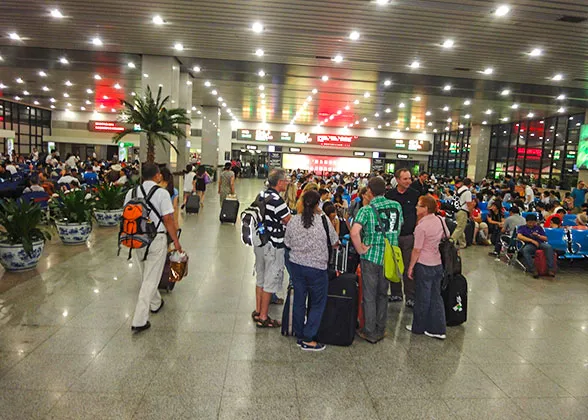 Beijing Railway Station
Beijing Railway Station is located between Chongwen Gate and Dongbian Gate, inside the Dongcheng District. Being the first-rate important railway in China running mainly long-haul journeys, it is honored to be the greeting gate of the nation. Built in 1901, it covers an area of 250,000 square meters (nearly 72 acres) with a floor space of 80,000 square meters (9,568 square yards).

International Trains

- between Beijing and Moscow & Pyongyang & Ulan Bator
K3 ( to Moscow): 07:45 – 14:28 (6 days), every Wednesday
K4 (Moscow-Beijing): 21:35 – 14:04, every Monday
K19 (to Moscow): 23:00 – 17:57 (7 days), every Saturday
K20 (Moscow-Beijing): 23:55 – 05:32, every Friday
K27 (Beijing–Dandong-Pyongyang): connecting train leaving from Beijing at 17:30 and get to Dandong at 07:17 the next day and then to Pyongyang, Monday, Wednesday, Thursday, Saturday
K28 (Pyongyang–Dandong-Beijing): connecting train leaving from Pyongyang and arrive in Dandong at 18:35 then get to Beijing 08:31, Tuesday, Thursday, Friday
K24 (Beijing-Ulan Bator): Leaving from 21:35 to 14:04 the next day, every Friday
K23 (Beijing-Ulan Bator): Leaving from 07:45 – 13:20 the next day


Short-journey trains to other cities
It also serves a series of short-journey trains to surrounding tourist destinations. It provides great convenience for the travelers, but causes high traffic peak in the morning and night.



To Tianjin: Compared with the South Railway Station, Beijing Railway Station has fewer trains to Tianjin.


To Qinhuangdao: Bullet trains to Qinhuangdao (D3, D7, D15, D21, D27 and D192/D193) all depart from Beijing Railway Station. The whole journey can only cost two hour.


To Qingdao: No bullet trains can be found there to Qingdao, but one fast trains T25, which can reach the city 8 hours and 40 minutes.


To Taiyuan: In addition, Beijing also operates one bullet train (D194/D191) to Taiyuan, which can arrive in the city around 3.5 hours.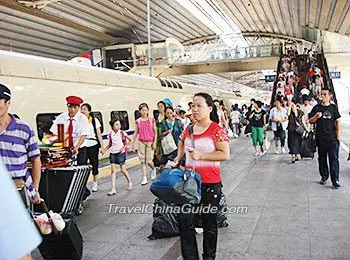 In the railway station
Inside the Beijing Railway Station, there are book stores and newsstands. You can also find all kinds of magazines of different languages in the waiting room, reading for free. Besides, free drinking water is served in the waiting room. Mothers and babies are provided with special area for waiting. English service is provided in the international waiting room, soft seat waiting room and the central ticket barrier. Going to the second floor by the left and turn south, you will see 'green entrance'. Travelers to Tianjin via the inter-city bullet trains can buy tickets directly here. The consultant office is also in the second floor near the left, the travelers can ask for help about the related problems. Outside the station, there are a lot of bus stations starting from here or passing through, besides, long journey bus heading to the Beijing surrounding areas is also available here.

Buying Tickets
Tourists can buy tickets and reserve seats up to one week in advance (about 11 days prior during national holidays and the days vary) at any stations and get refunds on tickets (less twenty percent cancellation fee). Passports or other regulated documents are required when buying or booking tickets. Satellite ticket offices are scattered around the city. There is a CNY5 service charge for each ticket at these offices. Additionally, you can also book your ticket from a travel agency or other purchasing agencies for a CNY10 – CNY50 service charge (they can deliver the ticket to your hotel).
Ticket demand always exceeds supply on national holidays, winter vacation and summer vacation and peak tourism season so Travel China Guide suggests tourists book tickets upon arrival in Beijing to avoid delaying your later itinerary. There are ticket offices for foreign guests and overseas Chinese in the international soft-seat waiting room. Nearly all standard hotel reception desks offer convenient ticket booking services.
Special Tourist Trains run from Beijing railways stations to suburban special interest sites. Tickets can be booked from any ticket office or travel service; or may be purchased aboard the train. For convenience, the site admission fee can be included in the ticket. Visitors can get to Chengde, Tianjin, Taiyuan, Qinhuangdao, Beidaihe, Wutai Mountain and Shidu by the special tourist train. Just to remind you, if you have bought an entrance ticket for the tourist attractions in advance at an appointed place, you can get on the tourist special train for free by showing the ticket.

Special Tips: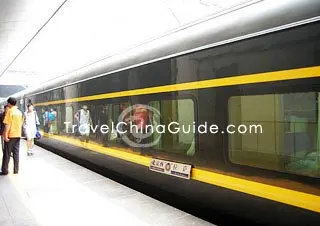 The ticket office in the west of the Railway Station has 26 tickets windows offering additional service of the tickets for temporary trains (the L-series trains) within 10 days. The Ticket Window 25 and 26 offer the canceling service. Make sure to cancel your tickets before the train leaving. There are 10 tickets windows in the west of this ticket office, passengers can also buy tickets there.


There are four tickets windows (82 to 86) in the east side of the exit door, offering tickets as well; besides, you can book ticket in advance there.


In the eight ticket windows of the west side of the exit door, the transfer formalities are offered.


There is a green ticket window in he second floor of the check-in hall, which is convenient for the short journey travelers.


There are 3 ATMs at the entrance of the Beijing Railway Station.



Transportation


Bus Routes to the railway station: 9, 10, 20, 24, 25, 29, 39, 52, 59, 103, 104, 122, 403, 420, 434, 457, 637, 638, 639, 640, 668, 673, 674, 728, 729, 744, 938, 957 and some nigh buses including 203, 204, 208, 209, 211


Subway: Line 2


Taxi: To hire a taxi is in fact not easy in the city's railway stations, especially in Beijing Railway Station and West Railway Station. Sometimes you may need to wait for one or two hours! It is highly recommended to take bueses or subway trains to go for your destinations. Beijing Railway Station has two taxi stands - one in the northeast corner of the square in front of the station with more taxis, and the other with less taxis to the northwest of the square, which is across the street and can be reached through the overpass. Please remember that it is forbidden to take a taxi outside the appointed stands around the railway station. A bigoted hire of those taxis would probably lead to price traps or even serious loss.



Recommended Nearby Hotels:
International Hotel

Howard Johnson Paragon Hotel

Harmony Hotel