Cake and Dessert Shops in Hong Kong

Cake Shops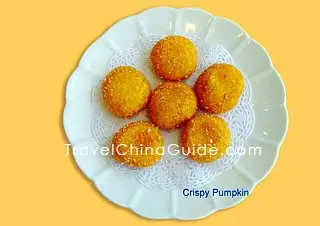 In Hong Kong, cake shops can be seen everywhere, some of which mainly sell Chinese cakes, including Wife, Almond and various Moon Cake. And also there are western cake shops, offering sandwiches, sponge cake, bread and the like. Now that you are in Hong Kong, it's suggested you try Chinese ones. If thinking them not bad, you can take some for your families and friends as gifts.
Recommended Cake Shops:
Tai Cheong Bakery
Hours: 07:30 – 21:00
Location: G/F, 35 Lyndhurst Terrace, Central, HK Island
Mandarin Cake Shop
Hours: Mon. – Fri.: 08:00 – 21:00;
Sat. and Sun.: 08:00 – 19:00
Location: Level M, Mandarin Oriental Hotel, 5 Connaught Road Central, HK Island
Ki Tsui Cake Shop
Hours: 07:30 – 19:00
Location: G/F, 135 Fa Yuen Street, Mong Kok, Kowloon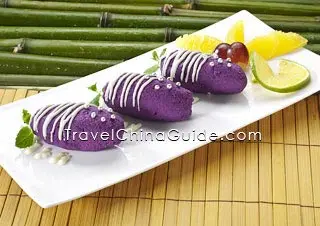 Vanilla Purple Potato Balls
Denmark Cake Shop
Hours: 06:30 – 19:00
Location: 106 Leighton Road, Causeway Bay, HK Island
Happy Cake Shop
Hours: 06:00 – 20:00
Location: G/F, 106 Queen's Road East, Wan Chai, HK Island
Maxim's Cake Shop
Hours: 07:30 – 21:00
Location: Tsuen Wan Centre, 68 Chung On Street, Tsuen Wan, New Territories
A-1 Bakery
Hours: 10:00 – 23:00
Location: Shop L101, Jusco Supermarket, APM, Millennium City 5, 418 Kwun Tong Road, Kwun Tong, New Territories
Bonjour Bakery
Hours: 07:00 – 20:00
Location: G/F, 63 Wing Lok Street, Sheung Wan, HK Island
Domie Cake Shop
Location: G/F, 109 Austin Road, Tsim Sha Tsui, Kowloon

Dessert Shops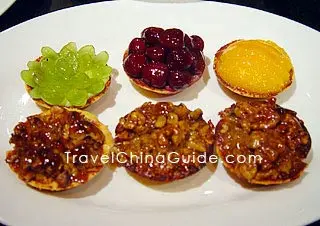 Hong Kong Desserts
Do you have a sweet tooth? If so, Hong Kong will not disappoint you, since the city boasts a large number of dessert shops. These shops offer various Hong Kong-style desserts, such as sesame-seed paste, green bean paste, walnut cream and the like. Usually, the average cost per person in a dessert shop is less than HK$40.
Chung Kee Dessert
Hours: 12:00 – 02:00 the next day
Location: Shop CB58, Smiling Plaza, 162-188 Un Chau Street, Cheung Sha Wan, Kowloon
Chiu Chow Hop Shing
Hours: 12:30 – 01:00 the next day
Location: G/F, 9 Lung Kong Road, Kowloon City, Kowloon
Leaf Dessert
Hours: 12:00 – 00:30 the next day
Location: 2 Elgin Street, Central
Golden Hall
Hours: 15:00 – 02:00 the next day
Location: 9 South Wall Road, Kowloon City, Kowloon
Kin Hing Tofu Dessert
Location: Back Street, Yung Shue Wan, Lamma Island
Pie & Tart Specialists
Location: Site 5, G/F, Mongkok Plaza, Soy Street, Mong Kok, Kowloon
Happy Together Delicatessen
Hours: 12:00 – 24:00
Location: Shop 2, G/F, 5-6 Hau Fook Street, Tsim Sha Tsui, Kowloon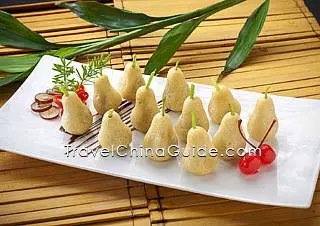 Pear-shaped Dessert Made of
Glutinous Rice and Sliced Pear
Zi Ma Lu Dau Dessert House
Hours: 13:30 – 02:00 the next day
Location: 14 Man Tai Street, Hung Hom, Kowloon
Tei Mou Koon
Hours: 12:00 – 01:00 the next day
Location: 47 Fuk Lo Tsun Road, Kowloon City, Kowloon
Yee Shun Dairy Company
Location: G/F, 85 Percival Street, Causeway Bay

Moon House
Hours: 12:00 – 24:00
Location: G/F, 35 Wong Nai Chung Road, Happy Valley, HK Island
The Sweet Dynasty
Hours: Mon. – Thu.: 10:00 – 24:00;
Fri.:10:00 – 23:00 the next day;
Sat.: 07:30 – 01:00 the next day;
Sun.: 07:30 – 24:00
Location: 100 Canton Road, Tsim Sha Tsui, Kowloon
Sam Kee
Hours: 13:00 – 24:00
Location: G/F, 313 Des Voeux Road West, West Point, HK Island
Sawdust
Hours: 12:00 – 01:00 the next day
Location: Shop 5, G/F, 3 Keswick Street, Causeway Bay
Lucky Dessert
Hours: 13:00 – 02:00 the next day
Location: 25-27 Soy Street, Mong Kok, Kowloon
Hang Fa Lau
Hours: Mon. – Sat.: 07:30 – 24:00;
Sun. and public holidays: 11:00 – 24:00
Location: Shop A, G/F, 9 Lock Road, Tsim Sha Tsui, Kowloon
Hiu Lau Shan
It has many branches in the city.
Locations of its branches:
Percival Street, Causeway Bay
8 Tsing Hoi Circuit, Tuen Mun, New Territories
Yee Hoi Street, Causeway Bay
Cameron Road, Tsim Sha Tsui, Kowloon
G/F, 3 Haiphong Road, Tsim Sha Tsui, Kowloon
G/F, 27 Soy Street, Mong Kok, Kowloon
G/F, 54 Russell Street, Causeway Bay