American Food in Shanghai
Other than thousands of Chinese restaurants, there are also a large number of foreign restaurants in Shanghai. You can find delicacies from all over the world.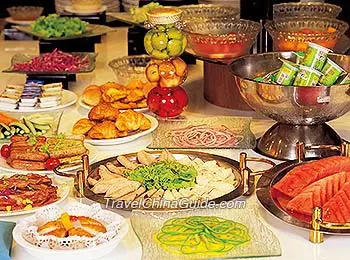 American food is one of the most favorable among tourists from America or other western countries. There are many American-style restaurants, cafes and delis. They serve authentic steaks, sandwiches, salads and hamburgers in very big portions. In addition to the tasty food, English menus and services are usually available in these restaurants.

Recommended Restaurants:

Element Fresh
Chinese name: 新元素 (xīn yuán sù)
Specialties: Element Fresh has a spacious and comfortable dining hall as well as some outdoor tables. It serves authentic and fresh American food such as sandwiches, salads and noodles. Food delivery is available.
Average cost per person: CNY 80
Huaihai Branch: 4-5F, K. Wah Center, No. 1028, Middle Huaihai Road, Xuhui District (near South Xiangyang Road)
Operating hours: 7:00 - 23:00 (to 24:00 on weekends)
Super Brand Mall Branch: 1F, Super Brand Mall, No. 168, West Lujiazui Road, Pudong New Area (near Fucheng Road)
Operating hours: 10:00 - 22:00
West Nanjing Road Branch: Room 112, East Building, Shanghai Shopping Mall, No. 1376, West Nanjing Road, Jing'an District
Operating hours: 7:00 - 23:00

Moon River Diner
Specialties: Moon River offers food of typical American family style. Dishes are served in very big containers. Outdoor seats are available.
Average cost per person: CNY 70 - 100
Pudong Branch: 2F, No. 38, Lane 199, Fangdian Road, Pudong New Area (near Middle Yanggao Road)
Operating hours: 10:00 - 23:00
Yuyao Road Branch: 2F, MUSE, No. 68, Yuyao Road, Jing'an District (near Xikang Road)
Operating hours: 10:00 - 22:00

Hooters
Specialties: Hooters offers American style fast food. Potato chips, sandwiches, chicken wings and chicken hoecakes are recommended. The waitresses having a high proficiency in English will help a lot when English-speaking diners make the orders.
Operating hours: 10:30 - 24:00 (to 1:00 the next day on weekends)
Average cost per person: CNY 100 - 150
Hongqiao Shanghai City Branch: B-1, Hongqiao Shanghai City, No. 100, Zunyi Road, Changning District
Super Brand Mall Branch: 1F, Super Brand Mall, No. 168, West Lujiazui Road, Pudong New Area

KABB
Specialties: The quiet KABB is an exception in Xin Tian Di. Unlike other noisy restaurants, KABB is a restaurant and bar for diners to relax. American food and drink are offered, including steaks, sandwiches, salads, chocolate cheese cakes, banana milk shakes and various kinds of mellow wine. Brunch offered on the weekends is highly recommended.
Address: House 5, North Block, Xin Tian Di, Lane 181, Taicang Road, Huangpu District (near South Huangpi Road)
Operating hours: 10:00 - 1:00 (the next day) on weekdays; 10:00 - 2:00 (the next day) on weekends
Average cost per person: CNY 100 - 150

City Diner
Specialties: City Diner serves authentic and delicious American food. Cheese cake is a must try.
Address: 3F, No. 142, Tongren Road, Jing'an District (the intersection with West Nanjing Road)
Operating hours: 24 hours
Average cost per person: CNY 100

California Grill
Specialties: It is located on the 40th floor and has a beautiful view. The American steak and lobster soup are tasty. A special dessert named Cuban Cigar is worth trying. It is made of caramel pudding, ice cream and cigar-shaped chocolate sticks.
Address: 40F, JW Marriott Hotel, Tomorrow Square, No. 399, West Nanjing Road, Huangpu District (near North Huangpi Road)
Operating hours: 11:30 - 14:30, 17:30 - 22:30
Average cost per person: CNY 300 - 600

Malone's
Specialties: Malone's is an old American cafe in Shanghai. Its big hamburger is the signature dish. Besides having delicious food, diners can also play darts, billiards or watch televised sports games in the restaurant.
Address: No. 255, Tongren Road, Jing'an District (near West Nanjing Road)
Operating hours: 11:00 - 2:00 (the next day)
Average cost per person: CNY 100 - 200

Rendezvous Cafe
Specialties: Rendezvous offers American food at very reasonable prices. The western style breakfast, hamburger and steak are recommended.
Address: No. 1486, West Nanjing Road, Jing'an District (near Tongren Road)
Operating hours: 7:30 - 22:00
Average cost per person: CNY 40 - 60

Blue Frog Bar & Grill
Specialties: Blue Frog serves tasty western dishes in generous portions, prepared from scratch with freshest ingredients. It is all about unwinding in a relaxed setting with friendly service and a huge selection of food and drinks.
Operating hours: 10:00 - 2:00 (the next day)
Average cost per person: CNY 80-100

Super Brand Mall Branch: Ground Floor 27, Super Brand Mall, No. 168, West Lujiazui Road, Pudong New Area
Daning Branch: 102A - 103A, Tower 6, Daning International Plaza, No, 1918, Gonghe Xin Road, Zhabei District (near Daning Road)



Madison
Specialties: It serves new American food and has a great, award-winning menu. Madison makes all food in house and with an amazing weekend brunch and dinner selection.
Address: 1F, Building 2, No. 3, Fenyang Road, Xuhui District (near Middle Huaihai Road)
Operating Hours: 11:30 - 1:00 (the next day) on weekdays; 11:00 - 1:00 (the next day) on weekends
Average cost per person: CNY 90 - 300