Qinghai-Tibet Railway
Tibet Railway is a landmark achievement in Chinese engineering and design, and in the process, creating world railway history.

Tibet Railway :
It extends 1,956 kilometers from Xining, Qinghai Province to Lhasa, Tibet and is the world's longest railroad built atop a plateau. The Golmud-Lhasa section, constructed in 2001 extends 1,142 kilometers with the highest elevation being some 5,072 meters above sea level at Tanggula Range making it also the highest railway in the world. Great forethought, ingenuity and creativity overcame the engineering difficulties during construction, the design of the train itself, and the efforts made to protect the environment, flora and fauna. These are unique characters of the railroad compared with others.
| | |
| --- | --- |
| Train to Lhasa | In the Train |

Map of Tibet Railway (

Click the map to enlarge it
.)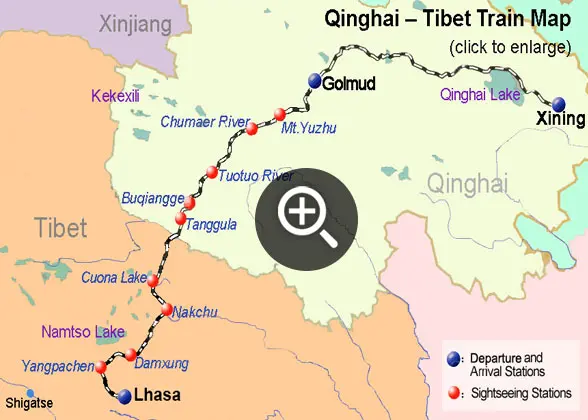 Scenes along the Railway:
As the railroad traverses three mountain ranges and via many rivers and lakes, the sceneries along the Railway to the Roof of the World are marvelous and majestic. 45 stations along the route offer visitors picturesque sceneries and impressive vistas. Among them, nine are designated as sightseeing stations and have special sightseeing platforms for tourists to admire nine scenes. Famous sights including the Kunlun and Tanggula mountain ranges, Qinghai Lake, Kekexili and Tuotuo River, Grassland etc. together with the rare wild animals will reward each tourist with lifelong unforgettable memories.



Train Schedule:
Since July 1st, 2006, the Tibet Railway has been open to traffic. There have been three routes for trains - daily trains running from Beijing to Lhasa, and on alternate between Chengdu-Lhasa and Chongqing-Lhasa, and between Xining-Lhasa and Lanzhou-Lhasa. As of Oct 1st, 2006, two more trains from Shanghai and Guangzhou to Lhasa have been officially set for operation on alternate, and both of the two trains run every other day. Here, we offer the schedules implemented after the sixth round of Chinese train large-scale speed-up and also list the
Train Ticket Price
for reference.

Tibet Travel FAQ & Tips:
As Tibet is such a mountainous area and is at such a great altitude, it is prone to sudden and extreme changes in weather. Many safety aspects must be prepared for prior to your departure. General information about the requirements for visiting the place are offered such as applying Travel Permit, the best times to visit, local food, language, and transportation, etc in the articles.

Tibet Travel FAQ & Travel Essential
| | |
| --- | --- |
| Kunlun Mountain | Qinghai Lake |