TravelChinaGuide.com is now offering online train tickets booking and delivery service. Please search the schedules and start a reservation at our
China Train Ticket Booking Center
!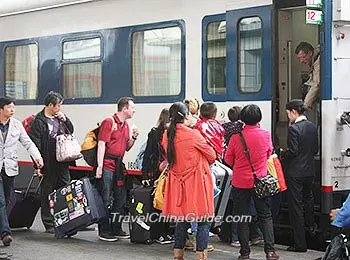 With a reputation as 'the Gateway to the West', Xian is one of the most pivotal terminals of the domestic rail system in China. It is the key junction between the southwest and the northwest, and forms a connecting link between the east and the west of the country.
At present, there are about 190 scheduled trains passing by or stopping here daily. Beijing, Shanghai, Guangzhou, Hangzhou, Harbin, Lhasa, Dunhuang and Mt. Huashan as well as some other big cities and tour destinations in China can be reached easily. Passengers can also take trains directly to Haikou through the cross-sea Yuehai Railway. For passengers traveling to other cities and counties in Shaanxi Province, the main Railway Station supplies frequent rail service all the year round.


Xian Train Schedule

Xian Railway Station
It was put into use in 1935, combining the Chinese and western architectural styles. It is located in 151 Huancheng Bei Lu, Xincheng District, close to the business center. It operates more trains traveling to and from Xian. The station consists of the Main Building, the East Square and the West Square. The Main Building includes four waiting halls with the Ticket Hall to its east and the Exit of the Railway Station to its west. Left luggage counter and taxi stands are near the exit. The East Square and the West Square assemble a great of number of city-buses, and long-distance bus stations. Tourist city buses to Terra Cotta Warriors, Mt. Huashan and Famen Temple set pick-up stops at the East Square.

Transportation of Railway Station

Special Tips
| | |
| --- | --- |
| Xian Railway Station | Waiting Hall inside the Station |

North Railway Station
It has been in service since Jan. 2011. It is said to be one of the biggest passenger rail transport stations in Asia after its completion. It is located at the joint area of the 3rd Ring Road, axis road of northern Xian and the city's loop expressway. In the city's master planning, North Railway Station is the principle railway hub. It operates G and D trains to Zhengzhou, Luoyang Longmen, Wuhan (Hankou), Beijing West, Yan'an, Baoji, Shanghai, Taiyuan, Changsha and Guangzhou. Passengers can get the station either by city buses or subway line 2. What's more, a free shuttle bus between the station and Terracotta Warriors and Horses Museum is also available.
| | |
| --- | --- |
| North Railway Station | Waiting Hall of North Railway Station |

Transfer between Xian Railway Station to Xian North
1. Bus No.266 runs between the two stations. Passengers can find the bus stop at Xian Railway Station West (walk west from the Exit for about 270 yards(250 meters)). It takes about 1 hour and costs CNY1 to get to the north station. The bus runs every 10 to 20 minutes from 06:00 to 23:30 daily. Please prepare RMB 1 note and take care of your belongings on the bus.
2. Subway line 1 and 2 are in service and passengers can take line 2 from the north station to Beidajie (North Avenue) station, change to line 1 and get off at Wulukou. Leave from Exit D and walk north along the road for about 550 yards (500 meters), you will see the Xian Railway Station. It takes about 30 minutes and costs CNY3 per person. Line 1 runs between 06:10 and 23:17; line 2 runs between 06:10 and 23:15.
3. Taxies are also avaliable. Passengers can find taxi stands near the exit of Xian Railway Station. It takes about 30 minutes and costs CNY 50 to reach the north station.

Ticket Outlets around the City
After you have your identity check at a railway station, you can also purchase ticket at ticket offices scattered throughout the city. You can buy ticket 18 days in advance with CNY5 service charge per ticket. Some ticket offices are listed below:
| | | | |
| --- | --- | --- | --- |
| Ticket Office | Chinese Version | Address | Working Hour |
| Long Hai | 陇海 | No.1, West 5th Road (500 meters south to the railway station) | 08:00 ~ 00:00 |
| Dong Li Da Sha (Dongli Mansion) | 东立大厦 | No.187, North Huancheng Road | 08:00 ~ 00:00 |
| Industrial and Commercial Bank of China Xiaozhai Branch | 中国工商银行小寨支行 | No. 96, Middle Chang'an Road | 09:00 ~ 16:30 |
| Guang Dian Zhong Xin (Shaanxi Radio Film and TV Center) | 广电中心 | No.336, South Chang'an Road | 08:00 ~ 17:00 |
| High Technology Industrial Development Zone | 西高新 | No. 18, First Gaoxin Road | 09:00 ~ 17:30 |

Self-Service Train Ticket Machine
In the two stations in Xian, there are self-service machines for passengers to purchase tickets or print out tickets they have bought previously on the internet or through telephone service. Passengers can follow the instructions to select tickets and make payment by Visa card. A Chinese second generation ID card is required when used the machine, so the oversea passengers can not purchase or print tickets with the machine.

Such self-service machines can also be found in the following places:
Longhai Ticket Agency: No.1, West 5th Road (500 meters south to the railway station)
Luyi Business Hotel: No. 33, East Youyi Road
Xiaozhai Harbor City: No. 177, Middle Chang'an Road, Yanta District
Dongxin Street: No. 94, Shangqin Road, Xincheng District

FAQs on Purchasing Train Tickets in Xian: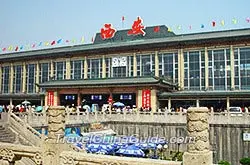 Exit of Xian Railway Station

Is it necessary to purchase ticket in advance?

Please reserve your tickets as early as possible especially during the tour seasons and public holidays. During these periods, you will find that there are long lines in front of every ticket hall all the time. What's more, although the holiday of Chinese Spring Festival is just 7 days, the station is always busy for more than one month around the holiday. Finally, because there are so many universities in the city, the beginning of July and the end of August are also very crowded in the station annually.



Can I purchase the ticket by using my credit card?

Only cash payment was feasible on the spot of purchasing the ticket before. For the convenience of passengers, payment by bank cards has been available at 256 train stations nationwide since January 19, 2011. To use a card, passengers should notice that the departure and arrival stations must be among those 256 stations. Each of them has some ticket windows installed the Point-of-Sale (POS) machines. Both Xian and Xian North stations are available to offer the card payment service, together with other twelve stations in Shaanxi Province: Weinan North (CHR station), Weinan, Huashan North (CHR station), Huashan, Baoji, Xianyang, Yangling, Yulin, Yan'an, Hanzhong, Shangluo and Ankang. In early stage, it only applies to the cards of Bank of China, China Merchants Bank, Agricultural Bank of China and Industrial and Commercial Bank of China.



Can I exchange my ticket for a different date or time?

You are allowed to change your travel date and time before the scheduled departure. For bullet trains, a ticket change is still allowed in two hours after the scheduled departure time. The office to change the ticket is located to the west of the entrance to the Xian Railway Station and No.3 Ticket Hall of North Railway Station.



Where to buy the platform ticket? How much is it?

The platform ticket can be bought at the window near the exit of Xian Railway Station. When buying the platform ticket, you are required to show your valid ticket of that time and pay CNY2 per ticket. Please note that one valid ticket can only be used to buy one platform ticket. After getting the platform ticket, you will get mark on your train ticket. During the travel peaks, no platform ticket is provided, for example during the Spring Festival Travel Rush.

Recommended Train Travel:
One Day Express Train to Luoyang: 1 day express train tour to Luoyang to visit Shaolin Temple and Longmen Caves
Ancient Capitals Xian & Luoyang: 5-day tour to Luoyang popular attractions



Recommended Nearby Hotels :
Grand Soluxe International Hotel
Jinjiang Inn Jiefang Road(Comfort Inn)