Xiamen Weather
Xiamen Weather

Introduction to Xiamen Climate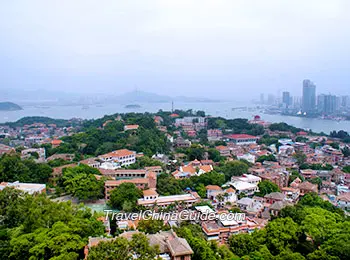 Xiamen City

Xiamen weather is mild and pleasant most of the year because the city has a subtropical monsoon climate. In this case, the whole year round is good time to visit Xiamen except that typhoons influence the weather four to five times during the months from July to September. The annual temperatures of Xiamen average 21

C (about 70

F) and rainfall abounds mainly in the months from May to August. Xiamen winters are mild, requiring only sweaters or light coats in the coldest January. Summers are free from extreme heat, although thin clothes are needed in the hottest July

If you are interested in the culture and customs of Xiamen, you can pay attention to the various local festivals. For example, June is noted for the Phoenix Flower Tourist Festival, August is noted for the Gulangyu Piano Festival, and the week of Mid-Autumn Day is noted for the Xiamen Bobing ('Cake Gambling') Festival.

In addition to the local festivals, Xiamen also hosts many international activities, of which the China International Fair for Investment and Trade (CIFIT) is the most influential. CIFIT is held in Xiamen every September 8th to 11th since 1997. It is now a grand international investment promotion event and serves as a bridge connecting China and other parts of the world.