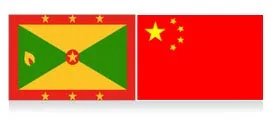 Ambassador: Mr. Zhang Wanhai
Address: Azar Villa at Calliste St. George's, Grenada
Mailing Address: P. O. Box 1079, Grand Anse, St. George's, Grenada, W.I.
Tel: +1-473-4141228 (Mobile Phone)
+1-473-4396227 (Administrative Office)
+1-473-4396228 (Research Office)
Fax: +1-473-4396231

Economic & Commercial Counselor's Office
First Secretary: Zhang Peng
Tel: +1-473-4396229
Fax: +1-473-4396231
Email: Pengzai@hotmail.com
Second Secretary: Zhen Xuke
Tel: +1-473-4398889
Fax: +1-473-4396231
Email: helenzh098@hotmail.com

Brief Intro
Grenada is an inland country situated in the southernmost end of Windward Islands which makes up the south arc of Lesser Antilles in the Caribbean Sea. Grenada is the main island. It is about 160 kilometers north off the coast of Venezuela. June to December is the rainy season when hurricane may happen sometimes.
Land Area: about 344 square kilometers (133 square miles)
Capital: St. George's
Time: It is 4 hours later than GMT and 12 hours later than Beijing Time.
Official Language: English
Major Religions: Catholic, Christianism
Currency: cent, East Caribbean dollar (EC dollar)



Holidays:
New Year's Day (January 1), Anniversary of Grenada's Independence (February 7), Labor Day (May 1), Emancipation Day (First Monday of August), Thanksgiving Day (October 25)
Religious holidays: Good Friday, Easter Monday, Whit Mondy, Corpus Christi
Festivals: Grenada Sailing Festival (5 days in January), Carriacou Carnival (2 days in February), Annual Carriacou Maroon Music Festival (3 days in April), Carriacou Regatta Festival (4 days in August), Grenada Carnival (2 days in August)



Notices for Chinese Going to Grenada
1. A valid passport and return or onward ticket is needed for all the visitors. For Chinese citizens, they should also show their visa. A visa is not required for citizens of the US, Canada, British Commonwealth, UK and most Caribbean and European countries.

2. 5-year-old person or elder are required to pay the departure tax: 50 EC dollars (20 US dollars or 14 pounds) for 13-year-old-person and elder; half of the amount for children from 5 to 12 years old.

3. Provide legal driver's license to local police office and pay some dues for a local license which is useful for renting a vehicle in the nation.



Please contact Embassy of Grenada in China if Grenadian citizens are in problems there.



Related China Embassies in North America: Jamaica, Mexico, Trinidad and Tobago