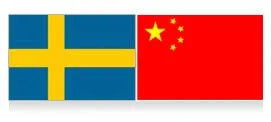 Ambassador: Mr. Lv Fengding
Address: Lidovagen 8, 115 25 Stockholm, Sweden
Tel: +46-8-0763386343
Email: chinaemb_se@mfa.gov.cn

Consular Office
Address: Djurgårdsbrunnsvägen 40, 115 27 Stockholm
Tel: +46-8-57936442 (Answering Service), 57936429
Fax: +46-8-57936452
Office Hours: 09:00-11:30, Monday-Friday (except holidays)
Email: consular@chinaembassy.se

Consular Districts: Stockholms, Uppsala, Södermanlands, Västmanlands, Östergötlands, Kalmar, Gotlands, Örebro, Dalarnas, Gävleborgs, Jämtlands, Västernorrlands Västerbottens, Norrbottens



Notice for application
CVASC (Chinese Visa Application Service Center) is responsible for receiving applications for visiting mainland PRC from ordinary passport holders who are Sweden citizens and citizens of other countries. Online appointment at http://www.visaforchina.org/ is required.

For people who apply for Diplomatic/Service/Courtesy Visa, or visit Hong Kong/Macao, they should still submit their application to the embassy in Stockholm directly.
Detail Information of CVASC in Stockholm
Office Hours: 09:00-15:00 (Visa Application); 09:00-16:00 (Payment and Collection)
Address: Karlavägen 108, Stockholm
Tel: 08-12201166
Fax: 08-12201167
E-mail: sthlmcenter@visaforchina.org

Detail Information of CVASC in Gothenburg
Office Hours: 09:00-15:00 (Visa Application); 09:00-16:00 (Payment and Collection)
Address: Folkungagatan 14-18, 41102, Gothenburg
Tel: 031-7305866
Fax: 031-7305867
E-mail: gotcenter@visaforchina.org



Fees
The regular processing time is 4 working days. Regular fee will be charged as follows per person:
| Types | Swedish Citizens | Citizens of Other Countries |
| --- | --- | --- |
| Single-Entry | SEK 595 | SEK 625 |
| Double-Entry | SEK 705 | SEK 875 |
| Multi-Entry with 6-month Validity | SEK 815 | SEK 1125 |
| Multi-Entry with 12-month Validity | SEK 1035 | SEK 1125 |
Note:
a. Individual Visa fees for American passport holders: SEK1495, and for Polish passport holders: SEK 975 regardless of types.
b. In accordance with relevant regulations in Bilateral Agreements, fee for applicants from Serbia, Romania and Croatia is different.
2. Handling Service Fee by the Center
Notes:
1. The total amount of the fees to be paid by an applicant = visa fee + application service fees.
2. CVASC in Stockholm accepts mail applications. It requires 7 working-days for processing. Extra SEK 190 will be charged as for their mail service. For detailed procedure, you can refer to the website of CVASC.

Consulate-General of the PRC in Gothenburg
Consul General: Mr. Cui Huixin
Address: Grönsakstorget 3, Göteborg. (Kinas Generalkonsulat, Box 11294, 40426 Göteborg)
Tel: +46-031-842445
Fax: +46-031-842341
Email: contact@chinaconsulate.se
Consular Office
Office Hours: 09:00-11:30, Monday-Friday (except holidays)

Consular Districts: Värmland, Jönköping, Kronoberg, Blekinge, Skåne, Halland, Västra Götabland
2013 Holiday Schedule of CVASC in Gothenburg
New Year's Day
January 1
Tuesday
Spring Festival
February 11 - 13
Monday - Wednesday
Good Friday
March 29
Friday
Easter Monday
April 1
Monday
International Labor Day
May 1
Wednesday
Ascension Day
May 9
Thursday
Sweden National Day
June 6
Thursday
Midsummer Eve
June 21
Friday
Chinese National Day
September 30 - October 2
Monday - Wednesday
Christmas Eve
December 24
Tuesday
Christmas Day
December 25
Wednesday
Boxing Day
December 26
Thursday
New Year's Eve
December 31
Tuesday

The Map of the Consulate
Address: Grönsakstorget 3, Göteborg
Transport: Take Tram No. 1, 6, 9, 11, Bus No. 16. 40, 48 and get off at Grönsakstorge, then walk eastward 50 meters (54.68 yards).



Notes:
1. Please use Registered Envelope if you send application by post. Each envelope contains not more than 5 passports.
2. The required documents for applying an 'L' must be well prepared.
3. The regular fee and handling service fee should be in one Company Check or Money Order. The payee is 'Consulate-General of the PRC in Gothenburg'.
4. A self-addressed, pre-paid return envelope with sufficient postage should be provided. Please write your name and telephone as the SENDER instead of the Consulate on the envelope.
5. Usually, the applications by post can't apply for the expedited service.
6. Applications for different types of visa should be in different envelopes.
7. The consulate is not responsible for the loss or damage to mail.



Please contact Embassy of Sweden in PRC if Swedes are in problems there.



Related Chinese Embassies in Europe: Ukraine, United Kingdom, Tirana, Albania