Can I use my cell phone in China?
Answer: Most of the cell phones bought in foreign countries can not be normally used in China. However, some of the high-end phones are compatible. Please consult the manufacturer of your cell phone before your trip.
Note: The international roaming charge can be very high; it is strongly advised to use a local SIM card.

| | |
| --- | --- |
| Public phone in China | Public phone kiosk |
---

What if I want to have a cell phone in China?
Answer: You can buy one in China. Many well-known world class brands of cell-phone like Nokia, Motorola, Siemens, Sony Ericsson, Samsung, NEC, Philips, Panasonic, among others, are sold in franchised stores or large-scale emporia.
---

Can I use the phone I bought to make calls directly?
Answer: No. After you purchase a new cell phone, it will be necessary to have a Chinese SIM card inserted in it. With a SIM card, you own a local number, through which you friends can connect with you.


---

Where to buy a SIM card?
Answer: You can get a SIM card at any of the cell phone shops with a copy of your ID card. Usually, a new SIM card user is required to install a certain amount of money (100 CNY at most) in the card.
Three kinds of card will be served: China Mobile SIM card, China Telecom SIM card and China Unicom SIM card. You can choose any one as you like. Then, you will be given a list of numbers started with 1. The one you chose will be your cell phone number. The mobile phone number has 11 Arabic numerals usually beginning with 130, 131, 132, 133, 134, 135, 136, 137, 138, 139, 159, 158 and 189.
---
A person make a call by cell phone

Does my SIM card which is bought in Beijing still work in Xian?
Answer: Most of the SIM cards in China are capable of nationwide usage. You need to activate the national roaming service. It will be much more expensive for using the card of Beijing in Xian.
---

How can I recharge if the money of my cell phone runs out?
Answer: You can go to the business hall of your carrier for recharging. Also, you can buy prepaid card. Usually, the prepaid card has the domination of 30 CNY, 50 CNY, and 100 CNY.
---

Can I have my telephone bill and if yes, how?
Answer: Yes. Go to the business hall of China Mobile or China Unicom and you can print it our there.
---

If my SIM card has some problem, to whom will I turn for help?
Answer: You can call the service number of your SIM card supplier.
China Mobile: 10086 (24 hours service)
China Unicom: 10010 (24 hours service)
China Telecom: 10000 ( 24 hours service)
Both offer English service (press two after getting through). You can ask any question related with your phone and SIM card.
---

What are the rates of calls?
Answer: The charge of your call varies, based on the different SIM cards.
Basically, the local call is about 0.2 CNY per minute.
The long distance call is about 0.3 CNY per minute.
---

Can I use my phone to make international call directly?
Answer: No, you need to go to the business hall of your supplier to activate the service with your ID card presented. What's more, there must be 500 CNY installed at least.
---

What is the rate of international call?
Answer: The cost is up to your destination. It is strongly recommended to consult in the business hall. The staff will tell you to add certain number in front of your call. There are few service providers who offer international calling at low rates with high quality. In that way, it will be much cheaper.
---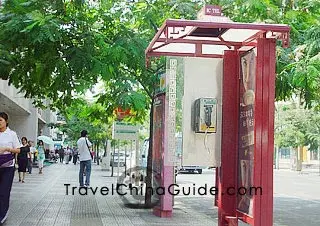 Roadside telephone booth

Is telephone still widely used in China?
Answer: Yes. The phone booths and other public telephones can be easily found on the roadside, hotels, railway stations, airports and large-scale emporia.
---

How to use the phone booths?
Answer: You have to get a IC card which is sold in the newsstands or the post office. It has the domination of 10, 20, 30, 50, 100 CNY. Normally, the cost is 2-5 CNY less than the par value. With IC card inserted the phone booth, you can make calls.
---

Do I need to pay for the phone call I made in the hotel?
Answer: It varies according to the regulation of the hotel. Usually, the five-star and the four-star hotel is free for the local call while the international call and the long distance call is charged according to the rate of the carrier. Besides, extra service fee will be charged.
Notice: Do not use the cell phone in some small hotels, because some of these hotels will ask for quite a high charge.
---

Can I find a fax machine easily in China?
Answer: Yes. Public fax machines are available in many places. Scanning services etc are also available.
---

Related Information:

How to Make Phone Calls

Useful Numbers