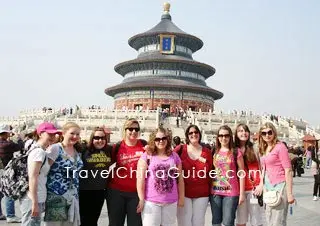 Student Visitors in Temple of Heaven, Beijing
Nowadays, more and more foreign students come to China. They may be coming here for study, learning Chinese, work or just a memorable experience. As a student, if you go abroad alone, do make sure that you are entirely able to look after yourself.
You should know the weather of your destination. Be sure to have enough cash in RMB Yuan, traveler's checks and bankcards to cover all financial eventualities for the visit. ATMs can help you get cash abroad and make sure you have a debit or credit card acceptable in China. As for accommodations, we suggest you stay in a Youth Hostel or budget hotels. You may choose to stay with a Chinese family, if you have a Chinese friend, your situation will be much better.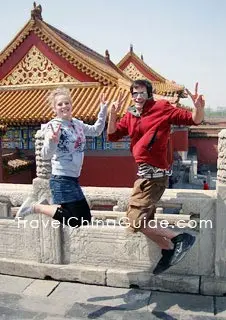 Student Visitors in
Forbidden City, Beijing
Foreign student cards for preferential fares such as train or air tickets, issued by your local school or organization, are currently unacceptable in China. However, scenic spots in some cities may offer a discount on admission fees. Only the student card issued by China's Ministry of Education enables one to enjoy a variety of favorable terms.
If you have an ISIC (International Student Identity Card), you can enjoy some preferential prices in Hong Kong, Macau and some cities in South part of the country. For instance, you can get a discounted ticket on airplanes, buses, trains and ferryboats. In addition, you can save money visiting the world's leading museums and cultural sites. Some attractions and entertainment places may even accept it.
ISIC is obtainable in your own country through a travel agency or a relevant institution. If you are a full-time student aged 12 years or over, you are eligible for the Card. To apply for ISIC, you are asked to show proof that you are currently a full-time student at a recognized institution. Proof could be your college or university student identity card or a signed letter from your school official. ISIC is valid from September this year to December of the next year. Once it is out of date, you should apply for a new one.

China Student Tours:


6 Days Beijing - Shanghai: Forbidden City, lovely pandas, martial art learning, Great Wall hiking...


9 Days Beijing - Xian - Shanghai: Chinese language, farmer's painting lessons, Kung Fu learning, flying kites, making cloisonné...


History Study & Students Participation: 12 Days Beijing - Xian - Guilin - Yangshuo - Shanghai

Related Reading:
Student Visa to China
China Universities Enrolling Foreign Students