Select By Year
Select By Country
Client's information
Clients: Mr. Roman Andrew Sitek & Mr. Octavio Enrique Rosales-Hernandez
Country: UK
Email:
Itinerary: 15 Days Luxury of Beijing - Xian - Guilin - Yangshuo - Guilin - Chongqing - Yangtze River Cruise - Wuhan - Shanghai
Oct 24,2008
Dear Ruby/Dora,

Firstly may I say that the quality and professionalism of the entire process from the initial booking through to its execution management was exemplary and it goes without saying. I would book any further holidays to China via your organisation and recommend you to friends and colleagues.

In terms of the specifics, although I was slightly disappointed in the itinerary change given the cancellation of the scheduled vessel on the Yangtze cruise, I felt the issue was dealt with promptly and effectively and did not overly affect the overall holiday.

Meals

In regard to the meals, on the positive side I cannot make a judgement as to the most memorable meal and would suggest you keep to the current restaurants and services. Although restaurants do change their standards and would suggest that you keep watch on standards. In terms of the poor ones, the Li river cruise meal was of a poor quality but you are aware of this and we were warned.

Guides

Probably the most important element of the trip was the guides and their professionalism. There were no guides whose attitude was considered lacking and not conscientious. Indeed the majority were thought to go the extra mile and provide advice and services over and above which would be expected. All were punctual and well dressed and presented.

No specific guide had any issues with pronunciation or otherwise which adversely affected our holiday.

All guides had a very good understanding of the places visited and those of general historic and cultural issues.

Cars

Cars and drivers were punctual, clean and professionally driven throughout our stay. Drivers were polite and well turned out with water supplied as described.

Compliments:

If I had to choose, I would like my appreciation to go to Anna - our guide in Beijing who made our trip very memorable for a variety of reasons. Her manner and attitude were brilliant and her charming smile and attitude need to be recognised.

Please pass on my regards and thank you all again.

Roman Sitek
Client's information
Clients: Mr. Hamada Dara Zahawi & Mr. Muqbil Al-Zahawi
Country: United States
Itinerary: 15 Days Standard of Beijing - Xian - Guilin - Yangshuo - Guilin - Chongqing - Yangtze River Cruise - Wuhan - Shanghai
Oct 22,2008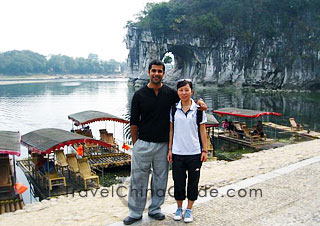 Photo offered by our client Mr. Hamada Dara Zahawi
Hi
My comments of your company are below. Overall we have an AMAZING time and thank you so much for your services. Most importantly my father loved your country and the services of your company which means a lot for him and myself. Thank you.
I very much enjoyed the meals. I would have to recommend the lunch restaurant in Xian on the first day there.
Each and every single one of the guides was outstanding. They were knowledgeable, friendly, efficient and very welcoming. For example Joe in Shanghai and Julie were very knowledgeable and both Linda and Amy were very nice and welcoming. Over we were very very happy with the guides. All of them had great English. All of them were quite versed in the history of the places we visited and answered each and everyone of our questions.
We did not interact with any of the driver's but the cars were very clean and we were quite happy with the service.
We especially liked Amy because we felt she was quite attentive to our needs and was very easy to get along with. Joe was also very efficient and we very much appreciated his efforts.
You can publish the following... "Travel China Guide has exceed our every expectation with their incredible service and fantastic tour of China. I would highly highly recommend this company to anyone interested to see the vast beauty of China. Their professionalism, prompt responsiveness in booking our trip, knowledgeable and courteous guides, and fantastic overall service has left my father and I eager to return to China using Travel China Guide. Thank you for making this trip so amazing and memorable especially for my father (73)."
Please don't use my email address but feel free to publish the pictures I am attaching of my father and I with Amy and Linda, tour guides from Travel China Guide.