Brief Introduction
National holidays in China are those festivals designated by the Chinese government that everyone gets to enjoy. Everyone has the right to have the appointed days off work. These holidays fall into two types: those that all citizens enjoy nationwide, and those that some citizens enjoy. The following is the general introduction to Chinese national holidays.
1. New Year's Day

Free New Year eCards
New Year's Day is a grand occasion for the Chinese people. They celebrate the New Year like people all over the world. Since ancient times, the day has been called 'Yuandan' by the Chinese. 'Yuan' means 'at the beginning'. 'Dan' means 'day', so joined together the words mean 'first day of a year'. For 3,000 years, China has greeted Yuandan with joyous ceremonies.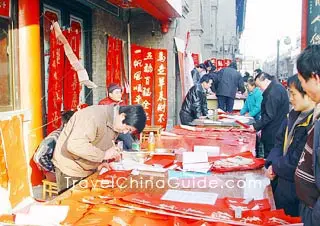 Writting Spring Festival Scrolls
Due to the different longitudes upon which countries lie in the world, the time of the celebration varies. China is the twelfth country to celebrate the event and the people are rewarded with one day's vacation. All kinds of festive programs are presented on TV, and organizations and schools hold parties to let everyone enter into the jubilant atmosphere of the festival. Sincere good wishes are reflected by people's smiles and wonderful performances at parties. Great hopes for an excellent year are embedded in everyone's mind.
2. Spring Festival
Held on the first day of the first lunar month and lasting for two weeks, the spring festival is regarded by the Chinese people as the grandest and most important annual festival, similar in many ways to Christmas in predominantly Christian countries. It is an event for the Chinese people to celebrate family reunion and is full of rich and colorful activities.
Among all the customs and activities that people kept and held, pasting Spring Festival scrolls, the character 'Fu', and paper-cut pictures, setting off firecrackers and fireworks, paying New Year visits, and eating jiaozi have been handed down by Chinese people from generation to generation. To everyone the festival is of great significance. Click for more information about Spring Festival.

3. Women's Day
Falling on March 8th, Women's Day is a festival for women worldwide. It is celebrated since 1975 for the purpose of remembering the women's struggle for getting the reasonable right and peace.

In China, Chinese government designated it as a national holiday for women who are rewarded with a half day holiday on Mar. 8th. Children respect their mother by doing housework and husbands prepare dinner and presents for their wives. In some places, organizations and schools hold mountain-climbing competitions to add a festive atmosphere or communication meetings to talk about their life and work. Flowers are presented to women by students, children, or husbands.

4. Arbor Day
Many countries have Arbor Day but on different days. China's Arbor Day falls on March 12th every year to remember the death of Dr. Sun Yat Sen who emphasized on the construction of forest industry. After the birth of New China, Chinese leaders paid great attention to forestation projects. In February 1979, the Chinese State Council suggested that March 12th be Chinese Arbor Day. Since then, Chinese citizens actively plant trees as their legal obligation. The ecological condition is improved a lot by their efforts.

5. Qingming Festival
The English for Qingming Festival is 'Pure Brightness' or 'Tomb-Sweeping Day', from which we can see that this festival serves as both a solar term and a Chinese traditional festival. Falling on April 4th or 5th of the solar calendar, it signifies the fact that the days are becoming warm and bright. It was the custom in ancient China for people to go out on this day and sweep the tombs clean of debris in memory of the departed. Click for more information about Qingming Festival.
6. May Day
As a day for the working people worldwide, it was established on May 1st in 1886. In China, all kinds of jubilant assemblies and amusement activities are held in parks, theaters, and on plazas. In the evening, entertainment programs are held on TV, and some model laborers are invited to the evenings.
7. Youth Day
Youth Day is an event that held for the youngsters over fourteen years old on May 4th. Its purpose is to encourage young people to study hard in order to contribute to the nation. Schools usually organize social events for students or sodalities for students communicating with each other on that day. All the young people are summoned to study from the 'Youth Medal' (Medals rewarded for the model youth) winners and learn their stories.

8. International Nurse Day
International Nurse Day is set up to commemorate the great contribution made by Florence Nightingale, the forerunner of nursing. In 1912, the International Council of Nurses designated May 12th, the birthday of Nightingale, as International Nurse Day, in order to encourage nurses to learn from her and inherit the glorious tradition of nursing.
---

Page 1 2
---

2013 / 2014 / 2015 China Public Holiday Calendar