Golden Triangle with Khajuraho
TIN102: 10 Days Private Tour of Delhi - Jaipur - Agra - Jhansi - Orchha - Khajuraho - Varanasi - Delhi
Tour Type:
Private Tour, any part of the itinerary can be customized
Guide:
English-speaking guide, experienced and knowledgeable
Driver:
Private driver with a spacious air-conditioned car
Accommodation:
4 to 5-star hotels, also be open to your own choice
Meals:
Authentic local cuisines and western-style food for your choice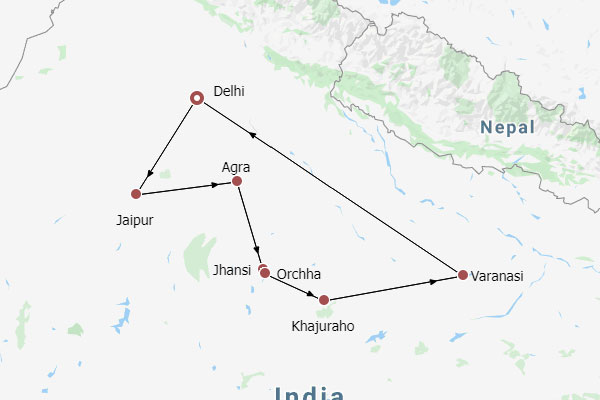 Upon your landing, our representative holding a welcome board with your name will greet you at the airport and take you to check into your hotel in Delhi. After settling in, you can arrange the rest of the day on you own.
Accommodation: Crowne Plaza New Delhi Rohini




After breakfast, we will start this golden triangle India itinerary with a visit to Raj Ghat, the tomb of Gandhi - the father of India. Later, we will visit Jama Masjid - a mosque that contains two minarets on the top of which you will have a good view of old Delhi. We will drive by the Red Fort - an islamic-style royal palace built by red-brown sandstones in the Moghul Empire (1526 - 1875). Next you will ride a rickshaw along Chandni Chowk bazaar.
After that, we will take you to Gurudwara Bangla Sahib, one of the best pilgrimage centers for the Sikhs. Then we will visit Humayun's Tomb, the first Mughal style architecture in India. Our last two spots for today are, Qutab Minar with "The Koran" carved around it and India Gate, under which is the monument for the nameless soldiers. On our way back to your hotel, you can see Parliament House, President's House and other Government Secretarial Buildings when passing by.
Meals: Breakfast
Accommodation: Crowne Plaza New Delhi Rohini




Local people are gathering at the India Gate
Day 3
Delhi - Jaipur (5-6 hours' drive)
Drive to Jaipur & check in at hotel, Rest day is at leisure. (B)
Today our golden triangle India tour package comes to Jaipur. After a comfortable ride from Delhi, our driver will help you to check into your hotel in Jaipur. The transport is at your disposal for any extra visits which are within the city limits. After settling down at your hotel, you can explore the city at leisure.
Meals: Breakfast
Accommodation: Holiday Inn Jaipur City Centre




Amber Fort, Maharaja City Palace, Jantar Mantar, Hawa Mahal, Birla Temple. (B)
We will start today's golden triangle India itinerary with Amber Fort built with white, rose and yellow stones which look like big pieces of amber. With our guide's company, you will go up to the Amber Fort by walking or in a jeep. After a photo stop at Jal Mahal, we will visit the Maharaja City Palace which holds a collection of valuables preserved by the royalties, Jantar Mantar famous for the world's biggest sundial and bizarre brick buildings, Hawa Mahal (from outside) where you will be impressed by the pink walls and numerous windows, and Birla Temple, one of the largest Hindu temples dedicated to Lord Vishnu and his consort Lakshmi.
Meals: Breakfast
Hawa Mahal
Fatehpur Sikri
Day 5
Jaipur - Fatehpur Sikri - Agra (5-6 hours' drive)
Drive to Agra & transfer to hotel, En route visit Fatehpur Sikri. (B)
Today you will be driven to Agra to continue this golden triangle India tour. On the way, we will stop to see Fatehpur Sikri which was briefly the capital of the Moghul Empire. Upon arriving, our driver will escort you to check in a hotel.
Meals: Breakfast
Accommodation: Holiday Inn Agra MG Road




Taj Mahal, Agra Fort. (B)
Today's golden triangle India tour will start with one of the seven wonders of the world and the pride of the Indian people - the Taj Mahal (Closed on Friday), built by King Shah Jahan in honor of his deceased wife. Here, you will see a pure white building in Islamic and Indian style reflected on the water, looking both solemn and charming. Then our guide will show a splendid red castle with 20 meters (66 feet) tall, Agra Fort, which was built by Emperor Akbar who believed in Islamism. The rest of the day is free for your own arrangement.
Meals: Breakfast
Taj Mahal - One of the New Seven Wonders of the World
Day 7
Agra - Jhansi by Train (3 hours) & Jhansi - Orchha - Khajuraho by Car (5 hours)
Transfer to Jhansi by train & drive to Khajuraho, En route visit Orchha. (B)
Train: Bhopal Shatabdi, Departing from Agra at 08:02 Hour & Arriving Jhansi at 10:45 Hour
After breakfast in the early morning, we will transfer you to the train station for your train to Jhansi. Upon arrival at Jhansi train station, you will be welcomed by our representative and be taken to Khajuraho by car. On the way we will stop for a walking tour in Orchha, a historical town located on the banks of Betwa River. Upon arrival at Khajuraho, you will be helped check in at your hotel and spend the rest day at leisure.
Meals: Breakfast
Accommodation: Radisson Jass, Khajuraho




Day 8
Khajuraho to Varanasi by flight
Khajuraho Temple Complex. Take the flight to Varanasi & check in at hotel. (B)
After breakfast, your guided India tour comes to Khajuraho, a small town featuring numerous Hindu and Jain temples - Khajuraho Temple Complex which is a UNESCO World Heritage Site. The exquisite exotic sculptures here are vivid and reflect the philosophy of Indian aesthetics. When the visit is concluded, the driver will send you to Khajuraho airport for the flight to Varanasi. Upon arrival, our driver in Varanasi will pick you up and transfer you to the hotel.
Meals: Breakfast
Accommodation: Ramada Plaza JHV Varanasi





Khajuraho Temple Complex
Boat ride on the river Ganges. Later this morning head for old kashi walking tour. Drive to Sarnath & visit Buddhist temples and Sarnath Museum. Evening witness Aarti Ceremony. (B)
Today we will start the golden triangle India tour package with a cruise on River Ganges - the holy river in India where locals bath, wash clothes, worship their god and cremate the dead on its banks. The most famous ghats are Manikarnika Ghat, a place for local cremation, and Dashashwamedh Ghat - the main and the most spectacular ghat where local people sell some religious items including Ganga Jals that contain water from the River Ganges. After, we will enjoy an Old Kashi walking tour, to stroll through the narrow alleys and visit an ancient market which has over 400 years' history. We will also visit a majestic Mughal mosque and the temple of Lord Kaal Bhairao, the protector of Varanasi.
In the afternoon, we will drive to Sarnath, a sacred Buddhist site where Lord Buddha first preached his Dharma. Visiting the Buddhist temples, the ruins, the stupa as well as Sarnath Museum, you will see lots of rare excavated Buddhist relics and gain an insight of Buddhism. In the evening we will go to watch an aarti, a traditional Hindu rite performed for offering light to deities.
Meals: Breakfast
Accommodation: Ramada Plaza JHV Varanasi





River Ganges
Sarnath Museum
Day 10
Varanasi - Delhi by flight & Departure from Delhi
Fly to Delhi. You will connect to your homeward flight in Delhi. A nice journey home! (B)
Today your golden triangle India tour ends. The driver will transfer you to the airport for your flight back to Delhi. Upon arrival in Delhi, please connect to your homeward flight on your own. Wish you a nice journey!

Meals: Breakfast
B-- Breakfast
L-- Lunch
D-- Dinner
Earlier Booking, Bigger Savings
10% off
- book 60 days before,
5% off
- book 30 days before
Travelers
2-3 travelers
4-5 travelers
Oct-Mar

$1719

$1547

$1569

$1412

Apr-Sep

$1619

$1457

$1469

$1322
Prices are per person in US Dollars based on double occupancy.
The prices in red reflect 10% discount.
Any part of the itinerary e.g. tour length, activities & hotels can be tailored to your individual interests.
Price Includes
The economy class airfares of Khajuraho/ Varanasi/ Delhi
Train fare of Agra/ Jhansi
Accommodation with daily breakfast at selected hotels
Service of English speaking local guides per the itinerary
All transfers in private A/C vehicle with an experienced driver
Entrance fees for all mentioned sights visited
Sunrise boat ride on River Ganges in Varanasi
Bicycle rickshaw ride in Old Delhi
Shared battery car transfer from parking to entrance of Taj Mahal & Fatehpur Sikri
2 bottles drinking water per person per day & wet tissues in vehicle
All presently applicable taxes
Price Excludes
International flight into and out Delhi
Meals other than those mentioned in the itinerary
Personal expenses (such as laundry, telephone, drinks, etc.)
Tips for guides and drivers
Personal travel insurance
India visa fee & camera fee