Classic India Experience
TIN12: 13 Days Private Tour of Mumbai(Bombay) - Aurangabad - Udaipur - Pushkar - Jaipur - Agra - Delhi
Tour Type:
Private Tour, any parts of the itinerary can be customized
Guide:
English-speaking guide, experienced and knowledgeable
Driver:
Private driver with a spacious air-conditioned car
Accommodation:
3 to 4-star hotels, also be open to your own choice
Meals:
Authentic local cuisines and western-style food for your choice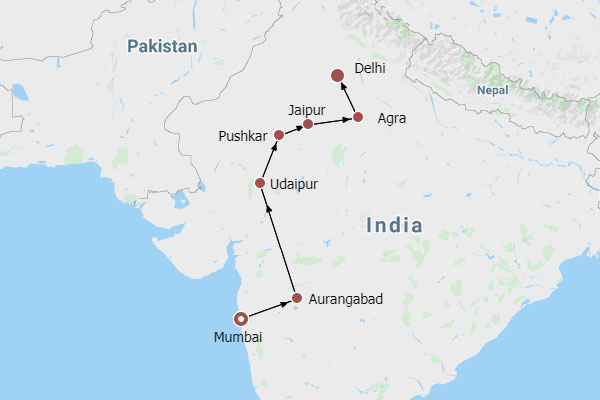 Welcome to Mumbai! Upon your arrival, our representative will meet you and transfer you to your hotel. During the rest of the day, you are free to arrange your own exploration.
Meals: No meals, advice freely available
Accommodation: The Sahil, Mumbai



Your vacation package from Mumbai officially starts with the visit to the Hanging Gardens complex seated at the top of Malabar Hill. The enchanting Kamla Nehru Park inside provides you an amazing panoramic view of the Chowpatty Beach and the Marine Drive. Afterwards, visit Mani Bhavan, a mansion which served as the residence for Gandhi - the former national leader of India for 17 years, and the Prince of Wales Museum, one of the most significant museums in India. After that follows a leisurely meander around the Gateway of India and Dhobi Ghat. Before getting back to the hotel, you also have a chance to sight-see the Marine Drive, Flora Fountain and Crawford Market during our slow-paced drive. You have a free afternoon for your own exploration.
Meals: Breakfast
Gateway of India
A local village along Dhobi Ghat
Day 3
Mumbai - Aurangabad by flight
Fly to Aurangabad & transfer to hotel, Visit Ellora Caves, Bibi Ka Maqbara, Panchakki, Aurangabad Caves. (B)
Today, your holiday package from Mumbai extends to Aurangabad by a morning flight. The airport pick-up service and hotel transfer will be well arranged by us. We will help you with the check-in and leave you a break for rest. Then we will start today's adventure starts at a time-honored man-made heritage, the Ellora Caves, consisting of Buddhist, Hindu and Jain grotto temples built between 6th and 10th century. Featuring exquisite rock carvings, Ellora Caves showcase a perfect coexistence of varied religions in ancient India. Next, we will visit Bibi Ka Maqbara - the mausoleum of Emperor Aurangzeb's wife Dilras Banu Begum, built during 1660 - 1661, and then move to Panchakki, a time-honored water mill. At last, we will marvel at the Aurangabad Caves made up of 12 Buddhist grotto shrines carved from 6th century to 8th century.
Meals: Breakfast
Accommodation: Lemon Tree, Aurangabad




Day 4
Aurangabad - Ajanta Caves - Aurangabad
Full day excursion to Ajanta Caves. (B)
A private drive will take you to witness a time-honored man-made heritage, the Ajanta Caves, a rock-cut Buddhist site with a history of 2,000 years. Numerous frescos are well preserved, from which you could discover many Buddhist legends and local life scenes. At the end of the day, we will drive back to your hotel in Aurangabad.
Meals: Breakfast
Appreciate the Buddhist statues in Ajanta Caves
Day 5
Aurangabad - Udaipur by flight
Fly to Udaipur. Airport pick-up & transfer to hotel. Rest of the day is at leisure. (B)
Today, your holiday package from Mumbai extends to Udaipur by a morning flight. The airport pick-up service and hotel transfer will be well arranged by your thoughtful driver. After settling in, you can spend the rest of the day on your own exploration. Different from the crowded Delhi or busy Mumbai, Udaipur is a tranquil and slow-paced destination endowed with enchanting lakes, historical relics and native art centers. You could just take a walk along the clean streets to take in natives' leisure lifestyle, or discover the local art at galleries and handicraft workshops.

Meals: Breakfast
Accommodation: Fateh Niwas, Udaipur (Heritage Boutique Hotel)
City Palace, Jagdish Temple, Fatehsagar Lake, Bhartiya Lok Kala Mandir, Sahelion ki Bari. (B)
After breakfast, we will visit Udaipur. Firstly, we will head for the City Palace lying in the heart of Jaipur to marvel at its exquisite architecture and well-preserved relics on display, and then stroll to Jagdish Temple just outside the palace. A drive around Fateh Sagar Lake follows afterwards for you to take in the stunning views, and then we will make a visit to Bhartiya Lok Kala Mandal - one of the most remarkable museums of Udaipur - showcasing an array of dazzling folk articles of Rajasthan. At last, drop by Sahelion Ki Bari, a beautiful garden once owned by a princess and her maids. Later, you can enjoy the rest of the day at your leisure.
Meals: Breakfast
Udaipur City Palace
Jagdish Temple
Drive to Pushkar & check in at hotel. Rest of the day is at leisure. (B)
You will be transferred from Udaipur to Pushkar this morning, getting settled in a hotel after arrival. The rest of the day is free for your self-planned exploration, with transport at your disposal.
Meals: Breakfast
Accommodation: Ananta Spa & Resort, Pushkar




Visit Pushkar in the morning. Drive to Jaipur & check in at hotel. (B)
In the morning, we will take a refreshing excursion to Pushkar, a holy city. The famous Lord Brahma Temple, a pilgrimage site, is one of a few extant Hindu monasteries that are dedicated to Brahma, the God of Creation. The well-known Pushkar Fair held once a year from late October to early November, has a spectacle where thousands of camels and cattle are brought together. After the city tour, your vacation package from Mumbai stretches to Jaipur by our comfortable transfer, and on arrival, we will check into your hotel to settle your baggage.
Meals: Breakfast
Accommodation: Holiday Inn Jaipur City Centre




Amber Fort, Jal Mahal, Maharaja City Palace, Jantar Mantar, Hawa Mahal, Birla Temple. (B)
Jaipur, the earlier capital of Rajasthan, houses breathtaking forts and palaces as well as monuments. Today's guided tour of India will begin with the sightseeing of the Amber Fort, once served as the dwelling palace for Rajput Maharajas and their families. Built of red sandstone and marble, the fort is characterized by its distinctive Hindu style with big ramparts and cobbled paths. You could choose to ascend the fort on foot or by jeep (at additional cost). On our way back, we will stop by Jal Mahal to take a photo of this Water Palace.Then we will move to the Maharaja City Palace of Mughal, Rajput and European styles along with a discovery of the ancient Jantar Manta Observatory. Next, a leisurely roam outside the Hawa Mahal follows. Lastly, a visit to the Birla Temple with exquisite carvings of Hindu elements will conclude today's tour.
Meals: Breakfast
The square in Amber Fort
Maharaja City Palace
Day 10
Jaipur - Abhaneri - Fatehpur Sikri - Agra
Drive to Agra. En-route visit Chand Baori in Abhaneri and Fatehpur Sikri. (B)
In the morning, we will continue our guided tour of India to Agra by a private vehicle. We will have a stopover at Abhaneri to visit the 'Baoris' - rainwater reservoirs built in the shape of stepwell. With your driver, you will witness the 1000-year old Chand Baori, famous for its 3,500 steps and artistic designs. We will also stop to visit Fatehpur Sikri, also named the City of Victory. It was the former capital of the Mughal Empire from 1571 to 1585 with a lot of historic legacies remaining at present, from which you could dig out its past prosperity. Your guide will accompany you to view some famous historical monuments there, including Jama Masjid, the Tomb of Salim Chishti, Panch Mahal and Buland Darwaza. After these visits, we will hit the road to Agra. Upon arrival, we will help you with the hotel check-in procedure, and then you can arrange the rest of the day on your own.
Meals: Breakfast
Accommodation: Holiday Inn Agra MG Road




Taj Mahal, Agra Fort. Drive to Delhi & check in at hotel. (B)
A road trip to Agra awaits you in the morning. You will be accompanied to visit two World Heritage Sites, namely the Taj Mahal and the Agra Fort. Taj Mahal was a mausoleum complex built for Mughal Emperor Shah Jahan to recall his beloved wife, Mumtaz Mahal. As one of the most symmetrical architectures in the world, the tomb structure is made up of ivory-white marbles and becomes an outstanding icon of India's glorious history. Afterwards, you will marvel at the Agra Fort. Crowned as one of the most elegant forts of India, it used to be the major residence for emperors of the Mughal Empire.
When your Agra tour is concluded, we will take you to Delhi by car, and help you check in at your hotel. Then you are free to hang out in this capital. Delhi is one of the most popular travel destinations in the Golden Triangle of India, with a dramatic blend of modern and vintage glamour. For first-time travelers, you are suggested to drop by some local bazaars to get the most authentic impression of the local life.
Meals: Breakfast
Accommodation: Crowne Plaza New Delhi Rohini




Raj Ghat, Jama Masjid, Red Fort (drive by), A rickshaw ride in Chandni Chowk, Gurudwara Bangla Sahib, Humayun's Tomb, Qutub Minar, India Gate. (B)
A full-day guided tour to essential attractions in Delhi unveils from the Raj Ghat, a memorial site for Gandhi who was the great leader of the Indian independence movement. Then drive by the Red Fort, a top sight made of red sandstone in the Mughal Empire period. Visit another must-see, the Jama Masjid, a brilliant mosque of great significance in India. After that follows an interesting rickshaw ride through the crowded and twisting alleys of Chandni Chowk Market for you to experience the real life of locals.
In the afternoon, we will proceed to Gurudwara Bangla Sahib, an excellent Sikh house of worship dating back to 1783. Afterwards, we will wonder at the grand Humayun's Tomb, a 16th-century mausoleum dedicated to a Mughal Emperor. Then continue our exploration to the Qutub Minar, an ancient brick tower with a height of 73 meters (240 feet), built by the command of Qutb-ud-din Aybak in 1193. Next, we will visit the India Gate - a memorial site for fallen Indian soldiers in World War I. At last, we will drive by the splendid Parliament House, President's House and other Government Secretarial Buildings, and the photo stops will be made at your request. At dusk, your driver will escort you back to the hotel.
Meals: Breakfast
Have a glimpse of Red Fort
Qutub Minar
Day 13
Departure from Delhi
See off at the airport. We wish a nice trip home! (B)
It is the last day of your holiday package from Mumbai. After breakfast, you will be transferred to the airport for your departure flight. Wish you a safe journey home!

Meals: Breakfast
B-- Breakfast
L-- Lunch
D-- Dinner
Earlier Booking, Bigger Savings
10% off
- book 60 days before,
5% off
- book 30 days before
Travelers
2-3 travelers
4-5 travelers
Jan-Mar, Oct-Dec

$2229

$2006

$2069

$1862

Apr-Sep

$2149

$1934

$1979

$1781
Prices are per person in US Dollars based on double occupancy.
The prices in red reflect 10% discount.
Any part of the itinerary e.g. tour length, activities & hotels can be tailored to your individual interests.
Price Includes
Economy class airfare of Mumbai - Aurangabad - Udaipur in the itinerary
Accommodation with daily breakfast
Services of a private driver and air-conditioned vehicles
Service of English speaking guides for the city tours mentioned(Except Abhaneri)
Entrance fees for all mentioned sights visited
Bicycle rickshaw ride in Chandni Chowk
2 bottles drinking water per person per day & wet tissues in vehicle
All presently applicable taxes
Price Excludes
The airfare of arrival in Mumbai and departure from Delhi
Meals other than those mentioned in the itinerary
Personal expenses (camera fees, laundry, telephone, travel insurance, drinks, etc.)
Tips for guides and drivers
Visa fees
Itineraries you may also like: