Why Choose Us?
Free 24/7 Services
100% Tailor Made
Hand-picked Hotels
Expert Local Guides
No Hidden Charge
Best Value for Money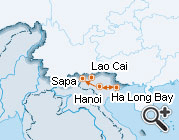 Ethnic Charm of Vietnam
TVN51: 7 Days Hanoi - Sapa - Lao Cai
After arrival at Noi Bai International Airport, we suggest you get on a shuttle bus to the Jetstar Airlines Office in downtown area. The bus fare is VND40,000, but it's free of charge for passengers taking Jetstar flights. Then find a comfortable hotel to get some rest. Noble Boutique Hotel Hanoi could be a good choice for you. It is only 1 mile northwest of the alighting point and 450 yards away from the Hoan Kiem Lake.

Tip: It could be more convenient using Vietnamese Dongs during your visit, so please exchange for some VND cash either at the airport or in a bank near your hotel.

Accommodation Suggestion: Noble Boutique Hotel Hanoi (3 stars)

One Pillar Pagoda, Hanoi
You are suggested to start your independent Vietnam tour with Ba Dinh Square. Please take bus no.9 from Hoan Kiem Lake to Le Hong Phong, and then walk to the square. If necessary, it is suggested you buy a map to make your trip easier.

As a landmark of Hanoi, Ba Dinh Square has witnessed great celebrations and festival activities. Ho Chi Minh, the first president of modern Vietnam, once lived beside this square. You will learn more about this great politician by visiting his residence, mausoleum, and Ho Chi Minh Museum. There is also a unique temple near the museum called One Pillar Pagoda. As its name suggests, the temple is standing on a single pillar in the middle of a pond.

After that, walk southwards for about 10 minutes to the Temple of Literature on Quoc Tu Giam Street. It is a typical Chinese building for people to worship the Confucius, a famous ancient Chinese educationist. It's also the first university in Vietnam, built in 1070. If you pay a visit during January ~ February, you may have the chance to attend the grand celebrations of the Vietnamese New Year.

When you finish your visit there, you can take a taxi to the Saint Joseph Cathedral. This French-style building is the oldest cathedral built in 1886. It follows the style of Notre Dame de Paris with intricate decorations, stained glass windows, and archaic square towers.

Walk eastwards for about 10 minutes to the next destination of your independent Hanoi tour, Hoan Kiem Lake. Local people usually spend a leisure afternoon here. You can wander around the lake to relax yourself in the fresh air.

Then head 550 yards north to the 36 Streets, the busiest commercial block in Hanoi. Basically, one street sells the same kind of products and there are shoes street, hats street, silverware street, leather street, kitchenware street... You can buy some souvenirs for your families and friends here.

Today's backpacking tour will end here. It is recommended to have a 2-day cruise on Ha Long Bay from the next day, and you need to book the tickets at the Sinh Tourist Office or similar in advance.

Sinh Tourist Office 1
Location: No.64 Tran Nhat Duat Street, Hanoi
Tel: +84-4-39290394
Opening Hours: 06:00 - 20:30

Sinh Tourist Office 2
Location: No.52 Luong Ngoc Quyen Street, Hoan Kiem District
Tel: +84-4-39261568
Opening Hours: 06:30 - 22:00
Day 3
Hanoi - Ha Long Bay

Temple of Literature, Hanoi
The picking-up point is at the Sinh Tourist Office 1. Please arrive there during 7:45 - 8:15. Then the Sinh Tourist Bus will take you to the harbor and you will get onboard the Golden Lotus Garden Cruise Ship at 12:15 or so. During the cruise, you will have a full view of hills standing separately in the water.

The cruise stops at the Surprising Cave at around 15:30 for you to appreciate diverse stalactites in shapes of horse, tree, flowers... You will also have a chance to enjoy kayaking and swimming. When the night falls, you may sing karaoke and fish squid with crews.

Accommodation Suggestion: Golden Lotus Garden Cruise or Golden Lotus Premium Cruise (3 stars)
Day 4
Ha Long Bay - Hanoi
Today you will be transferred to Titop Island for swimming and climbing mountains. Besides, you can also relax yourself on the beach. Then, get onboard and continue cruising with pleasant scenery along the way. After having a wonderful time, you will be sent back to Ha Long Bay Harbor at around 12:30, and then be taken back to Hanoi.

After arriving in Hanoi, book the next day's bus tickets to Sapa at the Sinh Tourist Office. The bus leaves for Sapa at 6:30 and 7:30 every day. After a short break at the hotel, you can watch a puppet show at Thang Long Water Puppet Theater if you still want more activities. You can find the theater on the northeast corner of Hoan Kiem Lake.

Alternatively, you can take an overnight train from Hanoi Train Station B to Lao Cai at 21:10. Upon arrival, take a minibus to Sapa.

Accommodation Suggestion: Noble Boutique Hotel Hanoi (3 stars)
Please arrive at the Sinh Tourist Office1 on time for your onward bus to Sapa. It will take 6 hours or so to get there. We suggest you to rest for a while in a hotel after a long-distance ride. U Sapa Hotel, only 100 yards from Sapa Stone Church, is quite convenient. After having a big meal, you may wander around this French-style town for the rest of the day.

Accommodation Suggestion: U Sapa Hotel (4 stars)

Street scene in Hanoi
You are recommended to go on a hike to Lao Chai and Ta Van Villages today. Lao Chai Village is the residence of the black Hmong people while Ta Van Village is multinational with Hmong, Giay, and Red Dao people living together. Besides various distinctive ethnic cultures, terraced fields and murmuring streams of the two villages would surely make you feel refreshed. You can also pay a visit to a local family to know more about their everyday life and taste local dishes.

Tips: After having such a busy day, please don't forget to book the next day's bus back to Hanoi at the Sinh Tourist Office. The bus usually leaves for Hanoi at 13:30 and 16:00.
Day 7
Departure from Sapa
It is the last day of your independent Vietnam tour, but you still have a whole morning exploring more about Hmong people at Cat Cat and Sin Chai Villages.

After breakfast, check out the hotel and deposit your luggage at the reception desk for temporary. Then hike to Cat Cat and Sin Chai while enjoying terraces scenery along the way. You will encounter waterfalls in the midway, where you can take a short break. Residents in Cat Cat and Sin Chai Villages are quite good at twisting flax as well as weaving fabric and brocade. You may have a try of these traditional skills if interested.

After the hiking, go back to the hotel to fetch your luggage and get to the Sinh Tourist Office for your return bus to Hanoi. Alternatively, you can charter a car to Lao Cai Port and extend your journey to China. Have a nice trip!

More Vietnam Itineraries: