Dazu Rock Carvings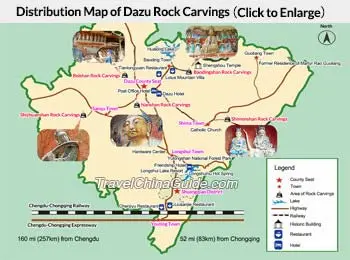 Distribution Map of Dazu Rock Carvings
Chinese Name: 大足石刻
Location: Dazu County, Chongqing
Earliest Carving Time: 650 AD during the Tang Dynasty
Number of Statues: Over 50,000
Area: 41,267 acres (16,700 hectares)
Dazu Rock Carvings contains all the cliffside carvings in Dazu County. The collection is composed of the rock carvings in Beishan, Baodingshan, Nanshan, Shimenshan as well as Shizhuanshan, all of which are of the highest artistic attainment and demonstrate the most exquisite skills.
Dazu County, reputed as 'the county of rock carving' is located at the southeast of Sichuan province. It is 168 miles (about 271 kilometers) from Chengdu on its west and 104 miles (about 167 kilometers) from Chongqing on its east. The whole county has an area of 540 square miles (about 1,400 square kilometers), and it owns a history of more than 1,200 years since it came into existence in 758 during the
Tang Dynasty
(618-907).
Dazu Rock Carvings was built from 650 in the Tang Dynasty and continued to the
Ming Dynasty
(1368-1644) and the
Qing Dynasty
(1616-1911). It is as famous as the
Mogao Caves
in Dunhuang, Gansu Province. The rock carvings in these places are very distinguished both at home and abroad. Among the rock carvings, there are more than 50,000 statues and over 100,000 Chinese characters of inscriptions and epigraphs. The Buddhist statues dominate in this rock carving group, and the Taoist and the Confucian stone figures can also be seen.
Beishan Rock Carving
It is 1.2 miles (about 2 kilometers ) away from the northwest of Dazu County. Figures in this part are something like 'an Assembly of Oriental Beauties', since it enjoys good preservation and elaborate craftsmanship. Tourists can see the graceful statue of Samantabhadra Bodhisattva, crowned as 'the Oriental Venus'. Rock carvings in this part reveal the common Buddhist faith. Standing here for a while, one may feel that it is really a Buddhist palace.
Baodingshan Rock Carving
It is 9 miles (about 15 kilometers) from the northeast of Dazu County. It is made up of 13 groups of stone carving figures, totaling nearly 10 thousand cliffside figures. In this part, magnificent rock figures in different shapes compose a story. One will see some original and ethnic Buddhist rock features.
Nanshan Rock Carving
Standing at the southeast of Dazu County, the Taoism doctrine is the main theme in this part. Taoist gods' figures are carved vividly. The cave of Sanqing demonstrates the Taoist gods' ranking in the Song Dynasty (960-1279). Therefore, tourists will be impressed by these colorful clay creations.
Shizhuanshan Rock Carving
This section is 16 miles (about 25 kilometers) far from the southwest of Dazu County. The niche of Confucius and that of Lao Tzu can be seen here. Buddhist, Taoist and Confucius statues are integrated in this part which is quite rare in Chinese grotto art.
Shimenshan Rock Carving
Apart 12 miles (about 20 kilometers) from the eastern part of Dazu County, Shimenshan Rock Carving combines Buddhist and Taoist statues, but the later one predominates. In addition to these stone figures, there are also some inscriptions and remarks beside the figures. Representaion of some gods' figures are lifelike and vivid. For example, outside the niche of the Great Jade Emperor stands the statuary of Shun Feng Er, a favorable god having clairaudience. It looks as if he is looking into the distance. Besides, there is a figure of Qian Li Yan, a god that can see things happening in a thousand miles' distance. It looks as if he is listening attentively.

Many statues show the Buddhist and the Confucius doctrines, particularly the filial piety. In 1999, Dazu Rock Carvings were ranked as a World Cultural Heritage Site. Every year many thousands of tourists from home and abroad pay a visit to Dazu to appreciate the rock carvings.
How to get to Dazu Rock Carvings from Chongqing
Visitors may take a bus from Chongqing Bus Station, Longtousi South Bus Station, Longtousi North Bus Station, or Chenjiaping Bus Station to Dazu County Bus Station in around two hours. After arrival, take bus 205 to Baodingshan Rock Carving Scenic Area. After the visit, take a taxi to Beishan.



Please note that Chongqing Bus Station is different from Chongqing Long Distance Bus Station. Also known as Caiyuanba Bus Station, it's the one located at No. 6, Caiyuan Road, Yuzhong District.
Click to see Long Distance Bus Stations in Chongqing

Admission Fee
CNY 115 for Baodingshan (including Shengshou Temple)
CNY 70 for Beishan
CNY 5 for Nanshan
Combo Ticket
CNY 140 for Baodingshan, Beishan and Shengshou Temple
Opening Hours
08:30 to 18:00 (Ticket sale stops at 16:30)
Recommended Time for a Visit
3 to 6 hours

Note: Children below 3.9 feet (1.2 meters) can enter for free.
Related Reading

Maiji Caves
in Tianshui, Gansu

Yungang Grottoes
in Datong, Shanxi

Longmen Grottoes
in Luoyang, Henan

Top 10 Things to Do in Chongqing
- Last modified on Sep. 04, 2019 -
Questions & Answers on Dazu Rock Carvings
Asked by Alexey from ISRAEL | Sep. 02, 2019 23:35

Reply
Travelling Chongqing Dazu Rock Carvings during the National Day holiday
I know that during the Chinese holidays it maybe overcrowded, so is it possible to book the bus tickets from Chongqing to Dazu in advance?

Thanks for help.
Answers (1)
Answered by Max from CANADA | Sep. 04, 2019 20:26

0

0

Reply
Yes, you can book it at some Chinese travel apps but they only provide Chinese version. Or you just need to go the scenic area early in the morning and purchase the tickets when you arriving there.
Asked by FabGreg from FRANCE | Jul. 26, 2019 02:25

Reply
From Dazu Nan to Dazu downtown
From information on bus.mapbar.com, 204 and 206 bus lines provide service from Dazu Nan Railway Station to Dazu downtown but only from 06:30 till 18:30.

Since I intend to arrive from Chengdu at 19:10, do you think I could find shared taxi service at that time of the day.

Fabrice
Answers (1)
Answered by Gates from USA | Jul. 30, 2019 19:25

0

0

Reply
Yes, of course. However, the fare would be a little bit expensive than in the day time.
Asked by SK from SINGAPORE | Jul. 22, 2019 07:11

Reply
Are there hotels around Dazu South train station?
We plan to go by train from Chongqing, staying one night in Dazu. We will then take the train the next day to go to Chengdu. We can't seem to find info about hotels near the South train station. Thanks in advance for any info.
Answers (1)
Answered by Moria from USA | Jul. 25, 2019 19:51

0

0

Reply
Maybe you can go to Lvying Haoting Business Hotel, which is located at No.16, Anbei Road, Shuangqiao Jingkai District, Dazu District. You can take taxi after you arriving South Railway Station.
Asked by Alexey from ISRAEL | Jul. 14, 2019 10:11

Reply
How to get to the Rock Carving Scenic Area from the Dazu South station?
Is there a direct bus to the site from there or do I need to take a taxi?

Thanks for help.
Answers (1)
Answered by Alice from AUSTRALIA | Jul. 15, 2019 01:05

0

0

Reply
Yes, you can take bus No.206 from Gaotie Dazunan Station to Mali Gongguan Station, and transfer to bus No.205 to Baoding Paichusuo Station, and walk north of 100m to your destination.
Asked by Fuifong from THAILAND | Oct. 20, 2018 05:02

Reply
Is there any left luggage service at Dazu south railway station?
How much does it charge?

Thanks.
Answers (2)
Answered by Josh from USA | Oct. 22, 2018 00:18

0

0

Reply
Yes, there is. But I couldn't find the location and the fee about the check room and you may see it when you arrive.
Answered by Fuifong from THAILAND | Oct. 22, 2018 01:02

0

0

Reply
Thanks again.