Top Beijing Attractions
More Things to Do
Top 10 City Tours
BJ-FT01: Beijing Hutong Food Tour
Hutong Food and Culture Experience

Free Cancellation

24-hour Before

Welcome to join the food tour Beijing. At 18:00, your professional guide will pick you up from your hotel on time. Then the guide will lead you to Beijing Hutong area by taxi or subway to start your Beijing food tour. The first stop will be the Huguosi Hutong Snack Street, one of most famous food streets in Beijing featuring authentic Beijing snacks. We will go to the Huguosi Xiaochi Restaurant. It is a time-honored brand on the street. There are more than 20 different kinds of local snacks provided in the restaurant, such as Fried Ring, Fermented Mung Bean Juice, Steamed Rice Cakes, Beef Wrapped in Sesame Seed Bun, Yellow Pea Cake, Cream Fried Cake, Fried Sugar Cake, Seasoned Millet Porridge, Fried Chop Rice Cake, Baked Wheaten Cake, Beijing Traditional Yogurt, Spring Roll… You can taste whatever you want.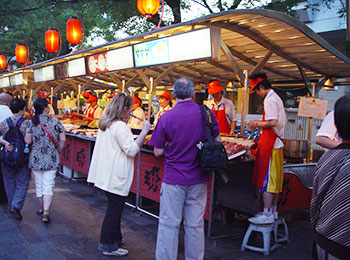 Taste the diverse local snacks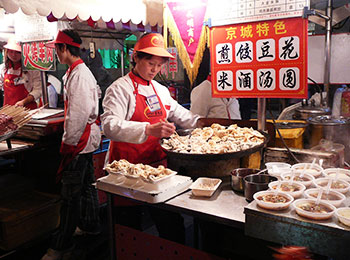 A popular food street in Beijing
After that, you will be led to the Nanluoguxiang Hutong where you could enjoy many popular snacks all over the country including Taiwan Milk Tea, Changsha Sausage, Shanghai Crab Yolk Bun, Macau Milk Custard… Following your guide, you will explore many featured snack bars while tasting delicious food at your own expense.
Finally, we will come to the Houhai, a well-known entertainment place with a lots of bars. If you feel tired, you can rest a while and drink a glass of beer or coffee, spending some nice time chatting and experiencing the night life of Beijing. This Beijing food tour will end at around 21:00. Your guide will escort you back to your hotel by taxi or subway.
Meals: Snack Dinner at Huguosi Xiaochi Restaurant
Fermented Mung Bean Juice
It is actually the fermented leftover for making green bean starch. Although looking very ordinary, it could nourish the stomach, clear heat and detoxify, thus playing an important role in Beijingers' daily life. They usually have it with another crispy snack called Fried Ring. The juice is in light celadon color and tastes a little bit sour, which is not very friendly to those first-time diners, but you will get addicted to it after getting used to the taste. Fermented Mung Bean Juice so far has more than 300 years of history. In Qing Dynasty (1636 - 1912), it even became a popular drink for imperial court. Therefore it is truly worth trying.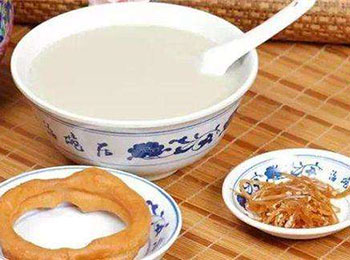 Fermented Mung Bean Juice
Cream Fried Cake
Cream Fried Cake
The Cream Fried Cakes are small dumpling balls which are made of flour, egg, vanilla powder, cream and sugar. It is golden brown and crispy on the outside and meltingly tender on the inside, with rich flavor and nutrition and easy to digest, thus making it very popular among Beijing folks.
Yellow Pea Cake
Yellow Pea Cake is one kind of seasonal snacks in spring time. It is famous because Empress Dowager Cixi (1835 - 1908) used to like it very much. Made of fine peas, it is light yellow in color with exquisite and sweet taste. Melting in the mouth, it is really cool and refreshing.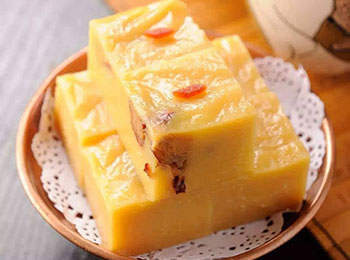 Yellow Pea Cake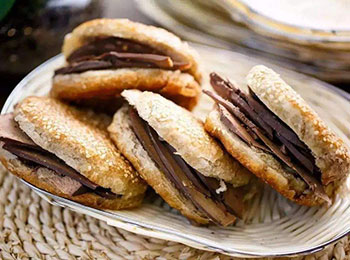 Beef Wrapped in Sesame Seed Bun
Beef Wrapped in Sesame Seed Bun
It is an open bun stuffed with hearty braised beef. The sesame seed bun is usually freshly baked and very crispy, full of sesame flavor. While the beef is simmered for hours with secret sauce, soft and juicy. You will get satisfied after you have a first bite.
Prices (US$ Per Person)
1 person

$129

2 persons

$83

3 persons

$72

4 persons

$58

5 persons

$56

6 persons

$47

7 persons

$45

8 persons

$43

9 persons

$43

10+

$36

Price Includes
Private English-speaking guide
Public transportation fee
Snack dinner at Huguosi Xiaochi Restaurant
Price Excludes
Private driver & vehicle
Tips or gratuities for guide
Itineraries you may also like:
The above routes do not meet your requirements? Please click
Tailor My Trip