Belize Discovery
TBZ102: 10 Days Private Tour of Belize City - Placencia - San Ignacio - Belize City - Caye Caulker - Belize City
Tour Type:
Private Tour, any part of the itinerary can be customized
Guide:
English-speaking driver guide, experienced and knowledgeable
Vehicle:
Air-conditioned car, spacious and comfortable
Accommodation:
3 to 5-star hotels, also be open to your own choice
Meals:
Authentic local cuisines and western-style food for your choice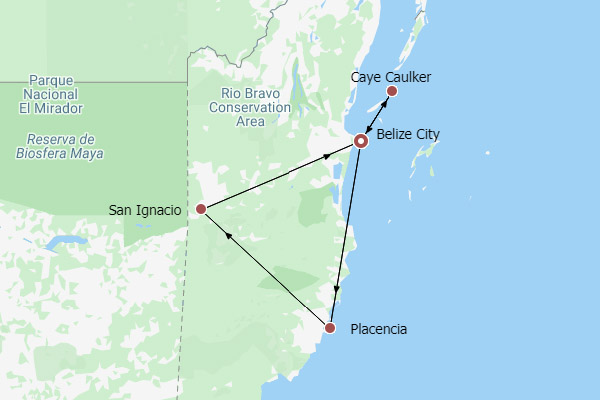 Day 1
Airport pickup, Transfer to the hotel
Welcome to join our 10 days Belize tour! When you land in the international airport in Belize City, our driver guide will pick you up and send you to check into the cozy hotel. The rest time is free for you. You may hang out at the city center to appreciate the historical architecture on your own.
Accommodation: Radisson Fort George Hotel & Marina, Belize City




Day 2
Enjoy Cave Tubing & Zip-line Adventure Tour
Have breakfast at the hotel. Then the driver guide will pick you up and drive for 1 hour to Nohoch Che'en Caves Branch Archaeological Reserve. Upon arrival, change into your swimsuit, put on life-vest and helmet and bring the inner tubes to walk for about 30 minutes to the entrance of the cave, then start enjoying the cave tubing in the inner tubes. The natural salt beds, wild bats, fantastic stalagmites, etc. can be seen during the cave tubing tour. Getting out from the cave, the tubing will continue for a while for you to see black howler monkeys and other wildlife. After the interesting tubing, go ashore and change into dry clothes. Then we will drive for about 10 minutes to the zip-line site, where you will enjoy a zip-line adventure with helmet, safety belts, gloves, and other safety gears. Finally the driver guide will send you back to your hotel.

Meals: Breakfast, Lunch
Day 3
Transfer to Placencia with a visit to Belize zoo and St. Herman's cave
We will drive to Placencia today, taking about 3 hours. On the way, make a stop to visit Belize Zoo, where you can see various local wildlife, like birds, American tigers, American ocelots, and more lives in the jungles. Leaving Belize Zoo, we'll drive for half an hour to reach St. Herman's Cave at the Blue Hole National Park. There, we will trek through the jungle to reach a cave housing giant and diverse stalactites and stalagmites. After the visit, continue driving to Pacenica and check in the hotel upon arrival.
Meals: Breakfast, Lunch
Accommodation: Mariposa Beach Resort, Placencia




Day 4
Enjoy Half day snorkeling tour
After breakfast, the guide will lead you to enjoy snorkeling, during which you can see varieties of marine lives. In the free afternoon, you may take a walk on the beach in Placencia. You can also ask the driver to send you back to the hotel for a rest.

Meals: Breakfast
Day 5
Transfer to San Ignacio, Visit Mayan Ruins of Xunantenich and Cahal Pech
The next destination of our Belize 10 days itinerary is San Ignacio. Your driver guide will transfer you to the city. Checking into the hotel upon arrival. After a short break, we will drive to Mayan Ruin of Xunantenich. Xunantenich, opened to the public since 1950, is the first Maya site open to the tourists. It was an etiquette center with 25 temples and palaces. After visiting these ruins, we'll drive for 30 minutes to the Mayan Ruin of Cahal Pech, which consists of 7 squares and more than 30 ancient buildings, including Mayan temples, residences, playground, sacrificial altars and sweat-house. At the royal tomb discovered there, you can witness the old Mayan relics, including ornaments made of shells and bones, potteries, obsidians and jades, etc. The shell and jade mosaic masks are quite impressive among these old things. At the end of the day, send you back to the hotel.
Meals: Breakfast, Lunch
Accommodation: Mahogany Hall boutique Resort



Day 6
Full day highlights with Rio Frio cave and Mayan Ruin Caracol
Driving for 1.5 hours, we will come to Rio Frio Cave. It is a part of the Mayan cave system for burying the dead. Inside, there are quite many giant stalactites, stones inside and small pools and waterfalls formed by the flowing streams. After that, we will drive an hour to Mayan Ruin Caracol, the largest Maya Ruin in Belize. Then on the way back to the hotel, you'll be guided to Rio on Pools, where you can swim or take photos during the short stopover.

Meals: Breakfast, Lunch
Day 7
Transfer to Caye Caulker with connection in Belize City, Visit Jaguar Paw Cave
After breakfast, your driver guide will pick you up and head to Belize City. We'll make a stopover visit to Jaguar Paw Cave, to take part in a 3-hour cave tubing tour. On arrival in Belize City, you will take the local water taxi to Caye Caulker Island alone. After water taxi, the taxi driver will pick you up and drive you to the hotel on Caye Caulker Island. The rest time today would be your free time, so you may relax in your own ways.
Meals: Breakfast, Lunch
Accommodation: Caye Reef Resort





Day 8
Enjoy the snorkeling in Hol Chan Marine Reserve, Shark Ray Alley
In the morning, the guide will pick you up and accompany you to Hol Chan Marine Reserve by boat. Hol Chan Marine Reserve is the second largest barrier reef, and you can experience snorkeling there to see various species of marine lives. You could find big groupers, snappers and jackfishes in the corals, and there are also some large creatures like turtles and stingrays. After, go to the adjacent Shark Ray Alley, where you can swim together with large groups of stingrays. After today's ocean sightseeing, send you back to the hotel.

Meals: Breakfast, Lunch
No activities are arranged today and you can spend it as you like. You may have a rest at the hotel, or take a walk on the beach. If you're interested in the Great Blue Hole, you could join a flyover tour to see the natural wonder on high. However, you need to sign up for the tour in advance and pay at your own expense. In the afternoon, the taxi driver will escort you from the hotel to the wharf, then send you to take the water taxi back to Belize City. Another taxi driver will pick you up and transfer you to the hotel for rest in Belize City.
Meals: Breakfast
Accommodation: Radisson Fort George Hotel & Marina, Belize City




Day 10
Belize City departure, Airport See-off
After having breakfast at the hotel, the driver guide will drop you off at the international airport of Belize City. Enjoy your journey home!

Meals: Breakfast
B-- Breakfast
L-- Lunch
D-- Dinner