Best of Belize
TBZ101: 9 Days Private Tour of Belize City - San Ignacio - Belize City - Caye Caulker - Belize City
Tour Type:
Private Tour, any part of the itinerary can be customized
Guide:
English-speaking driver guide, experienced and knowledgeable
Vehicle:
Air-conditioned car, spacious and comfortable
Accommodation:
3 to 5-star hotels, also be open to your own choice
Meals:
Authentic local cuisines and western-style food for your choice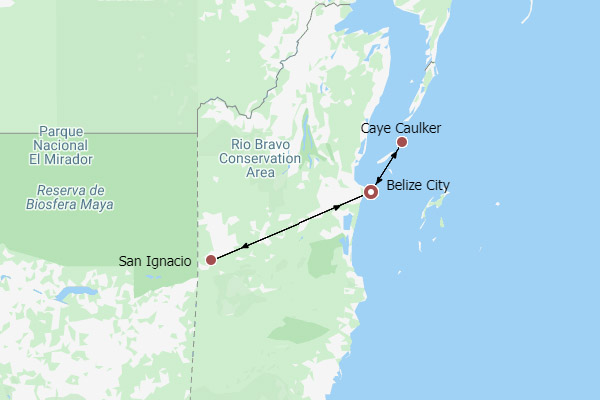 Day 1
Airport pickup, transfer to the hotel
Welcome to join our best Belize private tours! On your arrival at the airport in Belize City, you will meet our driver guide waiting for you. Then he/she will transfer you to the hotel to check in.
Accommodation: Radisson Fort George Hotel & Marina, Belize City




Day 2
Take interesting Cave Kayaking Tour
After breakfast, the driver guide will pick you up from your hotel and drive for an hour to Nohoch Chen'en Caves Branch Archaeological Reserve. On arrival, start kayaking on the river. We will sail through the incredible caves upstream, and then go down the river while seeing the jungle landscapes on the banks. After the exciting kayaking tour, the driver guide will send you back to your hotel in Belize City.

Meals: Breakfast, Lunch
Day 3
Transfer to San Ignacio, Visit Cahal Pech Ruins
After breakfast, we'll get to San Ignacio by 1h 45min's drive. This is a famous tourist place in Belize, and we'll check into the hotel on arrival. After a short rest, we will go to Cahal Pech Ruins – a Maya site near the town center. Cahal Pech Ruins, about 1,600 years old, was the palace of the Maya ruler, constructed with 7 squares and more than 30 buildings. You will see the old temple, court, and other architecture. Finally, you driver guide will escort you back the hotel.
Meals: Breakfast, Lunch
Accommodation: Mahogany Hall boutique Resort



Day 4
Enjoy a full day tour in Actun Tunichil Muknal (ATM) Cave
During today's best Belize tour, the driver guide will escort you to Actun Tunichil Muknal (ATM) Cave. We will get to the starting point of the hiking trail first, and then go hiking for around 45 minutes to the entrance of the cave. After learning some safety tips and how to use the safety facilities, follow the guide to enjoy an adventure inside. We'll go through a lagoon, the narrow tunnels, pools and wide caves, and finally get to the central place of ATM Cave. There is a ladder so that you could climb it to reach ancient Maya tombs. You need to take off your shoes before stepping into the tomb cave, where houses the thousand-year-old potteries, human remains and other relics. The guide will introduce these relics for you in details. After the visit, we'll return by the coming way. Getting back to the parking pot, enjoy the prepared lunch and then we will return to the hotel in San Ignacio by car.

Meals: Breakfast, Lunch
Day 5
Visit Caracol Maya Ruins & Enjoy Waterfall Tour
Drive for 1.5 hours to Chiquibul Forest Reserve after breakfast. On the way, make a short stopover at the beautiful Rio Frio Cave. After, we'll go on driving to the Chiquibul Forest Reserve. This is a Maya city, and we will explore Caracol Maya Ruins - the largest Maya archaeological site in Belize. On the following 3-hour guided tour, we will walk along the ancient paths, to enjoy the ruins as well as the charming scenery with diverse flora and fauna. After the visit, enjoy lunch and continue the best Belize tour to Big Rock Waterfalls, where is a perfect place to swim and relax. We'll then get back to San Ignacio at around 5:00 PM.

Meals: Breakfast, Lunch
Day 6
Transfer to Caye Caulker with the connection in Belize City
We'll drive around 1h 50min back to Belize City today. And you will take the water taxi by yourselves to Caye Caulker Island. On reaching the island in an hour, the taxi driver will wait for you and transfer you to the hotel. The rest of the day is free for you. You could have a rest in your room, or enjoy a stroll by the sea on your own.
Meals: Breakfast
Accommodation: Caye Reef Resort





Day 7
Enjoy the amazing Marine Reserve Snorkeling Tour
After breakfast, your driver guide will escort you to Caye Caulker Marine Reserve by boat, where you can experience snorkeling to see beautiful marine lives and caves underwater. We will also visit the serene South Channel, exhilarating Stingray Alley, mystical Coral Gardens, and Tarpon Pool. After the best Belize private tours today, you'll be transferred back to your hotel.

Meals: Breakfast, Lunch
Day 8
Free day, Return to Belize City
Today is a free day for you. You may relax by the sea or join a Great Blue Hole flyover tour at your own expense. Up to the afternoon, the taxi driver will pick you up from your hotel, and send you to take the water taxi. Then taxi driver will transfer you back to the hotel in Belize City.
Meals: Breakfast
Accommodation: Radisson Fort George Hotel & Marina, Belize City




Day 9
Belize City departure, Airport see-off
According to the schedule of your flight, the driver guide will send you to the international airport in Belize City on time. Wish you a pleasant trip home!

Meals: Breakfast
B-- Breakfast
L-- Lunch
D-- Dinner