Belize Mayan Cultural Tour
TBZ104: 7 Days Private Tour of Belize City - Orange Walk - San Ignacio - Belize City
Tour Type:
Private tailor-made tour
Guide:
English-speaking driver guide, experienced and knowledgeable
Vehicle:
Air-conditioned car, spacious and comfortable
Accommodation:
3 to 4-star hotels, also be open to your own choice
Meals:
Authentic local cuisines and western-style food for your choice
This trip can be customized to meet your individual needs!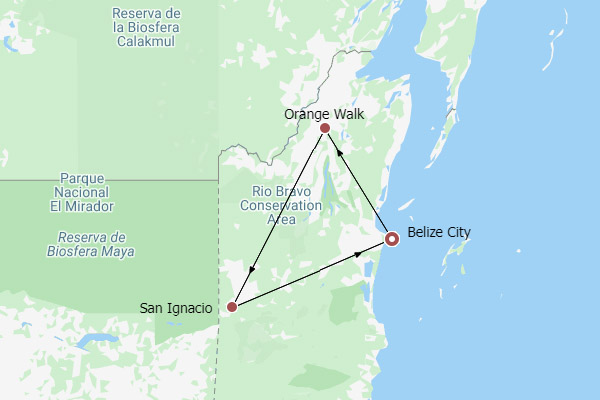 Day 1
Belize City arrival, Airport Pick-up with city sightseeing
When you get to Belize City international airport, you'll be picked up by the driver guide and transferred to the hotel. After having a short rest, the driver guide will escort you to visit Belize City. We will travel through the old Swing Bridge over the Belize River, and then visit St. John's Cathedral – the oldest cathedral of Anglicanism in Central America. Then we'll go to the Baron Bliss Lighthouse, which was built in 1885 and was painted in white and red. We'll also go to see the House of Culture, which is the government office building from outside. Finally, we will visit Memorial Park, which is dedicated to the fallen soldiers in the World War Ⅰ. After the visits, the driver guide will escort you to get back to the hotel.
Accommodation: Radisson Fort George Hotel & Marina, Belize City
Day 2
Full day tour to Maya Ruins of Lamanai
After breakfast in the hotel, you will be escorted by your driver guide to enjoy the Belize Mayan tour. First, drive for about an hour to Orange Walk. After getting there, we'll transfer to a boat to Mayan Ruins of Lamanai. During the half-hour trip by boat, you could observe various birds, orchids, water lilies and more flora and fauna by the river. Upon landing, follow the driver guide to trek though the trails in the jungle, while seeing giant Guanacaste trees and the Cohune palm forest and listening to the howler monkeys' cry. On arrival at Maya Ruins of Lamanai, you'll be guided to visit Mask Temple at first. On its top you can take a full-view picture of the square beneath. Then see High Temple, which is said to be over 2,000 years old and the site for religious gatherings of local tribes. We will also see the Ball Court and the Altar in the center, and walk through the residence zone to Stela 9, on which the fine pattern of Lord Smoking Shell of Lamanai Dynasty was carved. After, at Jaguar Temple, you could see the huge face on the wall. Finally, you will be sent back to the hotel.

Meals: Breakfast, Lunch
Day 3
Transfer to San Ignacio with a visit to Belize Zoo, Take an amazing cave tubing tour
We'll drive to San Ignacio today. On the way there, you will be guided to visit Belize Zoo. There are many native animals in the 29-acre land. Then we'll go on driving to Jaguar Paw rainforest near the scenic Caves Branch River. There, we will arrange you to enjoy the cave tubing. You will go through multiple caves, where the crystal stratum can be seen. After that, we'll go on to San Ignacio and check into the hotel for a good rest.
Meals: Breakfast, Lunch
Accommodation: Mahogany Hall boutique Resort
Day 4
Full day tour to Maya Ruins of Xunantenich & Cahal Pech
Today you'll be guided to visit Maya Ruins of Xunantenich and Cahal Pech. Your driver guide will take you to Xunantenich Mayan site at first, which is known for the large-scaled temple. The temple there is over 130 feet high, and is the second highest architecture in Belize. Then we'll go to Cahal Pech Mayan site. This is a splendid residence of a rich family on the mountain top, and also one of the oldest Mayan sites in western Belize. It altogether has 34 ancient buildings and the highest temple reaches 82 feet. On the highland on the bank of Macal River, you could overlook that Macal River meets Mopan River. After the visit, escort you back to the hotel.

Meals: Breakfast, Lunch
Day 5
Enjoy Actun Tunichil Muknal (ATM) Cave full day Tour
Today, you will be escorted to visit Actun Tunichil Muknal Cave. First, drive for 1.5 hours and then hike through the jungle and Roaring River for half an hour to get to the cave entrance. The driver guide will inform you the safety tips, help you wear the safety helmet with cap lamp, and then accompany you to swim cross a pool and the narrow corridors between rocks. During the exploration, the guide will also show you the rare Mayan relics in the cave. Afterwards, we'll walk to the parking pot, and then drive back to the hotel.

Meals: Breakfast, Lunch
Day 6
Full day tour to Caracol Mayan Ruins with a visit to Rio on Pools
Today we will go to visit Caracol Mayan Ruins, where you can witness the ancient magnificent temples. You can climb up to the top of those temples, to enjoy the majestic scenery of Chiquibul forest reserve in the surroundings on high. On the way back to the hotel, we'll have a stopover in Rio on pools. It's a perfect place to swim, with a series of natural fresh-water pools and small waterfalls.

Meals: Breakfast, Lunch
Day 7
Transfer to Belize City Airport, See off
After breakfast, the driver guide will send you to Belize City and drop you off at the airport. Wish you a pleasant journey!

Meals: Breakfast
This trip can be customized to meet your individual needs!
Itineraries you may also like: