Amazon Adventure Tour
TBR06: 12 Days Private Tour of Rio de Janeiro - Foz do Iguazu - South Pantanal - Manaus
Tour Type:
Private Tour, any parts of the itinerary can be customized
Guide:
English-speaking guide, experienced and knowledgeable
Driver:
Private driver with a spacious air-conditioned car
Accommodation:
4-star handpicked hotels, also be open to your own choice
Meals:
Authentic local cuisines and western-style food for your choice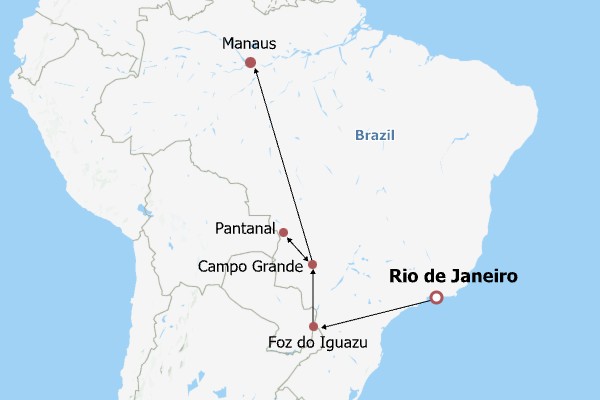 Day 1
Arrival in Rio de Janeiro, Airport pick-up
Welcome to Rio de Janeiro, the City of God! Our 12 days Amazon and Iguazu Falls tour will start from here. Our English speaking driver will wait for you at the airport with a placard to pick you up and transfer you to the hotel. The rest of the day is free for your own plan. Rio de Janeiro is located in the southeastern part of Brazil, lying on the beautiful Guanabara Bay and surrounded by mountains and waters. Owing to the nice landscape, it is a popular tourist destination worldwide.
Accommodation: Arena Leme Hotel




Day 2
Visit Christ the Redeemer & Botanical Garden
After enjoying a rich breakfast, our tour guide and driver will pick you up at the hotel. Today's first stop is the Christ the Redeemer on the Corcovado Mountain, the landmark in Rio de Janerio. The mountain is 709 meters (2,326 feet) high, an ideal spot to look over the town of Rio de Janeiro. On its top stands the giant statue of the Christ the Redeemer, which can be seen from most parts of the city whether it's day or night. In the afternoon, we will visit the Brazil Botanical Garden, one of the most important plants research centers in the world. Here you can have a chance to see some of the rarest plants in Brazil and other countries.
Meals: Breakfast
Accommodation: Arena Leme Hotel




Day 3
Full day tour in Rio de Janeiro city
Today, we will have a full day tour in Ro de Janeiro City. After breakfast, we first visit the Sugarloaf Mountain. Taking a cable car to the mountain top, you will have a panoramic view of the Rio de Janeiro City and the Guanabara Bay.
Afterward, the guide will lead you to the world's largest stadium, Maracanã Stadium. Built in 1950 for hosting the World Cup, it can hold as many as 150 thousand audience.
Then we will pay a visit to the Rio de Janeiro Cathedral, also known as the Metropolitan Cathedral of Saint Sebastian. Put into use since 1976, the cathedral shows a distinctive style from contemporary European cathedrals. The main structure with a conical form looks very modern. Looking from a distance, it will reminds you of the Pyramids in Egypt.
Before sending you back to the hotel at the end of the day, the guide will accompany you to take a walk in the old Rio and appreciate the "Cultural Corridor" there.
Meals: Breakfast
Accommodation: Arena Leme Hotel




Day 4
Fly to Foz do Iguazu, Visit Iguazu Falls & Bird Park
After breakfast, today's Rio de Janeiro to Iguazu Falls tour starts. The driver will send you to the airport for the flight to Iguazu. Upon arrival, our local guide and driver will pick you up and send you to the hotel for checking in. Then they will lead you to the Iguazu Falls, the world's widest waterfall. It lies on the border between Argentina and Brazil, taking the shape of a horse hoof. You will be amazed by the grand Iguazu Falls.
After having a self-paying lunch, visit the nearby Iguazu Bird Park accompanied by the guide, the largest one of its kind in South America. There you can appreciate lovely parrots, toucans, and other tropical birds.
Meals: Breakfast
Accommodation: Wish Foz do Iguacu




Day 5
Fly to Campo Grande, Transfer to South Pantanal
On the 5th day of the Brazil Amazon tour, our driver will take you to the Iguazu Airport after breakfast. Then fly to Campo Grande Airport on your own, where our local guide and driver will pick you up and head to Refúgio da Ilha EcoLodge in the South Pantanal. It needs about 3.5 hours to drive there. Pantanal boasts the most abundant aquatic plants all over the world. Upon arrival, check in a local farm, where you will stay overnight for the following three nights. After dinner, you can either have a good rest or have a discovery tour to experience the nightlife in Pantanal.
Meals: Breakfast, Dinner
Accommodation: Refúgio da Ilha EcoLodge




Day 6
Have fun in South Pantanal
Today begins with a nice breakfast in the EcoLodge, followed by an exciting guided tour to feel the lifestyle of cowboys. You will have an opportunity to ride a horse like a real cowboy and explore Pantanal on horseback. Galloping across the vast grassland, you can see other animals from time to time. During the dry season, there are lots of mosquitoes. Be sure to take enough repellent if you would like to participate in these activities. After lunch, we will take a safari drive and some evening activities.
Meals: Breakfast, Lunch, Dinner
Accommodation: Refúgio da Ilha EcoLodge




Day 7
South Pantanal Discovery
In the morning, you will be served with a Brazilian breakfast. Afterward, you can have a wonderful time exploring the funny animals in the wetland accompanied by our guide. Lunch and dinner will also be served on the farm timely for you to replenish energy.
Meals: Breakfast, Lunch, Dinner
Accommodation: Refúgio da Ilha EcoLodge




Day 8
Drive back to Campo Grande, Fly to Manaus
After breakfast, you will be escorted to the Campo Grande Airport and then fly to Manaus. After landing, our local driver will pick you up and take you to the hotel in Manaus. Manaus is a small town besides Amazon River. It used to be extremely prosperous for the monopolized rubber industry. Nowadays, it's no longer busy, only the Amazon Opera House tells about its past glory. You can take a free stroll around or have some rest after checking in.
Meal: Breakfast
Accommodation: Villa Amazonia Hotel




Day 9
Explore Amazon Rainforest
After breakfast, our guide and driver will send you to the lodge in Amazon in 2.5 to 3 hours car ride. You will be welcomed by a warmhearted drink upon arrival. Full board served at the lodge is included in this tour. In the afternoon, take a motorboat to explore Amazon Forest and after dinner, go for a night adventure to observe animals, both accompanied by our guide.
Meals: Breakfast, Lunch, Dinner
Accommodation: Anavilhanas Jungle Lodge




Day 10
Amazon wildlife adventure tour
Today comes the highlight of Brazil amazon tour. We will hike in the primitive rainforest and seek various rare plants and animals. Our guide will tell you knowledge about the insects, plants, and animals encountered on the way. After the tour, return to the lodge for lunch and then have some amazing experiences like swimming and canoeing in designated safe areas.
Meals: Breakfast, Lunch, Dinner
Accommodation: Anavilhanas Jungle Lodge




Day 11
Discover native inhabitants life style in Amazon, return to Manaus
Get up early in the morning to watch sunrise and then drop by the aboriginal jungle tribes. The aborigines still live a traditional life happily on this land. During the visit, the guide will show you the local's diet and explain their culture and living conditions. Later, return back to Manaus in 2.5 to 3 hours. Check in a local hotel.
Meals: Breakfast, Lunch, Dinner
Accommodation: Villa Amazonia Hotel




Day 12
Say goodbye to Manaus, Airport see-off
The Brazil Iguazu Falls tour with Amazon ends today. After enjoying the breakfast in the hotel, our driver will send you to the Manaus Airport and see you off based on your flight schedule.

Meals: Breakfast
B-- Breakfast
L-- Lunch
D-- Dinner