Brazil Discovery
TBR05: 11 Days Private Tour of Rio de Janeiro - Foz do Iguazu - Sao Paulo - Manaus - Salvador de Bahia
Tour Type:
Private Tour, any parts of the itinerary can be customized
Guide:
English-speaking guide, experienced and knowledgeable
Driver:
Private driver with a spacious air-conditioned car
Accommodation:
4-star handpicked hotels, also be open to your own choice
Meals:
Authentic local cuisines and western-style food for your choice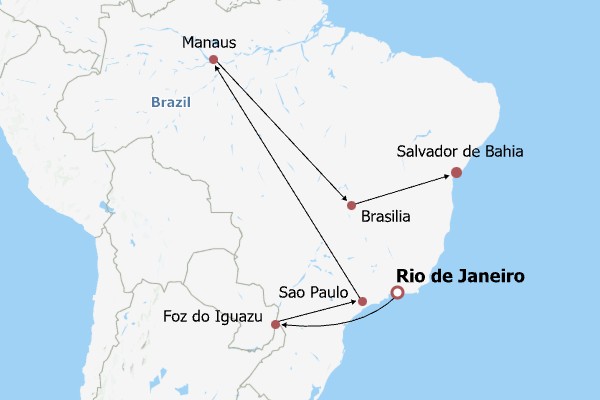 Day 1
Arrival in Rio de Janeiro, Airport Pick-up
Welcome to attend this amazon rainforest tours in Brazil! Today, our driver will hold a pick-up plate and wait for you at the Rio de Janeiro airport according to your flight time. After, transfer to the hotel about 22km (14mi) away. During the drive, you can catch a glimpse of this vigorous tourist city. Endowed with beautiful mountains and water, Rio de Janeiro is bound to surpass your expectation.
Accommodation: Arena Leme Hotel




Day 2
Rio de Janeiro Highlights Tour with Christ the Redeemer
After breakfast, your guide and driver will pick you up at the hotel and head to today's first stop, Corcovado Mountain. With the height of 709m (2,326ft), this mountain is the ideal place to enjoy the panorama of Rio de Janeiro. Moreover, on its top, a visit to the Christ the Redeemer is a must. It is a gigantic statue of Jesus Christ, being the very landmark of this city. Next, we will visit Maracana Stadium and Rio's Cathedral Staircase. After walking in the old Rio and appreciating the "Cultural Corridor", you will be escorted back to the hotel.
Meals: Breakfast
Accommodation: Arena Leme Hotel




Day 3
Fly to Foz do Iguazu & Enjoy Iguazu Falls
After breakfast, your driver will send you to the airport for flight to Iguazu. Tour guide and driver in Iguazu will be waiting for you at the airport. Lunch is not included today. After checking in the hotel and having a short break, we will set off for the famous Iguazu Falls on the Brazil side. This waterfall of 75m (246ft) high and 4 km (2.5mi) wide is located in the border between Argentina and Brazil. The splashing and thundering water will make you awe the majesty of nature. Near Iguazu Falls is Iguazu Bird Park, the largest bird park in South America. When roaming here, you can have fun with parrots, songbirds, toucans with colorful beak and other tropical birds.
Meals: Breakfast
Accommodation: Wish Foz do Iguacu




Day 4
Fly to Sao Paulo, Enjoy a City Tour
After breakfast, your driver will send you to the airport for your onward flight to Sao Paulo. Once reaching Sao Paulo airport, the local tour guide and driver will accompany you to the hotel and help you check in. After, we're going to visit Sao Paulo Cathedral, Liberdade and Batman Alley.
Sao Paulo Cathedral was built from 1913 to 1954 and combines both Gothic and Renaissance styles. Remember to take a photo at the square in front of the cathedral. Because it is the starting point not only for local religious parades, but also for measuring the distance between Sao Paulo and other cities. Walk for 900m (990yd) and we will reach the Liberdade. Since the early 1900s, many Japanese have settled down here. So, this neighborhood features a distinctive oriental style. And this is presented through bank, religious site, Buddhist temple, residence, garden and other buildings. Batman Alley used to be a shabby alley of several hundred meters' long. But now the trendy graffiti everywhere has put a different look on it. Local artists repaint the walls from time to time. So, every graffiti you see can be the 'limited edition'!
Meals: Breakfast
Accommodation: Vila Dos Orixás Boutique Hotel




Day 5
Fly from Morro de Sao Paulo to Manaus
You driver will escort you to the airport after breakfast. After, take the plane bound for Manaus and the driver there will pick you up and transfer you to the hotel. For the rest of this day, you can enjoy it on your own.
Meals: Breakfast
Accommodation: Villa Amazonia Hotel




Day 6
Amazon Discovery Trip by Boat
Our Amazon rainforest tours in Brazil starts today! After breakfast, the guide and driver will lead you to the lodge. Refreshing welcome drinks will cheer you up. In the afternoon, we will take motorboat to explore the vibrant Amazon area. Warm tip: full board served at the lodge is included in this tour. After dinner, the tour guide will take you to observe animals in the evening, truly an unforgettable experience.
Meals: Breakfast, Lunch, Dinner
Accommodation: Anavilhanas Jungle Lodge




Day 7
Amazon Rainforest Adventure Tour
In the morning, we will enjoy hiking in the rainforest. During the hike, the guide will tell you interesting knowledge about the rare fauna and flora you encounter along the way. After having a break in the lodge at noon, you can go swimming and row boating in the afternoon. Of course, the guide will show you the safe areas for these activities.
Meals: Breakfast, Lunch, Dinner
Accommodation: Anavihanas Jungle Lodge




Day 8
Experience Native Inhabitants Life Style in Amazon
Get up early to appreciate the splendid sunrise here. Then, we're going to visit local tribes in the jungle, which is a highlight of the Amazon rainforest tours in Brazil. Native inhabitants still follow the way of life from their previous generations. You can feel the harmonious and peaceful vibe through the guide's explanation of their eating habits and other customs.
Meals: Breakfast, Lunch, Dinner
Accommodation: Anavilhanas Jungle Lodge




Day 9
Fly from Manaus to Salvador de Bahia via Brasilia
After having breakfast, your driver will lead you to the airport. Please take the flight for Brasilia, upon arrival at Brasilia airport, please connect flight to Salvador de Bahia on your own. Upon landing in Salvador de Bahia, you will be picked up by local driver and sent to the hotel. Then, you can enjoy your free time in the rest of the day.
Meals: Breakfast, Lunch
Accommodation: Pousada Solar Dos Deuses




Day 10
Salvador de Bahia City Tour
Salvador de Bahia is situated at the end of a mountainous peninsula extending into the Atlantic Ocean. A steep slope divides Salvador de Bahia into the Upper Town and Lower Town.
After breakfast, the tour guide and driver will first show you around the Upper Town, especially the historic center Pelourinho area. Listed as the World Heritage, Pelourinho boasts the most Baroque buildings across Americas. Also, it is known for having many narrow streets paved with black and white pebbles. Various patterns on the ground will definitely draw your attention.
We will visit the Lower Town after lunch. The most famous attraction here is the Pilgrimage Church, also, the Church of Nosso Senhor do Bonfirm. This Catholic church was built in 1745 in honor of Senhor do Bonfirm. He was said to be a saint who healed the wounded and saved the dying. So, many of his followers come here to pray for good health. After the visit, you will be accompanied back to the hotel.
Meals: Breakfast, Lunch
Accommodation: Pousada Solar Dos Deuses




Day 11
Salvador de Bahia Departure
After enjoying the breakfast, your driver will escort you the Salvador de Bahia airport for your departure flight. Hope this Brazil explore tour brings you a joyful experience.

Meals: Breakfast
B-- Breakfast
L-- Lunch
D-- Dinner