Historic Treasures of Brazil
TBR03: 9 Days Private Tour of Rio de Janeiro - Paraty - Tiradentes - Congonhas & Ouro Preto - Rio de Janeiro
Tour Type:
Private Tour, any parts of the itinerary can be customized
Guide:
English-speaking guide, experienced and knowledgeable
Driver:
Private driver with a spacious air-conditioned car
Accommodation:
4-star handpicked hotels, also be open to your own choice
Meals:
Authentic local cuisines and western-style food for your choice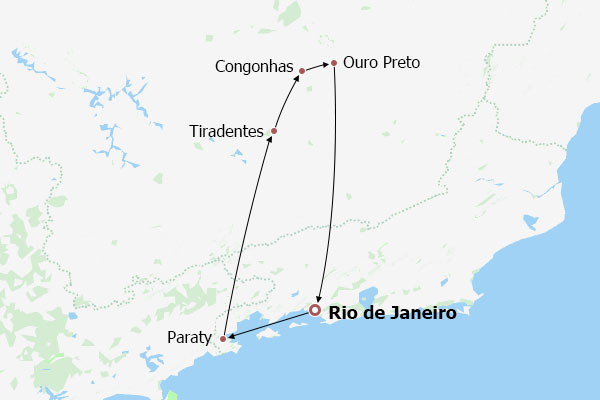 Day 1
Arrival in Rio de Janeiro, Airport Pick-up
Your Brazil historic tour begins in the vibrant city of Rio de Janeiro, which is located in the southeast of Brazil and attracts tourists with its beautiful scenery and colorful life. Upon arrival, your English speaking guide and driver will pick you up on time and drive about 20km (12mi) to your hotel. In the afternoon, start your tour at Christ the Redeemer, the symbol and landmark of Rio de Janeiro. The huge statue of Jesus is built at the top of Cocovado Mountain, looking down and stretching its arms forward, like a guardian to protect the city.
Accommodation: Arena Leme Hotel




or similar
Day 2
Rio de Janeiro Highlights
We start today's tour with a stroll along the white beach, followed the visit to Sugarloaf Mountain. Ascending up to the top by cable car, you can obtain panoramic views of Rio de Janeiro and Guanabara Bay. Then your guide will accompany you to tour around Santa Teresa District. The Bohemian style houses built in colonial period are well preserved here, with Largo dos Guimarães in the central area.
Meals: Breakfast, Lunch
Accommodation: Arena Leme Hotel




or similar
Day 3
Transfer to Paraty & Half Day Walking Tour
After breakfast, drive about 4 hours from Rio de Janeiro to Paraty. Paraty was historically a beautiful colonial city because of its special location - roads connected the state of Gerais to Rio de Janeiro and Sao Paulo, and in the 18th century, it became an important port for shipping gold to Portugal. Today, it has been developed as a famous tourist city in South America, and its historic architecture and beautiful nature have been preserved intact. In the afternoon, take a walking tour on the cobblestone streets in the historic town of Paraty, visiting churches, museums, colonial architecture and exploring the port. The streets are lined with small art shops where you can buy souvenirs.
Meals: Breakfast, Lunch
Accommodation: Pousada do Ouro




or similar
Day 4
Paraty Schooner Cruise
Today, you will join a traditional boat trip for an unforgettable journey. The ship will stop at four locations for about 40 minutes each, including two paradise islands and two well-preserved beaches. The crystal sea water here is transparent and warm, very suitable for snorkeling and swimming. You will be able to see the colorful fish and walk through the soft sand beach. Among the four stops, one of the main attractions is Ilha Comprida, a natural aquarium suitable for taking photos, diving or swimming. At the end of the tour, head back to the shore and spend the rest of your time relaxing on the beach or exploring the town on your own
Meals: Breakfast
Accommodation: Pousada do Ouro




or similar
Day 5
Transfer from Paraty to Tiradentes
Drive to the colonial town of Tiradentes after breakfast. First, we will travel through the Serra da Bocaina National Park, then head to Minas Gerais, the cultural heart of Brazil and where Tiradentes is located. This trip takes about seven hours and on the way we will stop for a rest in Caxambu, a resort and spa town known for its therapeutic mineral water. When you arrive in Tiradentes, check into your hotel.

Meals: Breakfast, Lunch
Accommodation: Pousada Villa Allegra or similar
Day 6
Free Day in Tiradentes
The charming historic city of Tiradentes is one of the smallest but best preserved colonial towns in the Brazilian state of Minas Gerais, Known for its tranquility, local art, artisan furniture scenes and colonial architecture. Walking along the cobblestone streets is the best way to feel the city. Today, you will have a free day to slowly explore the area at your own pace, ready to be amazed by the awesome museums, sacred churches, colonial buildings, antique shops and art galleries. Of course, don't forget to try the delicious food and freshly brewed coffee.

If you happen to be in town on a weekend, you can also choose to take the maria-fumaca (steam train) to visit the neighboring city of Sao Joao del Rei.

Meals: Breakfast
Accommodation: Pousada Villa Allegra or similar
Day 7
Transfer to Congonhas & Ouro Preto
Today, we'll spend about 2 hours traveling to Congonhas, a well-preserved historic city that has retained the character of a Baroque city. The main reason why tourists come here is the UNESCO World Heritage Site - Sanctuary of Bohm Jesus, it is a popular pilgrimage site that includes a basilica, the Twelve Prophets made by Alegiandrineo and six Iscarole chapels. Our professional guide will tell you details and the stories of this site. After that, we will travel for around one hour to Ouro Preto, another historic city in Minas Gerais and check into the hotel.

Meals: Breakfast, Lunch
Accommodation: Pousada Minas Gerais or similar
Day 8
Ouro Preto & Mariana Tour
After breakfast, take a guided walking tour of this UNESCO World Heritage Site. The town is located in one of the main areas of the Brazilian Gold Rush and once the "richest city in the world." There are many churches, museums and well-preserved colonial Baroque buildings for you to learn more about Brazil's history. Continue drive for half an hour to Mariana. Explore the town, including a gold mine.

Meals: Breakfast, Lunch
Accommodation: Pousada Minas Gerais or similar
Day 9
Return to Rio & Departure
Now your trip is coming to an end. We'll drive you back to Rio de Janeiro. The return journey takes about seven hours, but it's a scenic ride along the Atlantic Rainforest Mountains. On the way, we'll stop at Petropolis to visit the Imperial Museum. We will drop you off at the Rio de Janeiro airport for your departure flight. There are many other highlights in Brazil, such as Iguazu Falls, Pantanal wetlands, Manaus rainforest, etc., waiting for you to discover. If you need, please feel free to contact us.

Meals: Breakfast
This trip can be customized to meet your individual needs!