Guangzhou Dining--What to Eat
' Except the plane and the stool, Guangzhou people eat everything in the sky and on the earth.' From this common saying, we can get some idea of the variety of Guangzhou's delicacies.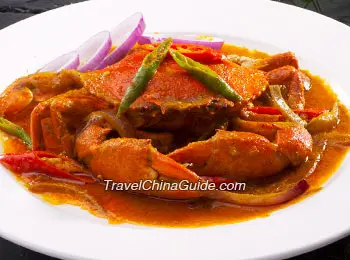 Cantonese Cuisine
Cantonese Cuisine
Guangzhou delicacies are the main representatives of Yue Cai (Cantonese Cuisine), which also includes Chaozhou dishes and Dongjiang dishes and enjoys great popularity all over the country. This kind of cuisine uses a wide range of ingredients from the sky, the earth, and the water. They also use seasonings sparingly. Compared with other Chinese cuisines, these local dishes use few thick spicy dressings in order to keep from masking the original taste of the food.
The most famous dishes of this cuisine are Roast Suckling Pig (Kao Ru Zhu), Dragon Fighting against the Tiger (Long Hu Dou) - stewed snake and wild cat, Taiye Chicken (Taiye Ji) and Stewed Wild Dog Meat.
Foreigners say 'All delicious food is in Guangzhou'. The local people say, 'delicacies are at Xiguan of the city'. Xiguan preserves lots of famous traditional snacks. The most lively and popular place is definitely the Shangxia Jiu Lu.

Mouthwatering snacks
Snacks
Cantonese dim sum ranks the best in the whole country. Exquisitely made dim sums attract your eyes and stomach. Panxi Restaurant (Panxi Jiujia) creates 1,000 kinds of dim sums. Among the various choices of dim sums, you may choose the most typical ones: Shrimp Dumpling, Steamed Shaomai, Steamed Vermicelli Roll and so on.
Shuang Pi Nai (Double-Skin Milk): Nanxin Shuang Pi Nai is the specialty of Nanxin Milk Store on the Xia Jiu Lu. Simmered milk has a frozen cover made of the mixture of egg white and milk, Hence the name Double-Skin Milk. When finished, this food appears to be pure white and semisolid. It tastes soft and sweet. And most importantly, it has much nutritional value, good for your health.
Jidi Zhou (Jidi Porridge): Jidi Zhou served in the Wuzhan Ji Restaurant is the most famous of all. It has been a noted snack bar since the early 1900s.
Liuhua Porridge City: inside the Liuhua Park, Liuhua Lu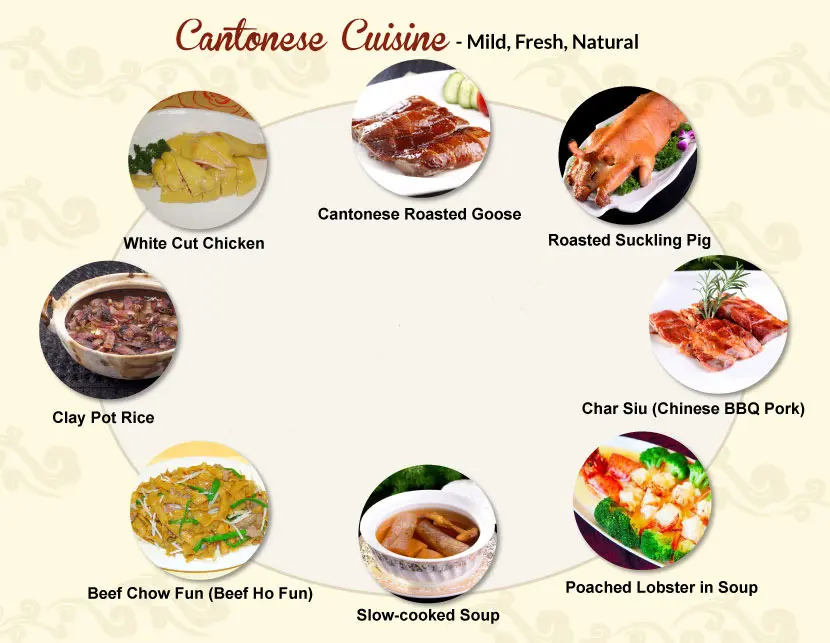 Crab dish
Yuntun Mian (Wonton Noodle): Go to Shangxia Jiu Lu, Xihua Lu and Renmin Lu. You will find many eateries that serve Wonton Noodles. Cantonese like to have the delicious Yuntun Miao for breakfast.

Chang Fen (Steamed Vermicelli Roll): This featured snack is popular among local people. It is now a must-serve in nearly all teahouses and night markets.

Guiling Gao: Being afraid of suffering from excessive internal heat, Cantonese love to have Guiling Gao. That is a kind of brown jelly that holds the shape of the vessel. It is said the Guiling Gao can clear internal heat. The bitterer, the better.

Fruits: fruits are not in short supply in the city. Litchi, mangos, bananas, carambola, longans and pineapples come into the market in season.
Local Specialties
Herbal Tea-Drinking is a longtime habit for local people. Herbal tea can eliminate summer heat from the human body and cure the sore throats caused by winter dryness. Wang Laoji Herbal Tea is the most famous local tea.
The local people like tea-drinking, especially in the morning. Teahouses are all filled up before 11:00 in the morning.
| | |
| --- | --- |
| Kung Fu Teahouse | Kung Fu tea performance |
Gongfu Cha (Gongfu Tea): Cantonese drink Gongfu Tea for enjoyment in their leisure time. It was popular in the Chaozhou and Shantou areas, and now has spread in Guangzhou. Serving Guangfu Tea requires strict attention to the teapot, tea leaves, the water quality and even how to make the tea, how to pour and how to drink the tea. The teapot in use is as small as a fist and the teacup as small as half a Pingpong ball. Give it a try!
Tangshui literarily means Sweet Water, but actually it is somewhat like a soft drink with the ingredients being fruits and vegetables. The local people are partial to Tangshui. They regard it as nutritious food. 'Boiled' Tangshui is a hot drink and the 'frozen' one is the soft drink. The most popular Tangshui store is the Taiping Guan Icehouse on Beijing Lu.
Yexiao (Midnight Snack) is one of the local population's customs. It is usually taken after 10 p.m.; hence the name Midnight Snack. Some people like to cook the meal themselves; others invite a few friends to have Yexiao at a teahouse. Nearly every teahouse serves Midnight Snacks.
| | |
| --- | --- |
| Canton dim sum | Delicious Desserts |
- Last modified on Nov. 11, 2018 -
Questions & Answers on What to Eat in Guangzhou
Asked by Kevin from MALAYSIA | Nov. 09, 2018 19:29

Reply
Which Metro station & Exit Number, nearest to: 广州酒家 Guangzhou Restaurant?
总店- 荔湾区文昌南路2号
2 Wenchang S Rd, 文昌南路2号
Answers (1)
Answered by Beck from USA | Nov. 11, 2018 21:40

0

0

Reply
Changshou Road metro station. metro line 1, Exit A

Or, Culture Square metro station. metro line 6, Exit E
Asked by norrashi from MALAYSIAN | Nov. 07, 2018 21:06

Reply
Salam Harbor Restaurant
hi, how to go to Salam Harbor Restaurant
色兰堡清真餐厅
in guangzhou? tq
Answers (1)
Answered by Adah from USA | Nov. 08, 2018 18:00

0

0

Reply
The restaurant is near the Exit A of the Sanyuanli metro station, which is one stop of the metro line 2. But I'm not sure whether it is the restaurant you want to go. Maybe you can give me the address.
Asked by Diana from MALAYSIA | Nov. 02, 2018 09:27

Reply
Hi, I will be staying at Guangdong Hotel at Dong Feng Middle Road.
Are there any halal restaurants within walking 10-20 mins walking distance?

Thank you
Answers (1)
Answered by Jason from AUSTRALIA | Nov. 05, 2018 01:19

0

0

Reply
Kaisier Halal Restaurant is recommended to you and it is said that it is the most famous one.
Asked by Aziz Mohammad from MALAYSIA | Dec. 06, 2017 01:20

Reply
Muslim prayer room at Baiyun Internatio & Halal Food Nearest to Guangzhou Railway stn
Please provide directions to:
A.Muslim Prayer Room at Baiyun International Airport (arrival)
B.Halal Food Nearest(km, minutes walking distance) to GZ Railway Stn
Answers (1)
Answered by Alex from FINLAND | Dec. 06, 2017 20:50

0

0

Reply
Sorry to tell you no prayer room is in the airport.
As for halal restaurants, you can go to Lanzhou Beef Noodles in 65 Ziyuangang, about 200 meters northeast to the railway station, Qinghai Muslim Restaurant in 71 Sanyuanli Avenue, about 700 meters northeast, and Madina Restaurant in 43 West Guangyuan Rd, about 600 meters west.