Guangzhou Dining--Where to Eat
Famous Cantonese Restaurants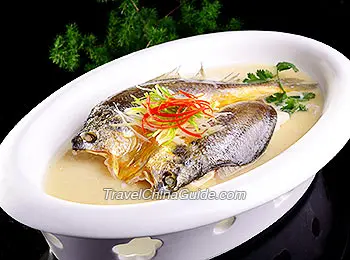 Guangzhou Jiujia (Guangzhou Restaurant)
Specialities: Wenchang Chicken, Boiled Chicken, Shrimp Dumpling, Durian Crisp Cake, Fried Milk
Wenchang Branch: No.2, Wenchang Road (South)
Bus routes: No.2, 3, 6 (getting off at Daihe Road Stop)
Opening hour: 07:00-22:00
Tiyudong Branch: No.112, Tiyu Road (East), Tianhe District
Bus routes: No.62, 180, 551
Opening hour: 07:30-15:00 17:00-22:00
Binjiangxi Branch: No.20, Binjiang Road (West)
Bus routes: No.8, 131A, 131 B (getting off at Binjiangxi Road Stop)
Opening hour: 07:00-22:00
Taotao Ju Jiujia (Taotao Ju Restaurant)
Specialities: Steamed Bread with Milk and Eggs, Shrimp Dumpling, Ox and Mutton Haslets Soup, Chicken Feet, Roast Goose
Location: No.20, Dishifu Road
Lianxiang Lou (Liangxiang Resturant)
Specialities: Lotus-seed-paste Mooncake, Lotus Bun, Wife Cake
Location: No.67, Dishifu Road, Liwan District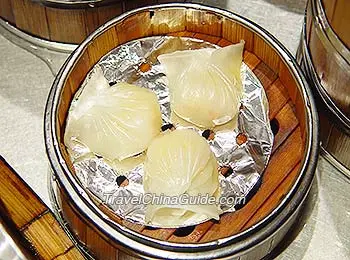 Dim Sum
Bing Sheng
Specialities: Crispy Barbecued Roast Pork, Goose Intestine in Bean Sauce, Cold Pig's Stomach, Fried Stuffed Glutinous Rice Dumpling, Original Flavor Chicken
Bingsheng Branch: No.33, Dongxiao Road
Wufeng Branch: No.438, Jiangnan Dadao (South)
Tiange Branch: No.168, Tianhe Road (East)
Datong Jiujia (Datong Resturant)
Specialities: Roast Suckling Pig, egg tart
Location: No.63, Yanjiang Road (West), Liwan District


Other Chinese Flavor
Chuanguo Yanyi (Sichuan cuisine)
Specialities: Shuizhuyu (fish cooked in spicy soup), Maoxuewang (duck blood in chili sauce), Fuqifeipian (spicy lung slices)
Location: 4/F, Nanfang Securities Tower, No.140-148, Tiyu Road (East), Tianhe District
Taoran Ju (Sichuan cuisine)
Specialities: Xianglatianluo (spiced and hot field snail), Yuerjia (chicken with taro), Chuanbeiliangfen (bean noddles in chilli sauce)
Location: No.368, Tianghe Road (North), Tianhe District
Tongxiang Hui (Hunan Cuisine)
Specialities: Duojiao Yutou (fish head with chopped red pepper), Xiaochao Huangjiurou (Stired Fried Sliced Beef)
Location: 3/F, Hongxiang Building, No.613, Tianhe Road (North), Tianhe District
Guangzhou Wumizhou (Cantonese Rice Porridge) (hot pot)
Location: Linle Road, Tianhe Road (North), Tianhe District


Western Food Restaurants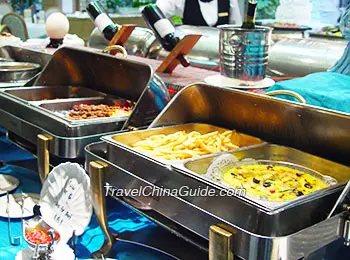 La Seine Restaurant Francais
Looking for the authentic flavor from France, please come here! The buffet is also served on Sunday weekly.
Average cost: CNY200 per person
Location: 1/F, Xinghai Concert Hall, No.33, Qingbo Road, Ersha Island, Yuexiu District
Les Trois Gros Bistro
This is another worthwhile French restaurant in Guangzhou.
Average cost: CNY120 per person
Location: No.5, Xincheng Street (South), Tianhe Road (East), Tianhe District
Braxil Sunshine
This is a buffet restaurant which is favored by most locals, also for its reasonable price.
Average cost: CNY68 per person
Location: 1/F, Fangcao Yuan, No.569, Tianhe Road (North), Tianhe District
Tai Ping Guan
This restaurant has been opened for a long while that you will have a memorial dining experience.
Average cost: CNY60 per person
Location: No.342, Beijing Road, Yuexiu District
Yi Fen Wu
This Italy style restaurant coming from Hong Kong supplies you with the tasty pizza, pasta and dessert.
Average cost: CNY80 per person
Location: 702B of 7F, Taihe City Plaza, No.208, Tianhe Road, Tianhe District
37°2 Paradise
The reasonable set lunch served here attracts some locals daily. It is also worthy to try its highly recommended dessert.
Average cost: CNY 50 per person
Location: No.7, Tiansheng Cun, Huanshi Road (East), Yuexiu District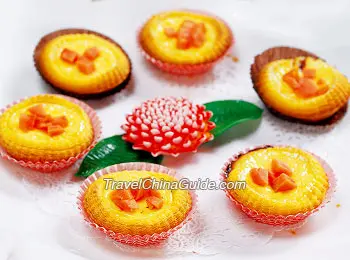 Paris Jie French Restaurant
Romantic place, good if you want to discover Paris spirit with the decoration and the authentic flavor French food.
Average cost : CNY 150 per person.
Location: No. 110, Bao Lin Yuan, Huajiu Road, Tianhe District


Vegetarian Restaurants
Lianhua (Lotus) Vegetarian Restaurant
Location: No.76, Jianghui Road
Shangshi Zhai Vegetarian Restaurant
Location: No.38, Jinghui Road, next to the Guangxiao Si (Bright Filial Piety Temple)
Buddhism World Vegetarian Restaurant
Location: Niunaichang Street, Tongfu Road (middle), Haizhu District

- Last modified on Oct. 23, 2018 -
Questions & Answers on Where to Eat in Guangzhou
Asked by Ajay from INDIA | Oct. 23, 2018 01:50

Reply
Where to get Indian vegetarian food in Guangzhou Canton fair?
Looking for fruits, vegetables, yoghurt etc.
Answers (1)
Answered by Victoria from USA | Oct. 23, 2018 20:04

0

0

Reply
It seems that there is no Indian vegetarian food in or near the Canton fair. But here are some restaurants selling fruits and vegetables, you may have a try if you don't mind. If you really want to eat authentic Indian food, here are two famous restaurants in this city are recommended to you. One is Little InDia, located at No.103 - 104 shop, Edinburgh international apartments, No.2 Huali Road, Tainge District. The other is Bombay grill, located at No.28 Guangming Road, Yuexiu District.
Asked by Kiduk from USA | Oct. 12, 2018 21:44

Reply
Is there any Korean restaurant in Guangzhou?
Answers (1)
Answered by Cal from CANADA | Oct. 16, 2018 01:29

0

0

Reply
Yes, one famous restaurant named Apgujeong, located at No.92 Tianhe South One Road.
Asked by Sandeep Mahendra Shah from INDIA | May. 11, 2017 00:44

Reply
We will be Staying in Guangzhou Hoikong Boutique Hotel and prefer Indian vegetarian Rest.
pls advice
Answers (1)
Answered by Tess from UK | May. 12, 2017 04:22

0

0

Reply
There is an Indian Restaurant on 2nd floor, no.2 Aiguo Road, Huaqiaoxincun, Yuexiu District, which is about 3 kilometers from your hotel. You can take a taxi to get there directly.
Asked by Peter from BELGIUM | Nov. 26, 2016 05:14

Reply
Any good Indian restaurants in Guangzhou? Staying at Langham Palace Hotel south of the river.
Any suggestions?
Answers (1)
Answered by Wendy | Nov. 27, 2016 02:58

0

0

Reply
Yeah, as I know, Indian restos are not hard to find in the city. I tried the food at Tandoor Indian Restaurant and it was a good experience. It is located on 2F, Asia International Hotel, no. 326, East Huanshi Road, Yuexiu District, around 13km from your hotel. You may consider taking a taxi to reach directly.

Asked by rajeev from INDIA | Apr. 28, 2016 23:37

Reply
How can i get into the Buddhism World Vegetarian Restaurant in Guangzhou.
Is there any nearby metro stations?
Please provide me nearest metro stations with street address.
Answers (1)
Answered by Mary from USA | Apr. 29, 2016 03:21

0

0

Reply
Well, the neareat metro station is the 2nd Worker's Culture Palace (Shi Er Gong), Metro Line 2. It is located on Jiangnan Avenue Middle.
You can take subway line 2 to the station, Exit D. Then, walk west for about 850 yards to the restaurant. :)