Hong Kong Taxi & Public Light Bus
Taxi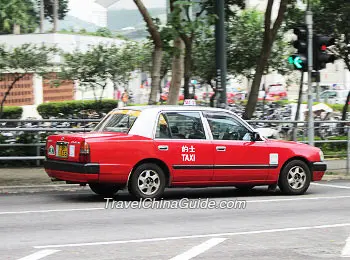 Hong Kong Taxi
There are more than 18,000 taxies serving the public in Hong Kong. They are in three colors and serve designated areas: red cabs (urban cabs) cover most destinations within the city except Tung Chung Road and roads in south Lantau Island; green ones (New Territories cabs) operate in the north-eastern part (i.e. north of Sha Tin) and north-western part (i.e. north of Tsuen Wan) of the New Territories; blue ones (Lantau cabs) serve on Lantau Island and Chek Lap Kok. All cabs can reach HKIA and Disneyland Resort.

Note: For journeys passing the following toll tunnel, toll road or toll area, extra fee is required to pay by passengers: HK$30 for Lantau Link, HK$10 for Cross-harbour Tunnel, HK$15 for Eastern Harbour Crossing, and HK$15 for Western Harbour Crossing. For other toll tunnels, roads, and areas, the fee is the drivers' responsibility.



Taxi Fare:
| | | | |
| --- | --- | --- | --- |
| Price | Red Taxi | Green Taxi | Blue Taxi |
| Flag-down rate (for the prior 2km(1.2mi)) | HK$22 | HK$18.5 | HK$17 |
| Unit rate for every subsequent 0.2km (0.12mi) or every minute's waiting below a specific amount (HK$78 for red cars, HK$60.5 for green cars, and HK$143 for blue cars) | HK$1.6 | HK$1.4 | HK$1.4 |
| Unit rate for every minute's waiting above a specific amount (see above) | HK$1 | HK$1.2 | HK$1.2 |
| Each piece of luggage (excluding portable luggage) | HK$5 | HK$5 | HK$5 |
| Wheelchairs and crutches carried by the disabled | Free | Free | Free |
| One pet (an animal or a bird) | HK$5 | HK$5 | HK$5 |

To avoid problems, always have your destination written in Chinese on a card. Be sure to bring loose change instead of HK$500 and HK$1,000 notes. Taxi drivers are not obliged to make change. Get on and off cars on the left side of the street.

Roads with painted double yellow lines are forbidden zones for picking up passengers; you cannot take a taxi here. During rush hours, cabs may stop in front of some hotels. Always ask for the receipt before leaving the car because the car plate number is on it. If you are not satisfied with the service, you can make a complaint by dialing (852)28899999. If you leave anything on a cab, dial the 24-hour hotline for help: (852) 187 2920.



Fare for some popular journeys for your reference:
| | | | | | | |
| --- | --- | --- | --- | --- | --- | --- |
| Starting Point | Tsim Sha Tsui | Central | Ocean Park | Ngong Ping 360 | HKIA | Disneyland Resort |
| The Ocean Teminal | HK$22 | HK$105 | HK$120 | HK$225 | HK$245 | HK$185 |
| Kai Tak Cruise Terminal | HK$85 | HK$125 | HK$150 | HK$265 | HK$275 | HK$220 |
| Disneyland Resort | HK$190 | HK$245 | HK$265 | HK$230 | HK$120 | --- |
| Lok Ma Chau Check Point | HK$240 | HK$300 | HK$290 | --- | HK$300 | HK$240 |
| HKIA | HK$240 | HK$295 | --- | HK$195 | --- | HK$120 |
| Peak Galleria (Victoria Peak) | HK$140 | HK$75 | HK$95 | --- | HK$350 | HK$265 |
Public Light Bus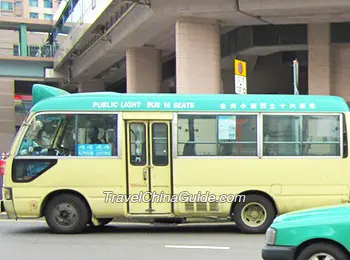 A Green-roofed Light Bus
In Hong Kong, there is a kind of minibus called the public light bus and known locally as 'Van 仔' (Van Zai). This name is a combination of Chinese and English. In Cantonese, '仔' means 'small' or 'young'. The natives also speak Cantonese; hence, they like to use this character.
The public light bus plays a very important role within Hong Kong's urban traffic system. It reaches the areas that subway trains and regular buses cannot go so many locals travel upon them. If you want to experience the life of ordinary people whilst there, you might want to have a go.
A public light bus has 16 seats. They are red and green-roofed and their bodies' color is light yellow. The red-roofed ones, also known as 'red vans' do not have regular routes, scheduled departure times, or fixed fares so red vans are not suitable for visitors unfamiliar with their routes. Most red vans provide a 24-hour service and usually, passengers pay for their journey in cash when they are ready to get off. As a rule red vans do not accept the Octopus Card With the exception of the forbidden zones indicated with a yellow line, they are free to stop anywhere.
Differing from the red vans, the green-roofed ones have regular routes, schedules and standard fixed fares and as such, provide a better service. In line with the Hong Kong Government's policy to convert red vans to green, more scheduled routes are being introduced.
Tip: Most of the public light bus drivers are only able to speak Cantonese. They cannot speak English, or even Putonghua (Mandarin Chinese). Therefore, as a visitor, if taking the public light bus, you should be familiar with their routes or know some Cantonese.
- Last modified on Jul. 08, 2018 -
Questions & Answers on Hong Kong Taxi & Public Light Bus
Asked by John from AUSTRALIA | Jul. 23, 2019 20:35

Reply
What would be the cost of a taxi from Victoria Peak to Aberdeen?
Is there a Public Light Bus that goes from Victoria Peak to Aberdeen?

Thank you
Answers (1)
Answered by Pack from USA | Jul. 28, 2019 19:20

0

0

Reply
I'm not clear about the cab fare, but the truth is the price of HK taxi is a little high. If you take public transport, you can take 15 (NWFB) from Mount Kellett Road, Peak Road to Wah Yan College Hong Kong, Queen's Road East. Then transfer to 37B (CTB) from Burrows Street, Wan Chai Road to Aberdeen Wholesale Fish Market, Aberdeen Praya Road. It takes 1 hour with HK$14.8.
Asked by Pho from USA | Jul. 06, 2018 13:04

Reply
Do I need to apply for visa to visit Hong Kong?
I am an American citizen and will be flying to HK from Kaoshiung. Please advise. Thanks!
Answers (1)
Answered by Tina from USA | Jul. 08, 2018 20:19

0

0

Reply
Yes, you do.