Shanghai Train
This city is the gathering point of many major high speed rail lines; therefore it has convenient train services for tourists to many destinations throughout China, including trains of Beijing, Guangzhou, Hangzhou, Nanjing, Suzhou, Chengdu, Xian, Guilin, Huangshan, and Shenzhen.

It has four main railway stations: Shanghai Railway Station, South Railway Station, West Railway Station and Hongqiao Railway Station.

Passengers can purchase tickets for trains departing from the mentioned railway stations from any railway station in the country. Remember to bring your valid certificate such as passport, as real-name ticket policy is strictly implemented.
Shanghai Train Ticket Offices



Tip: It is better to book the tickets in advance, especially during the peak travel time, such as May Day, National Day, and Chinese New Year. Because there is a great possibility that they will be sold out in minutes once available.
Schedule to main destinations:
Departure
Arrival
Travel Time (approximation)
'G'(speed: 300 or 350 km/h)
'D'(speed: 250 km/h)
Shanghai
Beijing
4.5-6h
12h
Suzhou
20m-40m
25m-50m
Hangzhou
60m-1h40m
1-1h40m
Guangzhou
7-8.5h
11-11.5h
Xian
6-7.5h
11h

Tip: For more information, you can check the
Train Schedule
.
Major Rail Lines from Shanghai to:
Also known as New Railway Station, it is the largest passenger rail station in the city located at 303 of Moling Road in Zhabei District. It is an integrated station which provides all kinds of scheduled trains to large numbers of cities inland. It also serves the through trains to Hong Kong, overnight sleeper trains to Beijing and overnight sleepers to Xian.
| | |
| --- | --- |
| | Second Class Seats |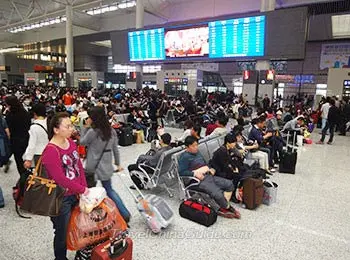 Waiting Room of Hongqiao Station
Hongqiao Railway Station is a large-scale, fully-functioning, integrated rail hub with advanced facilities and the highest level of modernization of the Hongqiao Traffic Transit Hub. It consists of high-speed trains plus connections to flights, subways, city-buses, coaches and taxis. Currently, this station mainly serves bullet trains to Hangzhou, Nanjing, Suzhou, Wuxi, Fuzhou, Wenzhou, Nanchang, Xiamen, Beijing and several other cities over China.

Railway Station Transfer Service

Further Reading:
Shanghai-Beijing Train vs. Flight