Top Xian Attractions
More Things to Do
Top 10 City Tours
XA01-09: Day Trip to Xi'an from Beijing
Airport to Hanyangling or Banpo Museum to Terracotta Army to Airport
Free Cancellation

24-hour Before

In the morning before enjoying this Beijing to Xi'an 1 day tour, our guide and driver will pick you up from your self-booked hotel, airport or railway station at the appointed time. If you fly from Beijing to Xi'an on the very day, we suggest you book a flight that arrives at Xi'an at around 09:00 in the morning such as CZ3173 leaving at 06:40 and arriving at 08:45 or HU7137 leaving at 07:05 and arriving at 09:10.
After picking you up, out guide will lead you directly to Hanyanglin Museum. If you are more interested in Banpo Museum, we can change the itinerary, too. Then we will drive to Emperor Qinshihuang's Mausoleum Site Museum to see Terracotta Army. We will stay no less than 2.5 hours there to view the main Pit 1, Pit 2 and Pit 3.
Terracotta Warrior Museum
Terracotta warriors
We leave the lunch on your own. You may try some authentic local food that caters to your taste and our guide is ready to give you advice. At the end of your day trip from Beijing to Xi'an, we will escort you back to your hotel, the airport or train station. It is suggested that you book a flight departing not earlier than 19:00 if you are going to leave Xi'an on the same day.
Friendly tips: During the Xi'an day tour from Beijing, you will arrange the transport between Beijing and Xi'an by yourself. If you need help to book the air or train tickets, please feel free to contact your travel consultant at any time.
Meals: No meals, advice freely available
Hanyangling Museum
This museum was built on the base of the joint mausoleum of Emperor Jing and his empress which is the most complete necropolis of Han Dynasty (BC202 - 8) until now. The museum mainly consists of tombs of the emperor and empress, burial pits in the north and south, ceremonial buildings, graveyards of the satellite and criminal, and the Yangling town, which are precious materials to learn about the etiquette, emperors' life and burial customs of Han Dynasty.
The exhibits in Hanyangling Museum
A painted basin displayed in Banpo Museum
Banpo Museum
It is a museum of historical relics of Yangshao culture in Neolithic Age which shows the social structure, production and life, economic pattern, marital status, social customs and habits, and art of the matriarchal clan society over 6,000 years ago. The museum mainly includes the basic exhibition hall of unearthed relics where you can see their production tools and living goods made of stone, bone and pottery clay, the preservation hall for the part of a primitive village, as well as supplementary exhibition hall to hold exhibition on the subject of prehistory.
Terracotta Army
Here, the funeral objects of clay warriors and horses as well as bronze chariots are used to protect the mausoleum of Emperor Qinshihuang (BC259 - BC201) and remain his rule in his afterlife. They were sculptured on the base of real life and seem ready to set out for the battle. Each terracotta warrior has different facial expression and manner. You can figure out their armed branches from their clothing and postures. They perfectly reappeared the puissant period when Emperor Qinshihuang conquered other six kingdoms and established the first centralized feudal dynasty in Chinese history.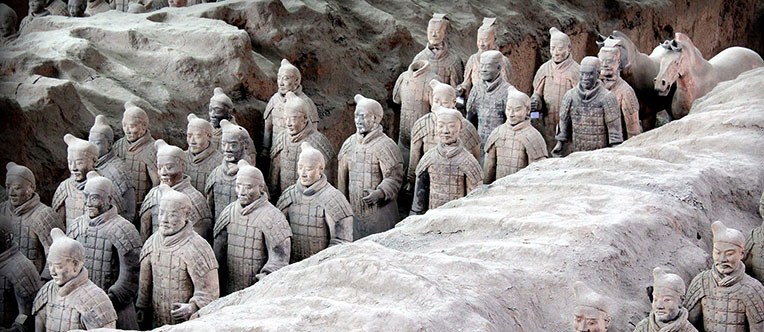 Marvel at the spectacular Terracotta Warriors of 2,000 years ago
Prices (US$ Per Person)
1 person

$244

2 persons

$148

3 persons

$119

4 persons

$104

5 persons

$95

6 persons

$84

7 persons

$79

8 persons

$75

9 persons

$72

10+

$66

Price Includes
Private English-speaking guide
Private driver & air-conditioned vehicle
Entrance fees to tourist sites
Price Excludes
Flights or trains to and out of Xian
Hotel accommodation with breakfasts
Lunches and dinners
Tips or gratuities for guide and driver
Itineraries you may also like:
The above routes do not meet your requirements? Please click
Tailor My Trip