Ancient Egypt with Alexandria
TEG10: 10 Days Private Tour of Cairo - Luxor - Nile Cruise - Edfu - Kom Ombo - Aswan - Abu Simbel - Aswan - Cairo - Alexandria - Cairo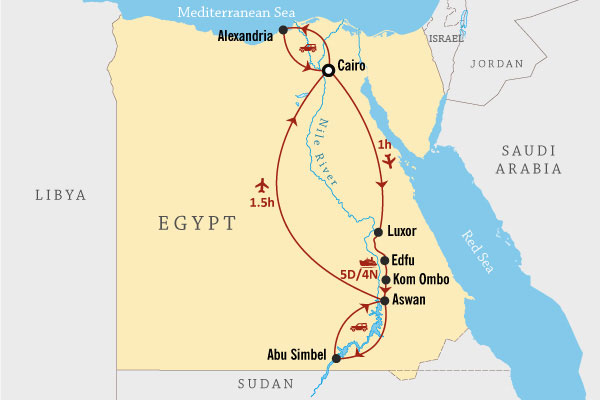 Tour Type:
Private Tour, any parts of the itinerary can be customized
Departure:
Every Tuesday, Thursday and Saturday
Guide:
English-speaking guide, experienced and knowledgeable
Driver:
Private driver with a spacious air-conditioned car
Accommodation:
5-star handpicked hotels, also be open to your own choice
Meals:
Authentic local cuisines and western-style food for your choice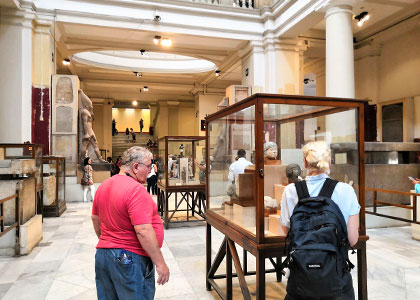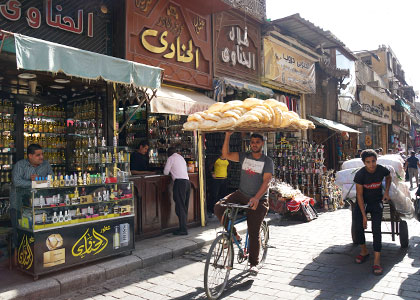 Welcome to the Egypt tour packages! Upon your arrival in Cairo, our local representative will pick you up at the airport. Then you will be transferred to the hotel in Cairo downtown. The representative will help you if you meet any problem in checking in the hotel. At the rest time of today, enjoy your free time.
Meals: No meals, advice freely available
Accommodation: InterContinental Cairo Semiramis





Day 2
Cairo Pyramids Tour
After having breakfast at your hotel, with your driver and guide, you are going to visit the most famous pyramids at Giza - Pyramids of Khufu, Khafre and Menkaure, as well as the Great Sphinx and the Valley Temple in front of the Pyramid of Khafre. Pyramid of Khufu, or the Great Pyramid of Giza, is the oldest and largest one of the three pyramids. You may enter inside for a deeper visit at your own extra expenses, if you take a great interest in the grand pyramids.
Then we will go to Step Pyramid in Saqqara on the Egypt tour packages. It is the oldest pyramid in Egypt. We will also visit Memphis, the city remains of the once capital of the ancient Egyptian kingdom, which was also one of the earliest cities on the globe. Transfer back to your hotel for staying overnight.
Meals: Breakfast, Lunch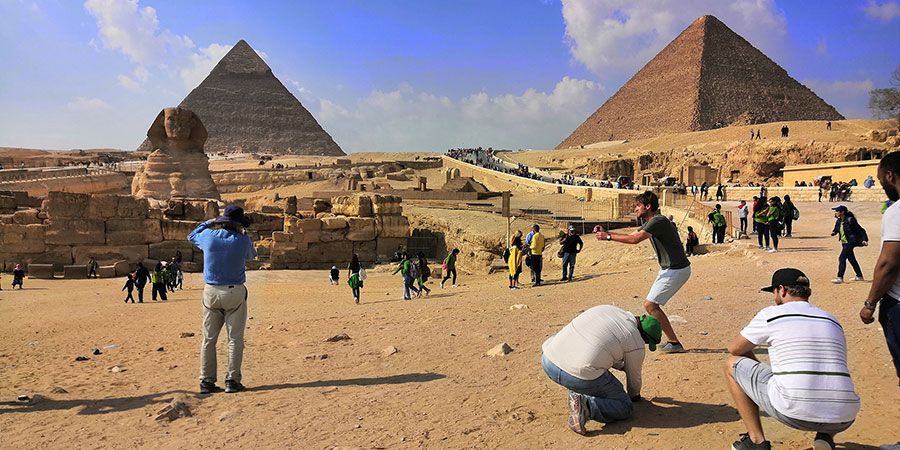 The world-famous pyramids group and Great Sphinx
Day 3
Cairo - Luxor - Nile Cruise
Fly to Luxor. Airport pick up, embark Nile cruise, Karnak Temple & Luxor Temple. (B+L+D)
After breakfast, our local representative will send you to Cairo airport for your flight to Luxor. When you get to Luxor, you will be escorted to embark your Nile cruise, and then have lunch on board at 1 PM. After a short break, we will visit Karnak Temple and Luxor Temple on the east bank, which both are incredible and large-scaled religious architectural complexes in ancient times. Get back to the cruise for dinner, and stay overnight in Luxor.
Meals: Breakfast, Lunch, Dinner
Cruises: M/S Concerto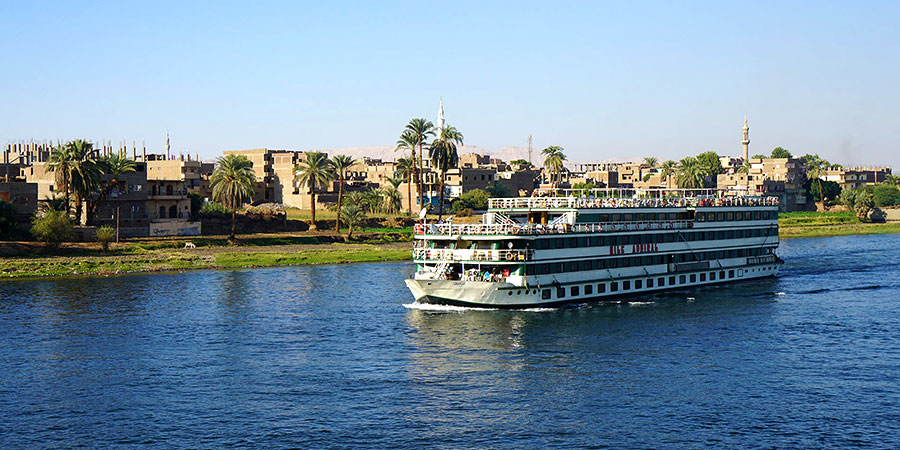 Admire the fascinating landscape on Nile River cruise
Day 4
Nile Cruise: Luxor - Edfu
Valley of the Kings, Temple of Queen Hatshepsut, Mortuary Temple of Ramesses III, Colossi of Memnon. Sail to Edfu. (B+L+D)
After breakfast on board at 6 AM, we will get off the ship to the Valley of the Kings on the west bank in Luxor, with over 60 splendid mausoleums of the pharaohs. We are also to visit the Temple of Hatshepsut, dedicated to another famed female pharaoh besides Cleopatra; Mortuary Temple of Ramesses III at Medinet Habu (also known as Temple of Medinat Habu), the tomb as grand as a city; and Colossi of Memnon, two huge sitting statues. We will continue our Nile cruise to Edfu and have lunch on board. This afternoon will be your leisure time. Dinner and overnight will be offered on board in Edfu.
Meals: Breakfast, Lunch, Dinner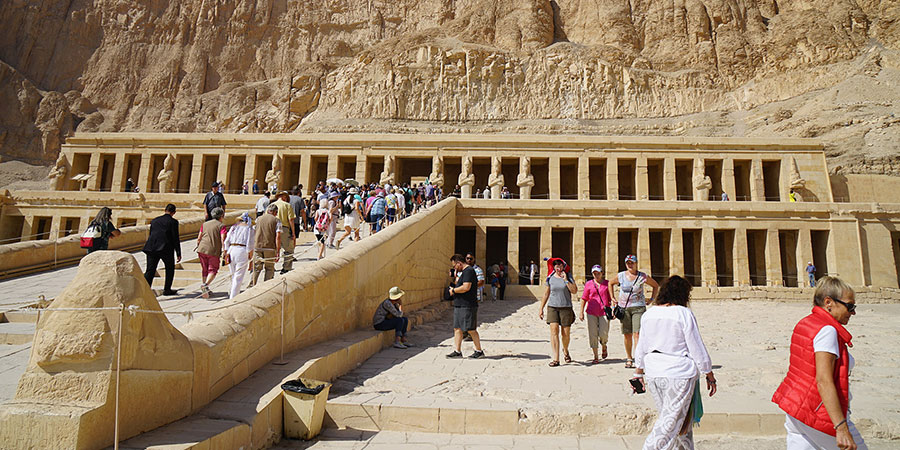 Majestic Temple of Queen Hatshepsut, Luxor
Day 5
Nile Cruise: Edfu to Kom Ombo to Aswan
Visit Temple of Horus & Temple of Kom Ombo. Sail to Aswan. (B+L+D)
Another Nile cruise day on our Egypt packages. After breakfast, we will disembark to visit Temple of Edfu, also called the Temple of Horus, the best preserved temple in the country. It enshrines the God of Sky, Haroeris who has an eagle head. Then we will have our lunch on the cruise. Upon arrival in Kom Ombo at around 4 PM, we will walk to Temple of Kom Ombo, which is dedicated to both Haroeris and the God of Crocodile, Sobek. After that, we will cruise to Aswan, have dinner and stay overnight on board in Aswan.

Meals: Breakfast, Lunch, Dinner

Day 6
Nile Cruise Tour: Private tour to Abu Simbel
Private transfer to Abu Simbel, Temples of Abu Simbel, back to cruise and stay overnight. (B+L+D)
In the morning, we are going to Abu Simbel on the west bank of Lake Nasser. Driving for 3 hours with 230-km (142.9-mile) distance accompanied by your private tour guide and driver, we will get to Abu Simbel Temples, a part of Nubian Monuments, the UNESCO world heritage. Unlike other Egyptian temples, Abu Simbel Temples were carved in the cliffs, rather than constructed by stones. After our Egypt vacation packages to Abu Simbel Temples, we will go back to the cruise for relaxation. Dinner and overnight will be arranged on aboard in Aswan.
Meals: Breakfast, Lunch, Dinner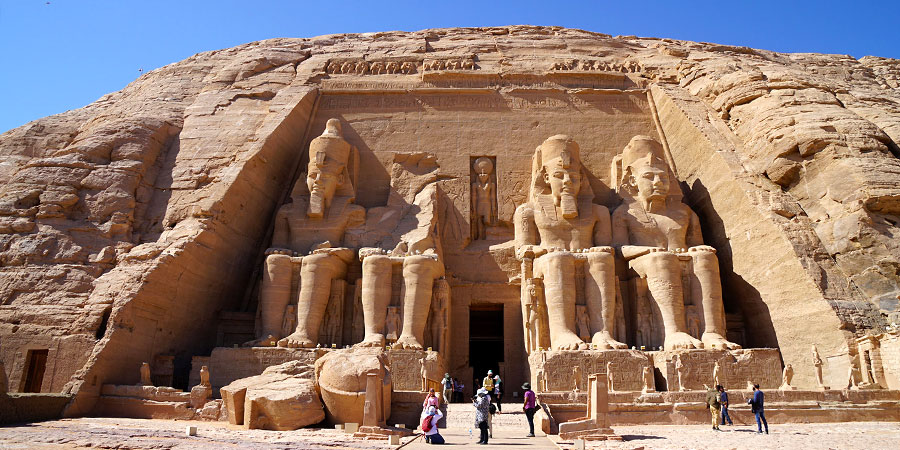 Four giant cliff statues in the entrance of Abu Simbel Temples
Day 7
Aswan City Tour, Fly to Cairo
High Dam, Unfinished Obelisk, Temple of Philae, transfer to Aswan airport for flight back to Cairo & airport-hotel transfer. (B+L)
We will have breakfast on the ship and check out. Then go ashore to enjoy an Aswan city tour. The famous worldwide High Dam of Aswan would be the first stop we are to visit. Then we will also go to Unfinished Obelisk lying at an ancient quarry. We can climb the ladder up to the top of this largest obelisk in Egypt, to get a real feel of the great Egyptian civilization. Then, we will take a short-distance ferry to get to Temple of Philae on Agikia Island. Afterwards, you will be sent to Aswan airport for a flight back to Cairo.
Meals: Breakfast, Lunch
Accommodation: InterContinental Cairo Semiramis





Day 8
Cairo Sightseeing Tour
Egyptian Museum, Salah El Din Citadel, Mohamed Ali Alabaster Mosque, Khan El Khalili Bazaar. (B+L)
You will enjoy the Cairo city tour escorted by the guide and the driver. We will first go to Egyptian Museum, the world-famous museum with 120,000 relics from the past thousands of years. The precious items from the Tomb of Tutankhamun might be the best including Tutankhamun's gold mask.
Next, we will head to Citadel of Saladin built by national hero Saladin against eastward Crusaders. Mosque of Muhammad Al is the main architecture in this 12th-century castle, where we can have a panoramic view of the city. Khan El Khalili in Islamic Cairo would be the last stop today, which is the oldest bazaar in Egypt. Then you will be sent back to the hotel in Cairo.
Meals: Breakfast, Lunch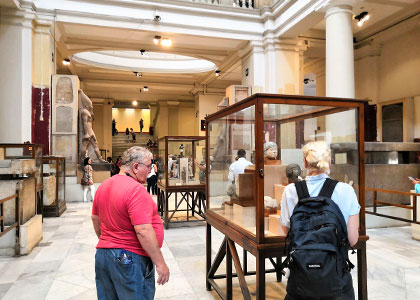 Egyptian Museum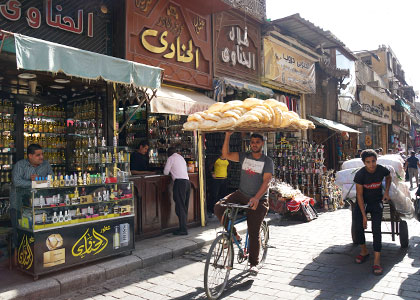 Bustling Khan El Khalili Bazaar
Drive to Alexandria, Pompey's Pillar, Catacombs of Kom el Shoqafa, Citadel of Qaitbay, Bibliotheca Alexandrina. Transfer back to Cairo. (B+L)
We will drive for 2.5 hours to Alexandria next to the Mediterranean Sea after breakfast. The first site of our Egypt tour packages today will be Pompay's Pillar in southwestern Alexandria, which is a 27 meters (88.6 feet) high pink granite pillar and known as the city symbol. Then walk to the nearby Catacomb of Kom El-Shoqafa, which is accessible with spiral stairs, in the 35m (114.8 ft.) underground. Afterwards, we will go to Citadel of Qaitbey, Alexandria's landmark building to see the entire city as well as Mediterranean Sea. Finally, you will be led to the famous Bibliotheca Alexandrina, commemorating the Library of Alexandria. Then we will return to Cairo, and you will be dropped off at your hotel.

Meals: Breakfast, Lunch

Day 10
Departure from Cairo
See off at the airport. We wish you a nice trip home! (B)
After breakfast, the local representative will transfer you to Cairo airport to take your homebound plane ride. So far our Egypt tour packages end completely. Have a pleasant journey!

Meals: Breakfast

B-- Breakfast
L-- Lunch
D-- Dinner
Tour Prices
| Travelers | 2-3 travelers | 4-5 travelers |
| --- | --- | --- |
| Year Round | $2519 | $2439 |
Prices are per person in US Dollars based on double occupancy.
Any parts of the itinerary e.g. tour length, activities & hotels can be tailored to your individual interests.
Above prices are based on the sailing dates of 5-star cruises: M/S Concerto/ Blue Shadow/ AL Hambra/ Nile Style/ Princess Sarah.
Price Includes
Domestic airfares (economy class): Cairo/ Luxor & Aswan/ Cairo
Hotel accommodation in Cairo for 5 nights
Nile Cruise, 5 stars deluxe for 4 nights full board
Private English-speaking guide on land tours
All transfers in air-conditioned vehicles as per the itinerary
Meals as listed in the itinerary
Entrance fees to the mentioned sites
Free bottle of water
All service charges and taxes
Price Excludes
International airfares into and out of Cairo
Personal expenses (such as insurance, laundry, telephone, drinks, etc.)
Tips for guides and drivers
Personal travel insurance
Egypt visa fee