3361
reviews written by
our valued customers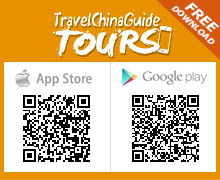 Clients: Mr. Daniel Otto Kunz, Mr. Danny Pierre Kunz & Ms. Roumiana Kunz
Country: Switzerland
Email:
Itinerary: ANCIENT CITIES OF CHINA (6 Days Small Group Tour of Beijing - Xian - Beijing)
Aug 3,2011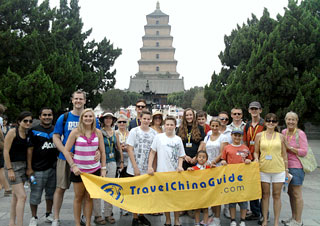 Our group at the Big Wild Goose Pagoda, Xian
Dear Nicole,
Greetings from Switzerland,
We thank you for perfect organization and wonderful time during the vacation. And ask you pardon for late answer.
Our group consisted of people of 8 different nationalities. It was a nice group, very solid. We had a long discussion together, exchanged the opinion and pictures, and in the last day we were like a big Family. This was enriched for everyone.
The restaurant was nice, and the meals varied and delicious. Our guide helped us in the choice a different dishes. We like all, but the favorite was very famous Beijing Duck.
The guides were very knowledgeable and nice, they were very careful to presence of each participant. They speak good English.
The cars was always very clean, and the Driver's, very good drivers, and polite with us.
Hotel Holiday Inn Central Plaza in Beijing was, nice, clean, with a helpful staff, unfortunately this hotel is in area which the taxi drivers don't know very well. Hotel in Xian was good.
Best Regards
Daniel KUNZ
Clients: Ms. Ibolya Rinagel Horvathne, Ms. Judit Palfia, Ms. Maria dr.Botta, Ms. Annette Hajdu, Mr. Ferenc Horvath & Mr. Laszlo Denes Balogh
Country: Hungary
Email:
Itinerary: 16 Days Budget of Beijing - Luoyang - Xian - Shanghai – Suzhou - Shanghai - Guilin - Yangshuo - Guilin - Hongkong/ Guilin - Chengdu - Lhasa - Beijing
Aug 1,2011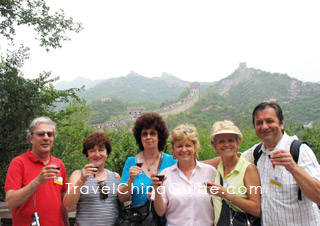 Photo offered by our client Ms. Ibolya Rinagel Horvathne
Dear Nicole and Bruce,
The whole visit was very fantastic, thank you for your help, we will definitely recommend you. Your country was absolutely amazing for us, it was very clean everywhere.
1. Accommodation
We were satisfied with all the hotels, the only hotel where we did not have European breakfast only Chinese was in Xian.
2. Meals
The lunches and dinners where the guides took us were all delicious as we had enough variety to choose from, and we all very much like Chinese food anyways. Though I would like to mention that the elegant restaurant of a hotel we had lunch at after seeing the Summer Palace was not too great. On the other hand, we had fantastic meals at the smaller restaurants and on the boat as well.
3. Guides
The guides were well informed and prepared; the nicest one was the young woman who guided us in Suzhou. The guide in Guilin was also very professional, he managed to get us tickets for the acrobatic show (would definitely recommend it to everybody), he also offered us a nice night city guide. I have to say, all the guides were very helpful, nice and they all spoke English well.
4. Drivers & cars/buses
The cars/buses were all clean and good, the drivers as well. They were always on time, and good drivers, especially the one in Xian. Cold water was always provided.
One more thing to mention which was my special request (meaning not your fault at all): We missed the Shaolin show because we visited the White Horse Temple before, and it would have been more interesting to see the show instead of the Temple.
On the whole, it was everywhere well organized, our plans were followed in all cases. By all means we are satisfied with the service we experienced. We are very glad that we chose you could help us in organizing this trip, we had a fantastic time. Special thanks for making it possible for our husbands to visit Tibet, it was an amazing time for them.
Thank you again for everything.
Kind regards,
Ibolya Rinagel and the team