3353
reviews written by
our valued customers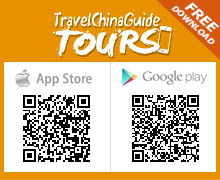 Clients: Ms. Tara Noteboom
Country: United States
Email:
Itinerary: Beijing One-Day Tours (1 Days Mutianyu Great Wall - Summer Palace)
Mar 23,2011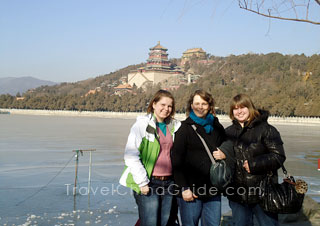 Photo offered by our client Ms. Tara Noteboom
Dear Amanda,
We enjoyed our visit very much. The meal was nice. Even though the buffet wasn't available, there was a good variety of food provided. There was enough and more was offered if we wanted it.
Our guide Gloria was very conscientious and she paid attention to our needs. She was perfectly able to communicate with us. Her pronunciation did not affect that. Gloria knew a lot about each place we went, as well as places on the way. She had a wealth of knowledge. Moreover, Gloria was especially helpful in helping us to relocate to a new hotel. The one we had booked by ourselves was terrible, and Gloria was able to get a new one for us which was a huge improvement and helped to save our vacation. She was able to help us avoid having to pay another night at our old hotel and made sure to help us to get to our new hotel. The price of the new hotel was a bit expensive compared with our old one, but it was conveniently located and we were willing to pay it in order to leave our old hotel. Also, we appreciated her being able to take care of it on such short notice and she was able to do it quickly. Also, she walked with me to an ATM to get the cash to pay for the hotel. I walked back to the hotel by myself, but she did try to help me to remember how to get back. I got a little turned around, but I made it. She said to call her if I needed to. Gloria also suggested to us other activities and places where we could go on the remainder of our stay, which was very helpful. She also was helpful in suggesting places to eat. Overall, she provided a positive experience.
The driver was helpful in opening doors and helping with the seats. He also did well in helping us to find the hotel we were leaving after the tour (we met at the metro station, so this was his first time having to find it) and taking us to our new hotel. He was gracious about it. The vehicle was very clean and nice.
Thanks for your excellent service.
Tara Noteboom
Clients: Ms. Eliza Soo Ngan Yue, Ms. Beatrice Tsang & Ms. Theresa Kwong
Country: Canada
Itinerary: 5 Days Luxury of Shanghai - Suzhou - Hangzhou - Shanghai
Mar 21,2011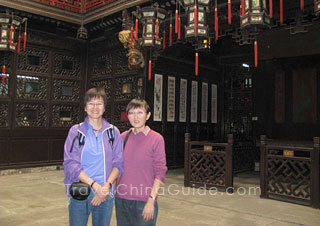 Photo offered by our client Ms. Eliza Soo Ngan Yue
Dear Sophie,
We (my 2 aunts and I) recently joined a private vacation organized by TCG.
Overall, TCG did an exceptional job in organizing our 3 nights 4 days in Suzhou and Hangzhou. Thanks for locating our lost shoulder bag and have it returned safely to our friend in Shanghai. We had a very positive experience with your travel agency. This experience further enhanced my belief that the best way for tourists to appreciate a country/city is by joining a private tour. In this case, we (tourists) can pick to see those places that we want to visit and stay for as long or as little as we want. Plus, we would go shopping only if we wish to.
Please see additional comments related to our tours:

1. Meals: The arranged meals were adequate. We found most of the foods delicious and ingredients were fresh. I would recommend the Zu Fai Fan Dian in Suzhou. The environment was pleasant, service was good and food was good overall.

2. Guides: We were particular impressed by the tour guide in Suzhou. Her name is Charity. She is very knowledgeable, highly patient and pleasant. She always had a smile on her face. I think Charity was one of the main reasons why we enjoyed Suzhou so much. And she coordinated the drop off and pick up time with the driver very well.

In Hangzhou, we had Ah Lan. She is not as outgoing and chatty as Charity. However, Ah Lan is also a hard working tour guide. One day we decided to deviate from our tour schedule by returning to the hotel early at 3:30 pm than seeing one more tourist attraction. We told Ah Lan and the driver to come back later to the hotel at 7:00 pm to pick us up to see the Impression of West Lake show. We later discovered that Ah Lan had nowhere to go before our next meeting time. She hung around our hotel and went to a supermarket to buy a type of local flower (gui huai) powder which my aunt had earlier expressed some interests in. We found Ah Lan thoughtful and helpful. Although we changed our itinerary quite a bit in Hangzhou, Lan was very accommodating. We managed to see Yu Fei Temple and the Tea Museum at the Long Jing Village, which were not in our planned itinerary. We were grateful her help.

3. Drivers: All of the drivers, whether in Shanghai, Suzhou and Hangzhou, were all exceptional. They were courteous and helpful. They communicated well with the local guides. All the vans were clean and we felt very safe while on board. The vans in Hangzhou and Suzhou were very spacious.

4. Hotels: Suzhou - TCG originally recommended the Pan Pacific Hotel to us. I declined that because the hotel is located in the old Suzhou area, which doesn't have many shops around. I chose instead to stay at the Holiday Inn Jasmine Hotel in the new commercial district. I had a very large room and the amenities were great. However, I could hear music and other sounds from the clubs nearby until late at night. The fault was entirely mine as I should have accepted the hotel originally recommended by TCG than choosing my own.

Hangzhou - we stayed at the Landison Hotel recommended by TCG. I once again had a huge room that was very comfortable. The hotel is very conveniently located. There are good shops and restaurants nearby. I highly recommend this hotel to overseas travellers.
Thank you, TCG, for helping to make our vacation a memorable one.

Eliza Yue