Highlights
Mini group of only 1 to 9 guests, escorted by a professional English-speaking guide.
Lowest Price Guarantee: We beat any price of the other tours at the same quality.
Main highlights like Forbidden City, Temple of Heaven and Summer Palace are all covered.
See the giant pandas up close in the Panda House. We create diverse travel experience.
More than 3 hours' hiking on the partially restored Jinshanling Great Wall.
Unlimited bottles of drinking water and small local refreshments are provided for free.
Free Headsets are provided to keep away from the noisy museums.
NO tourist shops, tea ceremony, shopping site restaurants take up your valuable time at attraction sites. Enjoy a pure sightseeing experience.
Detailed Itinerary
Day 01: Visit Tiananmen Square, Forbidden City, Temple of Heaven, Panda House, Summer Palace
7:00 Hotel Pick-up & Drive to Tiananmen Square
Welcome to join our 2-day mini group tour in Beijing. In the morning, your guide will pick you up at the hotel at the appointed time. We will contact you to confirm the exact meeting time one day ahead. If you are not sure about the pick-up issues, your one-on-one travel consultant is ready to serve anytime. Then we will head to Tiananmen Square in the city center.
8:00 Visit Tiananmen Square & Forbidden City
We will have a 30-minute stay at Tiananmen Square. Your guide will explain the history and the main buildings in the square. Afterwards, we will accompany you to walk to the Forbidden City, which is just to the north of Tiananmen Square. The Forbidden City, as the imperial palace in the Ming (1368 - 1644 AD) and Qing (1644 - 1911 AD) Dynasties, is the largest and best-preserved ancient wooden architecture complex in the world. It also houses many precious cultural and historical treasures.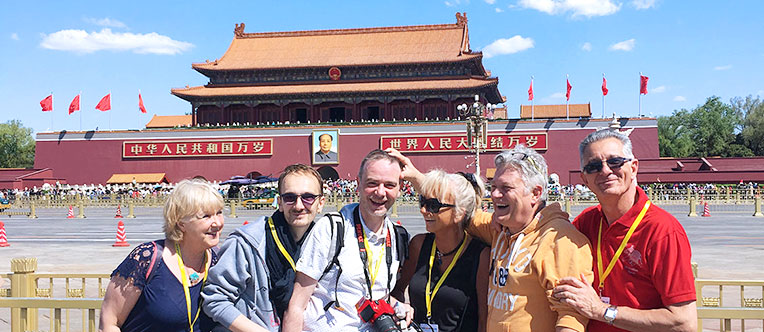 Take a leisurely stroll around the Tiananmen Square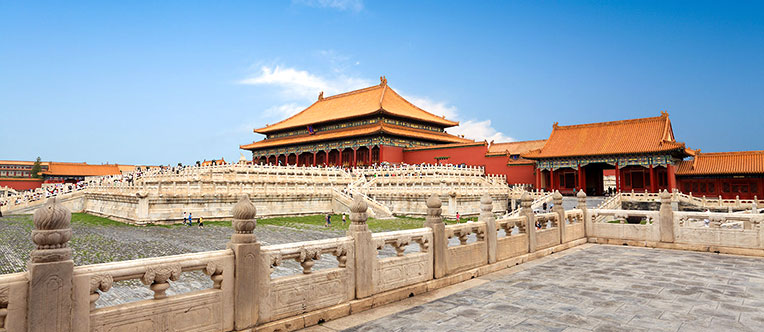 Have an insight into the Chinese culture at the Forbidden City
11:00 Drive to Temple of Heaven & Free Time for Lunch
Next, we will drive to the Temple of Heaven. Here we will leave some free time for you to have lunch on your own, so that you can taste whatever local food you like. Surely, your tour guide is ready to help you with it.
12:30 Visit Temple of Heaven
After that, we will guide you to visit the Temple of Heaven. Built in 1420 AD, the Temple of Heaven is the ancient imperial site worshipping the heaven and praying for harvest. It is the largest architecture structure in China to be built expressly for the purpose of sacrifice.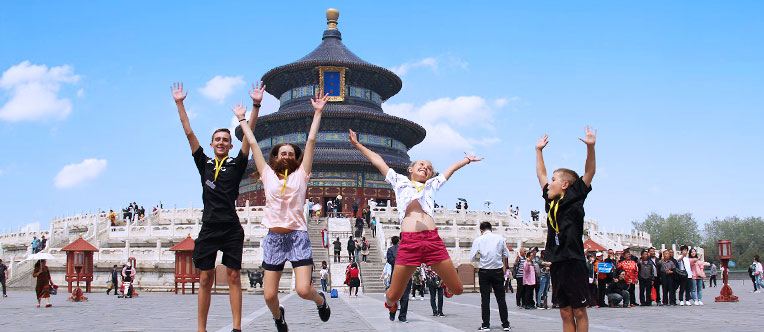 Explore the grand architectures at the Temple of Heaven
14:00 Drive to Visit Panda House
The giant pandas are not only a Chinese national treasure but are also beloved by people the world over. Today, we specially arrange you a visit to the Panda House at Beijing Zoo. It is a very good chance for you to see the pandas, take pictures of them and observe their distinctive manners of eating bamboos. No matter whether you liked pandas or not before, from now on you will fall in love with them.
15:30 Drive to Visit Summer Palace
Then we drive to visit the Summer Palace. The Summer Palace was a royal garden in the Qing Dynasty (1644 - 1911 AD) and now it is the largest garden in China. Longevity Hill, Kunming Lake, Seventeen-Arch Bridge and other sites in Summer Palace are all well-known and worthy to explore.
Enjoy the pleasant landscape in the Summer Palace
18:00 Hotel Drop-off
Today's city tour in Beijing China ends here and we will drive you back to your hotel. Have a good sleep tonight!
Day 02: Jingshanling Great Wall Hiking
7:00 Hotel Pick-up & Drive to Jingshanling Great Wall
On the 2nd day of the Great Wall walking tour, we will meet you at your hotel lobby on time and then set out for the Jinshanling Great Wall. It takes about 2.5-3 hours to drive there.
10:00 Hike on the Great Wall from Simatai West to Jingshanling
With Simatai Great Wall to the east and Gubeikou Great Wall to the west, Jingshanling Great Wall has been honored as "The Paradise for Shutterbugs". You will enjoy constantly changing perspectives and wide, open views.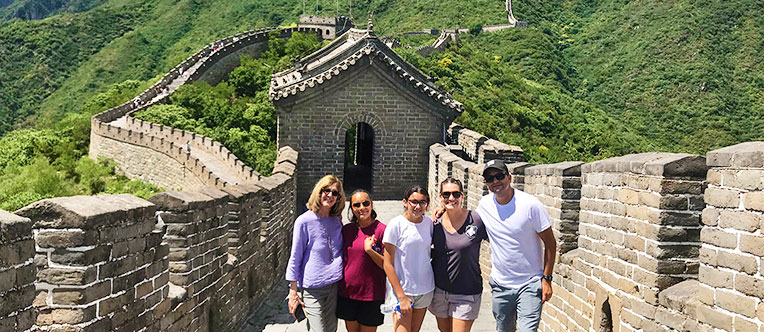 Our happy guests on the Great Wall
We will arrive at the west section of Simatai and hike westward along Jinshanling. First, we will go up the mountain from the east gate of Jinshanling Great Wall. About 40 minutes later, reach the East Five-Window Tower. After a short break, keep hiking westward to pass through the famous Big Jinshan Tower, Small Jinshan Tower, and Black Tower successively. At last, we will get to the Shalingkou Pass. We will stop here and go down the mountain. If you still have energy to go on the hiking, we will continue to hike for about 30 minutes to Zhuanduokou and go down there.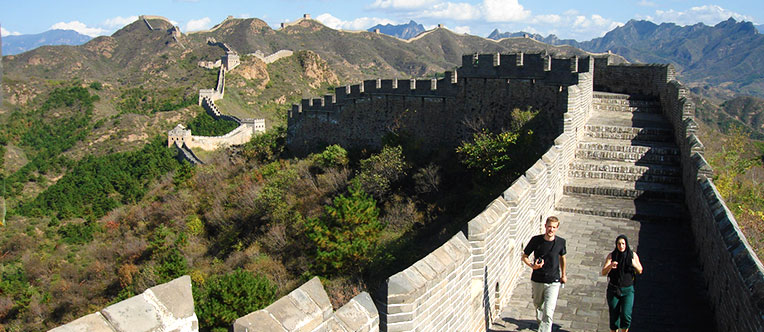 Hiking on the Great Wall is an unique experience of a lifetime
Friendly Tips:
The hiking from west section of Simatai Great Wall to Jinshanling Great Wall is moderate to most people. However, there are also steep stairs and unrepaired sections, so it is more suitable for adventurous young and middle-aged travelers. With few tourists and beautiful scenery, Jinshanling can be counted as a paradise for hikers and shutterbugs. If you love outdoor activities, you must not miss it.
The hiking route is about 6 kilometers (4 miles), which usually takes 3 hours. You are suggested to wear comfortable shoes and the sunscreen products are necessary if you hike in the summer time.
On the day of Jingshanling Great Wall walking tour, you are suggested to have a hearty breakfast at your hotel as there is no decent restaurant nearby the Great Wall. We will also make a short stop at a roadside store for you to buy some snacks on the way to the site. In addition, hiking on the Great Wall is an energy-consuming activity, so we suggest that you drink water often. We will provide you with unlimited bottled purified water, and you can bring some when getting off the van.
14:00 Drive Back & Hotel Drop-off
Your Great Wall walking tour at Jingshanling comes to an end and we will drive you back to the hotel. Hope you have a wonderful tour with us!
Tour Price (US$ Per Person)

Daily Departure
Adult(>11 years old)

$198

$178
Child(3-11 years old)

$178

$158

Price Includes
Pick-up & drop-off from the hotel
Entrance fees as indicated above
Professional English speaking guide
Experienced driver & air conditioned vehicle
Unlimited bottles of drinking water for free
Price Excludes
Meals, advice freely available
Hotels
Tips or gratuities for guide and driver
WeChat QR Code

For last minute booking within 24 hours, please feel free to contact us to check the availability or ask questions.

+86-13571916992

inquiry@travelchinaguide.com

WeChat: 18909182319
Booking Policy
Infant Price: This tour is free of charge for an infant under 3 years old.
Confirmation: Upon receiving your booking request, confirmation will be sent within 12 hours.
Payment: Full payment is required at least two days prior to the day trip. We accept payment by PayPal, Credit Card, Alipay, Wechat and Bank Transfer.
Cancellation:

Your payment is fully refundable if you cancel more than 24 hours prior to the trip.

Cancellation within 24 hours or any unused portion after the day trip begins is non-refundable.
Pick-up Service: Beijing is a very large city. To ensure the morning pick-up going smoothly as scheduled, we suggest you choose downtown hotels within the third ring road of the city. If your hotel is outside the area, there might be an extra cost for the transfer, or you may get to the appointed place to meet the group on your own. If you are not sure about the pick-up issues, your one-on-one travel consultant is ready to serve anytime.
Departures are guaranteed with two persons.
Guest under the age of 80 can participate in this mini group tour.
Itineraries you may also like: