Wonders of Asia
SG29: 12 Days Small Group Tour of Beijing - Xi'an - Guilin - Guangzhou - Siem Reap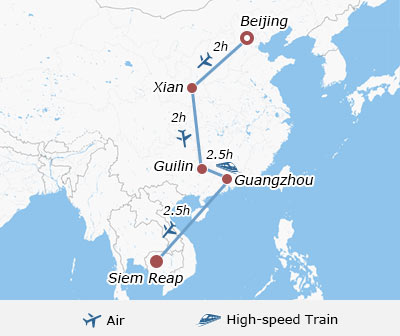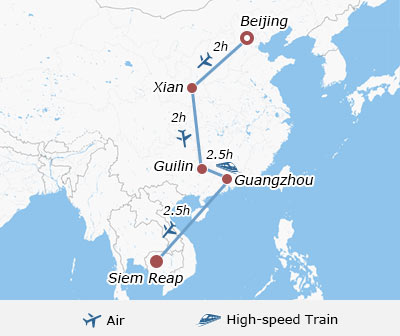 Tour Type:
Small Group of 2-18 travelers, guaranteed departures
Guide & Driver:
English-speaking guide, experienced driver with an air-conditioned coach
Accommodation:
11 nights, nice 5-star & 4-star hotels
Meals:
11 western buffet breakfasts, 8 lunches with some being a la carte style, 2 dinners
Tour Highlights:
Must-see sights - Mutianyu Great Wall, Forbidden City, Terracotta Army, Angkor Wat
Walk into a local Chinese family, interact & dine with the hosts in their home
Take a Li River cruise down to Yangshuo & admire the essence of Guilin landscape
Worship the smile of Khmer in the Bayon Temple of Angkor Wat
Watch the fascinating sunrise at Angkor Wat and sunset at Bakheng Temple

Our guide will meet you outside the customs at Capital International Airport and the driver will transfer you to our carefully chosen hotel. As you are going to visit many of the most spectacular and beautiful sights in the following days, you have the rest of the day to relax and refresh at the hotel.
Accommodation:
The Great Wall Hotel Beijing





- the former Sheraton
In the morning, we first take a stroll around
Tiananmen Square
, which is recognized as the world's largest city square. Walking further north, we reach the
Forbidden City
, which is a vast museum of the imperial architecture and historical items of the Ming and Qing dynasties (from 14th century to the early 20th century).
Around noon, we welcome you with an
a la carte lunch
(valued at CNY150.00 per person and included in our price) served at an excellent local restaurant, where you can taste signature Chinese food and sample the Peking Roast Duck.
In the afternoon, we visit the
Temple of Heaven
, which is reckoned to be the world's largest architectural group dedicated to worship of the god. Then we go to a lively
Chinese Kung Fu Show
at the Red Theatre, which will give you an unforgettable night.
Meals: Western buffet breakfast, A la carte welcome lunch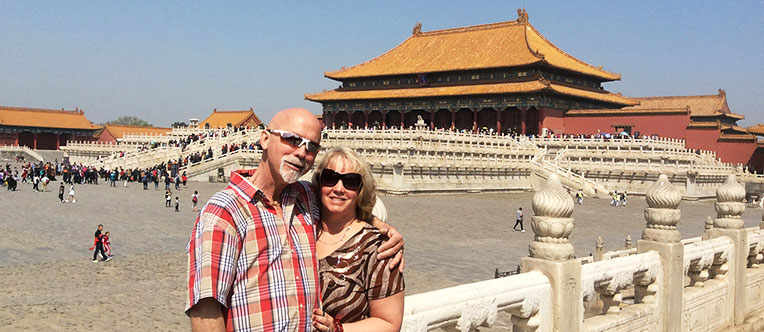 Have an insight into the Chinese history at the Forbidden City
Mutianyu Great Wall with a round-trip cable car, A toast with red wine on the wall. (B)
For the whole morning, we will take an excursion to the famous world heritage site, the section of the Great Wall at
Mutianyu
. The round way cable car is scheduled. As you stand on it, you will be amazed by the solid and winding wall and the strong beacon towers. A toast of the red wine arranged by us will highlight your Great Wall visit much more.
Lunch is not included today, but our guide is more than happy to help you find somewhere good to have lunch if you want.
When returning downtown, we will take you to a featured local market and leave you some free time there to explore.
Meals: Western buffet breakfast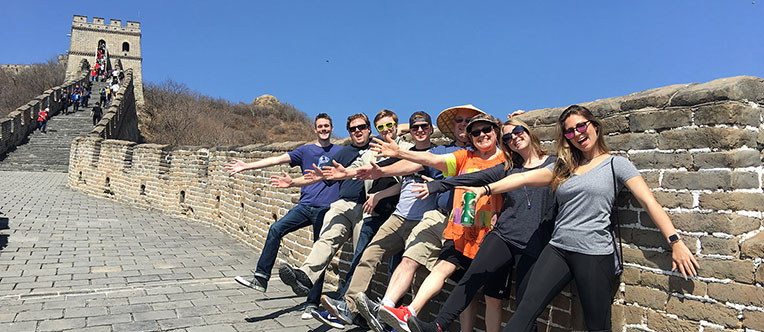 What a fantastic tour of the Great Wall!
Summer Palace, Olympic Bird's Nest, A la carte lunch, Hutong Rickshaw Tour, Experience Chinese Paper Cutting, Fly to Xi'an, Airport-hotel transfer. (B+L)
Today's visit starts at the
Summer Palace
, China's largest imperial garden. In addition to enjoying the pleasant natural landscape of Wanshou Mountain and Kunming Lake, here we can also see the typical Chinese garden constructions of a long corridor, bridges and pavilions, as well as the splendid imperial buildings. After that, we will have a photo stop at the
Bird's Nest
, the National Stadium for the 2008 Olympic Games.
A rich
a la carte lunch
(valued at CNY150.00 per person and included in our price) at a super local restaurant will be served around noon.
In the afternoon, we ride a rickshaw through the
Hutongs
to study the essential culture and characteristics of old Beijing. To better understand the Chinese traditional culture, we arrange you to learn the Chinese paper cutting which will be a memorable experience during your China tour. Then, our guide and driver will escort you to the airport to board a flight bound for Xi'an, where another excellent local guide will pick you up for your trip to the hotel.
Meals: Western buffet breakfast, A la carte lunch
Accommodation:
Sheraton Hotel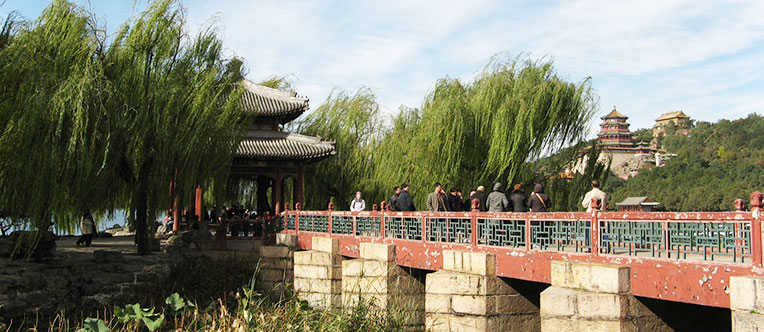 The pleasant scenery of Summer Palace makes your visit enjoyable
Terracotta Army, A local family visit and an authentic home-cooked lunch, Small Wild Goose Pagoda, Tang Dynasty Show with dumpling dinner. (B+L+D)
Following breakfast at the hotel, we set out for the amazing
Terracotta Army
, which was built on the excavation site of the three burial pits along with the tomb of the first Emperor Qin Shihuang.
After that, we will have a visit with a
local Chinese family
, learn with the host to cook one or two
Chinese dishes
and enjoy a home cooked a la carte lunch (valued at CNY120.00 per person and included in our price).
Our afternoon visit continues to the
Small Wild Goose Pagoda
and Xi'an Museum. At night, we will take you for a traditional
dumpling dinner
, followed by a spectacular
Tang Dynasty Music and Dance Show
.
Meals: Western buffet breakfast, Home-cooked a la carte lunch, Dumpling Dinner

Friendly Tips
Since the theater is usually not open in Jan, Feb, Mar and Dec, we will not arrange the show and dumpling dinner for tours starting during the periods. Clients will enjoy free time to relax.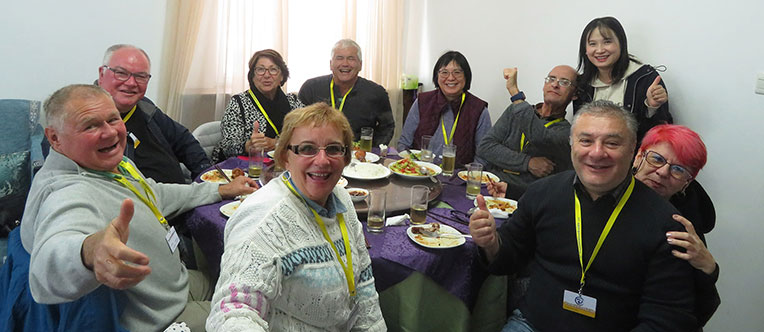 Our travel consultant Lexi with her happy clients
Observe local life in the park, Tai Chi practice, Xi'an City Wall, A la carte lunch, Provincial History Museum, Great Mosque, Muslim Quarter. (B+L)
This morning we will first go to the
City Wall Park
to experience the local lifestyle and culture. In the park, there are local people playing Tai Chi and you will also have a chance to practice this Chinese martial art with a master. Following that, we will ascend the best-preserved ancient
City Wall
. Biking on the wall brings visitors great experience and perspective to view the city, so you can also try it if you like. The bicycle hire will be at your expense.
An
a la carte lunch
(valued at CNY120.00 per person and included in our price) is served for you at a superb restaurant. For the rest time of the afternoon, we head to
Shaanxi History Museum
. Prepare to be amazed by the brilliant collections as they are distinctly superior in value, quantity, rank and species. Then we visit the tranquil
Great Mosque
and its bustling
Muslim bazaar
.
Meals: Western buffet breakfast, A la carte lunch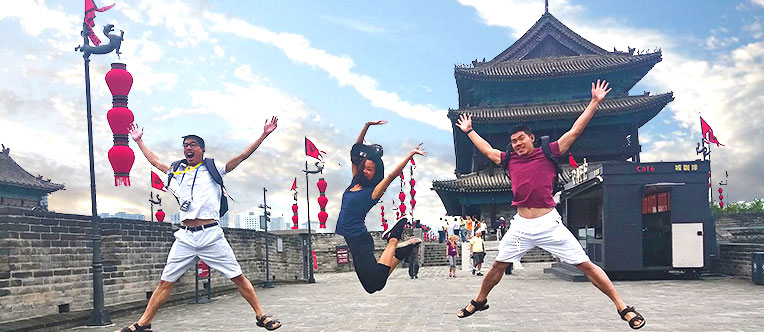 Have fun on the ancient Xian City Wall
Fly to Guilin, Airport-hotel transfer, Reed Flute Cave, Elephant Trunk Hill. (B)
Today we will put you on a morning flight to Guilin, where our local guide will pick you up at the airport and accompany you to the hotel. After a short interval, we go to the
Reed Flute Cave
, which is a famous karst cave with a variety of stunning stalactites, stone pillars and rock formations. Then go ahead to visit the
Elephant Trunk Hill
, a must-visit landmark of the city.
Meals: Western buffet breakfast
Accommodation: Guilin Grand Bravo Hotel





Day 8
Guilin - Yangshuo - Guilin
Li River cruise to Yangshuo, West Street, Countryside tour, Drive back to Guilin. (B+L)
An amazing day starts with a 4.5-hour cruise journey on the spellbinding
Li River
. Beautiful scenes come one after another as the river meanders through the stunning mountains and valleys. As only a light box lunch is served on the cruise, it is advisable to have a substantial breakfast beforehand.
After debarking in Yangshuo, we have a leisurely stroll along the
West Street
and then take a pleasant drive to enjoy the peaceful countryside scenes. En route, we also visit a local farmer's house. Get back to Guilin afterwards.
Meals: Western buffet breakfast, Lunch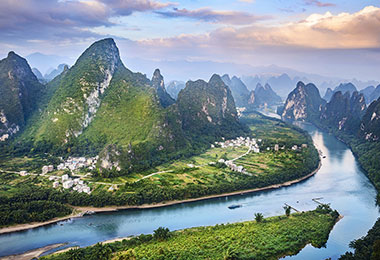 Gorgeous view of Li River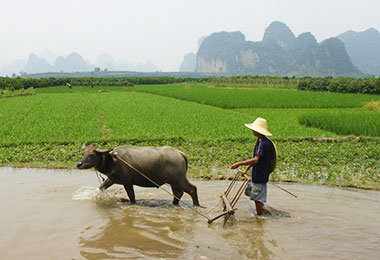 Rural scenery of Yangshuo
Day 9
Guilin - Guangzhou - Siem Reap
A 2.5-hour bullet train to Guangzhou, Railway station to airport transfer, Fly to Siem Reap, Pick-up service. (B)
This morning you will board a 2.5-hour bullet train to Guangzhou. Our Guangzhou guide and driver will greet you at the railway station and help you to switch to the afternoon flight bound for Siem Reap. On arriving, you will be greeted at the airport and escorted to the hotel.
Meals: Western buffet breakfast
Accommodation: Lotus Blanc Resort




Angkor Wat, Angkor Thom, Bayon Temple, Ta Prohm, Sunset at Bakheng Temple, An Apsara Dinner Show. (B+L+D)
As one of the greatest wonders of the world, the Angkor Ruins attract visitors with their irresistible charms. This morning, if the weather permits, wake before dawn and have a Tuk Tuk ride to visit the Angkor Wat - the largest Khmer temple and excellent example of Angkorian art and architecture. Sunrise is one of the most beautiful times to visit the temples, whose ancient sandstone blocks are gilded gold by the early morning rays.
After having lunch at a local restaurant, we continue to appreciate the magnificent constructions and detailed bas-reliefs in Angkor Wat, the national treasure of Cambodia. Visit the Angkor Thom's imposing South Gate, topped with the four serenely smiling faces of Avalokiteshvara, then proceed to the Bayon temple, the Elephant Terrace and the Terrace of the Leper King. Stop to explore the jungle-entwined temple, Ta Prohm and the Bakheng Temple. In the evening, we will serve you an Apsara Dinner Show at the Angkor Village Resort.
Meals: Western buffet breakfast, Lunch, Apsara Dinner Show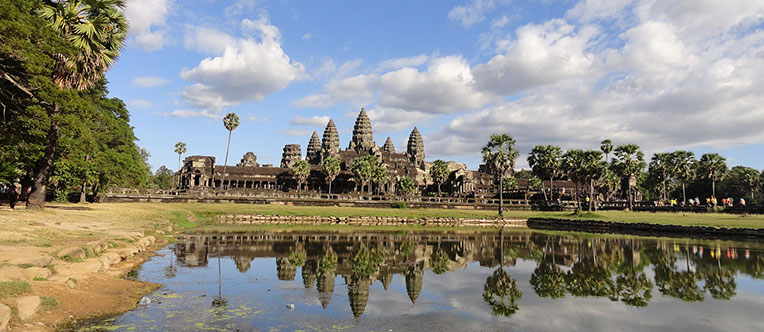 Visit Angkor Wat, the largest temple in the world
Preah Khan, Banteasy Srei Temple, Banteay Samre, Stopover at local villages, Rolous Group. (B+L)
Today we will visit Preah Khan (Sacred Sword), one of Angkor's largest temples, constructed in the 12th century by Jayavarman VII. Our journey continues with a drive to the country side of Khmer people to the elegant Banteay Srei Temple - the birthplace of classical Khmer architecture. Small but stunning, Banteasy Srei makes a refreshing experience. Then explore the magnificent Banteay Samre. Have a stop along the way to see farmers making Palm sugar.
Enjoy lunch at Bong Thom home stay. After lunch, we drive back to the Rolous Group, which is the ancient capital of King Indravarman I (877-889) and known as the birthplace of classical Khmer art and architecture. If time permits, we stop at Orphanage school nearby for a short visit. The day is completed when we drive you back to your hotel.
Meals: Western buffet breakfast, Lunch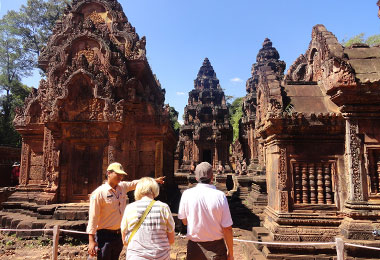 Banteay Srei Temple, Siem Reap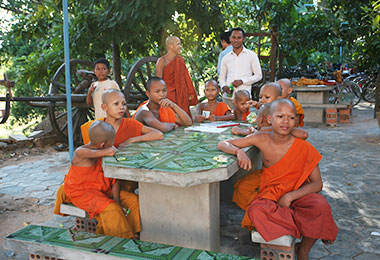 Buddhist monks in Lolei Temple
Day 12
Departure from Siem Reap
Tonle Sap Lake to see the floating village, Bid farewell at the airport, A pleasant trip home! (B+L)
This morning we drive out of the city to Tonle Sap Lake, where we take a boat trip to observe the tranquil and simple life of the floating village.

After lunch, our guide and driver will escort you to the airport and see you off on your outbound flight. If you wish to visit other neighboring southeast countries, we are ready to offer our round-the-clock service.

Meals: Western buffet breakfast, Lunch
B-- Breakfast
L-- Lunch
D-- Dinner
Prices are per person in US Dollars; departures are guaranteed even with two persons!
| Arrival Date | Departure Date | Double Occupancy | Single Room Supplement | |
| --- | --- | --- | --- | --- |
| Jan 09(Sat) | Jan 20(Wed) | $2269 | $429 | |
| Feb 20(Sat) | Mar 03(Wed) | $2269 | $429 | |
| Mar 04(Thu) | Mar 15(Mon) | $2289 | $459 | |
| Mar 11(Thu) | Mar 22(Mon) | $2289 | $459 | |
| Mar 25(Thu) | Apr 05(Mon) | $2429 | $459 | |
| Apr 01(Thu) | Apr 12(Mon) | $2489 | $489 | |
| Apr 08(Thu) | Apr 19(Mon) | $2489 | $489 | |
| Apr 15(Thu) | Apr 26(Mon) | $2489 | $489 | |
| Apr 22(Thu) | May 03(Mon) | $2489 | $489 | |
| May 06(Thu) | May 17(Mon) | $2489 | $489 | |
| May 13(Thu) | May 24(Mon) | $2489 | $489 | |
| May 20(Thu) | May 31(Mon) | $2489 | $489 | |
| May 27(Thu) | Jun 07(Mon) | $2469 | $469 | |
| Jun 03(Thu) | Jun 14(Mon) | $2459 | $459 | |
| Jun 10(Thu) | Jun 21(Mon) | $2459 | $459 | |
| Jun 17(Thu) | Jun 28(Mon) | $2459 | $459 | |
| Jun 24(Thu) | Jul 05(Mon) | $2489 | $459 | |
| Jul 01(Thu) | Jul 12(Mon) | $2489 | $459 | |
| Jul 08(Thu) | Jul 19(Mon) | $2489 | $459 | |
| Jul 15(Thu) | Jul 26(Mon) | $2489 | $459 | |
| Jul 22(Thu) | Aug 02(Mon) | $2489 | $459 | |
| Jul 29(Thu) | Aug 09(Mon) | $2489 | $459 | |
| Aug 05(Thu) | Aug 16(Mon) | $2489 | $459 | |
| Aug 12(Thu) | Aug 23(Mon) | $2489 | $459 | |
| Aug 19(Thu) | Aug 30(Mon) | $2489 | $459 | |
| Aug 26(Thu) | Sep 06(Mon) | $2469 | $479 | |
| Sep 02(Thu) | Sep 13(Mon) | $2499 | $509 | |
| Sep 09(Thu) | Sep 20(Mon) | $2499 | $509 | |
| Sep 16(Thu) | Sep 27(Mon) | $2499 | $509 | |
| Sep 23(Thu) | Oct 04(Mon) | $2529 | $539 | |
| Oct 07(Thu) | Oct 18(Mon) | $2529 | $539 | |
| Oct 14(Thu) | Oct 25(Mon) | $2529 | $539 | |
| Oct 21(Thu) | Nov 01(Mon) | $2529 | $539 | |
| Oct 28(Thu) | Nov 08(Mon) | $2379 | $529 | |
| Nov 04(Thu) | Nov 15(Mon) | $2379 | $529 | |
| Nov 11(Thu) | Nov 22(Mon) | $2359 | $509 | |
| Nov 20(Sat) | Dec 01(Wed) | $2299 | $459 | |
| Dec 04(Sat) | Dec 15(Wed) | $2279 | $439 | |
| Dec 23(Thu) | Jan 03(Mon) | $2479 | $439 | |
Price Includes
One high-speed train (second class seat): Guilin - Guangzhou
Three flights (economy class seat): Beijing - Xian - Guilin; Guangzhou - Siem Reap
Hotel accommodation with breakfasts
A la carte lunches as itinerary specifies
Professional English-speaking guides
Drivers & air-conditioned vehicles
Entrance fees to tourist sites
Tips or gratuities for hotel porters
Price Excludes
International flight into Beijing and out Siem Reap
Meals other than those mentioned in the itinerary
Personal expenses (such as laundry, telephone, drinks, etc.)
Tips or gratuities for guides and drivers
Personal travel insurance
China and Combodia Visa fees
Why Travel With Us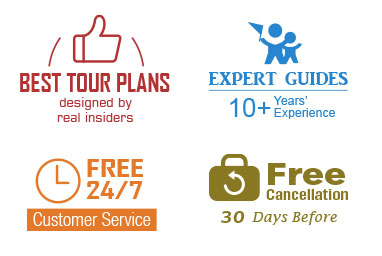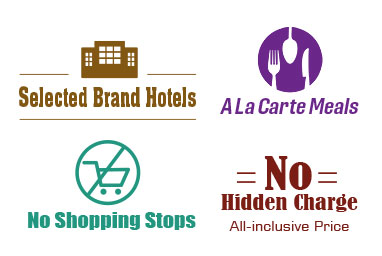 Itineraries you may also like: