Top Beijing Attractions
More Things to Do
Top 10 City Tours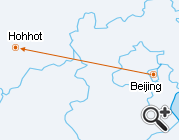 BJ32: 4 Days Private Inner Mongolia Tour from Beijing
From
$649
per person
Free Inquiry

Departure: June - September

Day 1
Beijing - Hohhot - Xilamuren Grassland
On the first day of your Inner Mongolia Tour from Beijing, please take a high-speed train for around 2.5 hours from Beijing to Hohhot on your own. We will book the train tickets for you in advance.
When you arrive in Hohhot, your guide and driver will pick you up from the train station, and then escort you to the
Xilamuren Grassland
in a 2 hours' drive. After arrival, you will check in at a Mongolian Yurt and have a good rest. For the rest of the day, you may roam leisurely around the beautiful meadow. In about 21:00 tonight, there will be a bonfire party. All tourists are welcomed to participate, hand in hand and dance together. Hope this moment will become a gorgeous glow in your heart forever.
Accommodation: Mongolian Yurt
Day 2
Xilamuren Grassland - Dalad Banner
Mongolian wrestling
If interested, you may get up very early to enjoy the splendid grassland sunrise. In the morning, you will be warmly welcomed by the enthusiastic Mongolians who are in their traditional dress. They will present you a silver cup of wine and Hada (a white or blue silk scarf).
Then we will leave you some free time and you may take a horse riding tour. The horse rental fee needs to be paid on spot on your own. It is suggested that your riding time is controlled within 2 hours, because people who do not often ride horses are easily to get tired.
Next, you will visit a local Mongolian herdsman's home, to experience cow milking, making Mongolian milk tea, feeding lambs, picking up cow dung and photo taking activities.
Afterwards, you will watch Mongolian men's three arts - wrestling, horse racing, archery performances, feeling the love, boldness and unrestraint of the Mongolians. Finally, you will enjoy a car journey from the Xilamuren Grassland to Dalad Banner and check in at the hotel for a good rest.
Meals: Simple breakfast, Lunch
Accommodation: Dongda Jinyuan Hotel





Our Friendly Tip
The Nadam Fair is the grandest festival in Mongolia, which is held in mid-July each year at the Xilamuren Grassland. During the festival, various traditional Mongolian competitions will be held, including wrestling, horse racing, archery, lassoing horses and many others. Besides, there are also performances of traditional songs and dances.
Day 3
Dalad Banner - Resonant Sand Bay - Hohhot
Camel riding in the desert
After breakfast, we will drive to the
Resonant Sand Bay
in around half an hour. The Resonant Sand Bay is located in the eastern section of the Kubuqi Desert within the territory of Dalad Banner, Ordos City. It is one of the three major sounding sands in China. On a sunny day, when people slide from the top of the dunes, it makes a sonorous sound like murmurs of the people, and that's also the origin of its name.
On arrival, you will take the desert sightseeing cableway into the desert. You will have a whole day to experience all kinds of interesting desert activities at your own expense, like sand sliding, camel riding, sand surfing driving, beach motor driving, desert adventure driving, railed bike riding, and flying high on a zip line etc. After the tour, we will drive back to Hohhot.
Meals: Chinese Breakfast, Lunch
Accommodation:
Holiday Inn Hotel




Day 4
Visit Hohhot and see off
Dazhao Temple
In the morning, we will continue this Inner Mongolia tour to visit the highlights of Hohhot. The first stop is the
Dazhao Temple
, which was built in the Wanli Period (1573-1620 AD) of the Ming Dynasty. It is a Lamaism temple, having extremely rich collections. Except for the silver Buddha - the treasure of the temple, dragon carvings and murals, you can also see various colorful sculptures, huge Thangkas, instruments used in religious activities, and other precious historical relics and art works.
Afterwards, you will be led to visit the Inner Mongolia Museum, the largest comprehensive museum in Inner Mongolia. It is a great place to learn about the history and culture of the Mongol nationality. The building of the museum and the cultural relics as well as the exhibits displayed have a unique style with ethnic characteristics. At last, take a short visit to the Saishang Old Street.
It is the last day of your Inner Mongolia tour from Beijing. We will see you off at the airport or train station on time according to your flight or train schedule. We sincerely hope that we could have the opportunity to serve you again in the future.
Meals: Western buffet breakfast
Price Includes
Train fare of Beijing/Hohhot
Hotel accommodation with breakfasts
Meals as mentioned in the itinerary
Private English-speaking guides
Private drivers & air-conditioned vehicles
Entrance fees to tourist sites
Price Excludes
International airfares
Entry visa fees
Tips or gratuities for guide and driver
Itineraries you may also like: