Ancient Chinese Architecture
Together with European and Arabian architecture, ancient Chinese architecture is an important component of the world architectural system. During its long development, it gradually formed into a style which featured timberwork combining stone carving, rammed earth construction, bucket arch buildings and many other techniques. Industrious Chinese laboring people created many architectural miracles such as the Great Wall, Forbidden City and the Mausoleum of the First Qin Emperor.
| | |
| --- | --- |
| Forbidden City, Beijing | Badaling Great Wall, Beijing |

Features: The most significant characteristic is the use of timber framework. Paintings and carvings were added to the architectural work to make it more beautiful and attractive. Ancient Chinese buildings have a long history which can be traced back to the Shang Dynasty (16th century BC - 771 BC). It has its own principles of structure and layout. Through the long development, many wonders have been created by industrious and clever laboring people. Ancient architectural miracles are innumerable ranging from
Great Wall
,
White Horse Temple
,
Mogao Caves
to
Summer Palace
and
Forbidden City
.
| | |
| --- | --- |
| Intricate painted ceiling of a pavilion | Symmetrical layout of a courtyard |
Ancient Chinese architecture is mainly timberwork. Wooden posts, beams, lintels and joists make up the framework of a house. Walls serve as the separation of rooms without bearing the weight of the whole house, which is unique to China. As a famous saying goes, 'Chinese houses will still stand when their walls collapse.' The specialty of wood requires antisepsis methods to be adopted, thus develops into Chinese own architectural painting decoration. Colored glaze roofs, windows with exquisite applique design and beautiful flower patterns on wooden pillars reflect the high-level of the craftsmen's handicraft and their rich imagination.
The layout of a courtyard complex is also unique to China. The main structure is located on the central axis of a court while less-important structures are located to the left and right. The whole layout is symmetrical. Compared with European architectural style which is open and shut, a courtyard is like a hand scroll of painting which should be unfolded little by little. The scenery is different in each courtyard. Even in moving several steps within the court yard, you will be surprised at the changing of prospects. Likewise from the interior of the buildings the view from no two windows is the same.

Architecture Styles: There were many different styles of ancient Chinese buildings. All of them are unique and equally exquisite.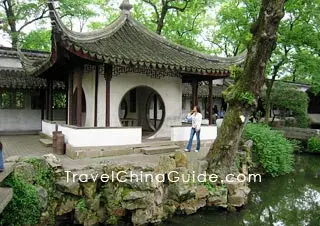 Humble Administrator's Garden, Suzhou

Imperial Architecture


Traditional Chinese Residence
Seal-like Compound in Yunnan
Earthen Buildings of Hakkas in Fujian
Courtyards in Beijing
Farmers' Caves in Northern Shaanxi


Garden Architecture


Buddhist Architecture


Taoist Architecture


Chinese Temples
Buddhist Temples
Taoist Temples
Islamic Mosques
Confucius Temples



China Architecture Culture: Architecture and culture are closely related to each other. Many buildings contain cultural connotations. The cultural facts will help people better understand the architectural structure and the design.


Feng Shui


Chinese Memorial Arch
- Last updated on Jul. 17, 2023 -
Questions & Answers on Ancient Chinese Architecture
Asked by Ivana from CROATIA | Jul. 16, 2023 09:56

Reply
Small shrined next to buildings
Hi, I saw small shrines next to homes with some candy left inside. They contain little statues of people (1 or 2 usually). What do they represent?
Answers (1)
Answered by Olivia | Jul. 17, 2023 20:54

0

0

Reply
Well, they are vey possibly Gods of Earth or Fortune. In some cases, they may also be Gods of Doors.
Asked by Rhodora Berangel from PHILIPPINES | Oct. 18, 2020 03:53

Reply
What is best date and month for building a house?
I born on October 16,1980
Answers (1)
Answered by Deirdre | Oct. 18, 2020 20:25

0

0

Reply
Oh, every month has several lucky days for building a house. Would you mind providing a rough time?
Asked by Vihaan from INDIA | Apr. 02, 2019 20:21

Reply
Why does ancient Chinese architecture have curved in most buildings?
Answers (2)
Answered by Moria from USA | Apr. 03, 2019 20:35

0

0

Reply
Most of them is a kind of decoration to make the buildings more beautiful.
Answered by Ryan 12 year old | Apr. 12, 2021 00:45

0

0

Reply
Its not just because of decoration. Roofs are very important to Chinese architecture: Not only do they protect residences from the elements, but they also have a deeper meaning. For example, temple roofs are curved because Buddhists believed that this helped ward off evil spirits, which were believed to assume the form of straight lines.
Asked by Sage from UNITED KINGDOM | May. 18, 2017 17:28

Reply
Why was The Wall built?
Some people say it was for border lines, but there must be a different reason.
Answers (5)
Answered by Penut Butter from AUSTRALIA | May. 18, 2017 17:32

18

8

Reply
It was made to prevent intruders from entering China
Answered by jandavid from U.S | Dec. 19, 2017 05:56

8

6

Reply
It was used to prevent Mongols from entering china.
Answered by Jan from UNITED STATES | Jan. 17, 2019 10:35

0

0

Reply
The purpose of walls like the Great Wall was always defensive. Before China was unified, there were walls not only between China and other countries but between warring parts of China.
Answered by Vihaan from INDIA | Apr. 02, 2019 20:24

0

0

Reply
It was the state Chu who first built the wall. It was during the Qin Dynasty that the kingdom of Qin united the different parts into one empire. To defend off the invasions from northern invaders, Emperor Qin Shi Huang had all the walls joined up. Thus, the Great Wall came into being.
Answered by Juliana Home from USA | Apr. 08, 2019 15:45

0

0

Reply
They built the great wall of China because it was to help people from the invaders and help keep China safe.