Eight Cuisines of China - Sichuan & Hunan
Sichuan Cuisine
Slice Beef and Ox Tripe in Chili Sauce
Sichuan cuisine combines the cuisines from Chengdu and Chongqing. From as early as the Qing Dynasty (1644 - 1911), books had systematically recorded a total of 38 cooking methods like to scald, wrap, bake, mix, stew, and adhere, etc. it features pungent seasonings which were famed as 'Three Peppers' (Chinese prickly ash, pepper and hot pepper), 'three aroma' (shallot, ginger, and garlic), 'Seven Tastes' (sweet, sour, tingling, spicy, bitter, piquant, and salty), and 'eight flavors' (fish-flavored, sour with spice, pepper-tingling, odd flavor, tingling with spice, red spicy oily, ginger sauce, and home cooking).
Delicious dishes menu:
Stir-fried Tofu with Minced Beef in Spicy Bean Sauce - A real feast of tender bean curd, minced beef, pepper and bean sauce. It is said that it was made by a pock-marked but ingenious woman, thus the name Ma Po Tofu (pock-marked woman's bean curd).
Twice-cooked Pork
Lamp-shadow Beef - with larruping techniques, the beef is cut in very thin sheet. When a piece is carried, it looks like translucent paper, slippery and reddish. When put under the lamp or light, a red shadow will appear.
Lung Pieces by Couple - a quite popular in Chengdu. It got the name because the dish was ever sold be a couple and today it remains the original savor, tender meat, tingling and spicy.
Gong Bao Ji Ding - in Chinese it is called Gong Bao Ji Ding. This is a tender chicken dish, tender as the meat is quickly fried. Flavored with peanuts, this is tasty and very popular.



More popular Sichuan dishes:
Fried Pork with Salted Pepper, Eggplant in Sichuan Style
Tangba Town's Stir-fried Fish, Cucumber with Mashed Garlic
Hunan Cuisine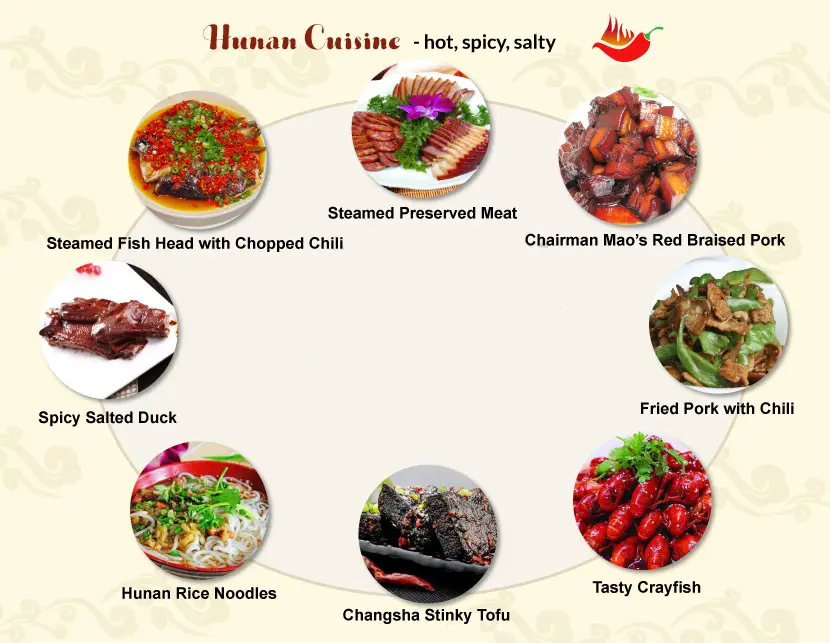 Fish Head with Chopped Chili
Hunan cuisine lays a stress on the use of oil, dense color, and techniques that produce crispness, softness and tenderness as well as the savory flavors and spices. Stewed fins, fried fresh cabbage with chestnuts, Dong Anzi chicken, immortal chicken with five elements, are of the highest reputation. Chairman Mao, together with other leaders praised the Hunan cuisine in 1958.
Stewed fins - had been famous during the Qing Dynasty. Choice fins, chickens, pork are stewed in chicken soup and sauce, tasting really fresh and mellow.
Immortal chicken with five elements - means to put five elements, litchi, longan, red dates, lotus seeds, and medlar, into the body of a chicken, then to braise. The taste is rather peculiar but it is said to have the effect of strengthening the constitution.
- Last modified on Apr. 26, 2019 -
Questions & Answers on Sichuan & Hunan Cuisines
Asked by David from CANADA | Oct. 07, 2015 05:15

Reply
小龙虾crawfish. Please tell me which of the eight cuisines does this spicy dos falls under?
Answers (1)
Answered by Steven from MALI | Oct. 11, 2015 03:48

1

1

Reply
The spicy crawfish should belong to Hunan Cuisine.