Eight Cuisines of China - Fujian & Anhui
Fujian Cuisine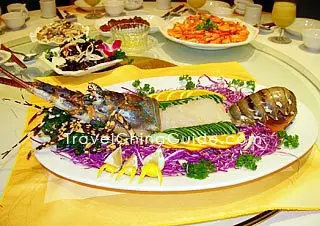 Fujian cuisine has four distinctive features, that is, fine cutting techniques, alternative soups, unique seasonings, and exquisite cooking. Chefs can always cut the thin jellyfish into three pieces and into very thin thread. And thanks to the abundant resources of marine products, the soup of this cuisine genre has its freshness and keeps its own savor with ease. The seasonings add sweet and sour flavors to the dishes. To add to its appeal the food is served in or on elegant bowls or plates.
Appealing dishes are countless, so we can only exemplify some of them:
Fried golden bamboo shoot with chicken mince - every 100g of winter bamboo shoots will be cut into 500 - 600 strips with the same length and breadth. Then they can blend with the very small pieces of chicken.
Buddha jumping over the wall - the most famous and classical dish, which has a long history since the Qing Dynasty.
Dongbi dragon pearl - it chooses materials from the rare longan trees of thousand year's history in Kaiyuan Temple in Quanzhou, the delicate scent is rather catching.
'Fried Xi Shi's tongue'is made from the locally produced Fujian mussel. According to legend the concubine Xi Shi of the king of Wu state was thrown in the sea tied to a huge stone by the wife of Gou Jian, the king of Yue who destroyed Wu, to prevent her husband being seduced by her beauty. In the area of the sea where she sank, a special breed of mussel appeared and this was said to be Xi Shi's tongue.



Popular Fujian Dish: Green Vegetable with Black Mushroom
Anhui Cuisine
Bamboo Shoots with Chicken Soup
It is mainly composed of local flavors of Huizhou and other areas along the Yangtze River and the Huai River. Among the dishes on the Ahhui cuisine menu, you will find less fried or quick-fried dishes than those that are braised. People here are inclined to add ham as seasoning and sugar candy to enrich the freshness and are quite accomplished in the art of cooking.
Among these delicacies, some of the traditional ones are outstanding:
'Braised turtle with ham' - the oldest dish using the special 'Mati turtle'. The delightful taste of this dish has inspired poets.
'Fuliji Grilled chicken' - the cooking technique was derived from Dezhou braised chicken of Shandong Province, with improvement of the technique by the Fuliji chef. The grilled chicken is golden and tempting, and the meat is so well cooked that it falls easily from the bone.
Other Cuisines
In other places there are also great tastes such as
Beijing cuisine
,
Dongbei cuisine
,
Uygur cuisine
and Huibei cuisine. As the capital of China, Beijing has always enjoyed a selection of delectable cuisines and offers a vast variety of dishes from all over the country. Consequently, no matter where you visit, there will be fascinating food that you can enjoy.
- Last modified on Dec. 17, 2017 -
Questions & Answers on Fujian & Anhui Cuisines
Asked by Mrs.Wan from MALAYSIA | Nov. 25, 2010 10:12

Reply
Recently my family and I visited Hangzhou. At the Hong Ni Restaurant, we tried its wonderful Duck with Preserved Bamboo Shoots soup. I keep thinking of that soup since my return. Can anyone give me that recipe please? Thank you. Mrs. Wan.
Answers (1)
Answered by Mrs.Sara | Nov. 25, 2010 22:05

5

2

Reply
The recipe is as follows:
Ingredients: lean duck, fresh bamboo shoots, ginger slices, green onion sections, dry chili pepper, cooking wine, salt & pepper powder.
Cooking methods: Blanch the duck after being cleaned in a pot of boiling water with ginger, spring onion and cooking wine to remove stinks of blood, then remove the duck from water, and pour out the water in the pot. Put the duck and cleaned bamboo shoots in a clay pot, put ginger,spring onion and dry chili pepper on top, add in some water until the all of the ingredients are immersed. Turn on the heat to heat it until it boils, change to low heat and simmer it for 2-3 hours.
I get more Chinese food recipes(https://www.travelchinaguide.com/tour/food/chinese-cooking/) for your refernce, hope you can enjoy them.