Year of the Dog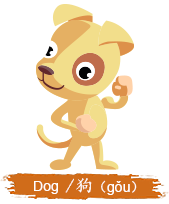 Dog is the eleventh in the 12-year cycle of Chinese zodiac animals. The recent Years of the Dog include 1922, 1934, 1946, 1958, 1970, 1982, 1994, 2006, 2018, 2030, 2042...
Dog is men's good friend who can understand the human spirit and obey its master, whether he is wealthy or not. Chinese people regard it as an auspicious animal. If a dog happens to come to a house, it symbolizes the coming of fortune. In Chinese legend, the invincible God Erlang has a loyal dog partner to help him capture monsters.
Earthly Branch of Birth Year: Xu
Wu Xing (The Five Elements): Tu (Earth)
Yin Yang: Yang

Years of the Dog
People born in the years below are considered born in the year of the Dog and they are often called Dogs. Dogs in different years may have different characters because they have various elements from metal, wood, water, fire, and earth.
As Chinese zodiac is based on the Chinese lunar calendar, people who born in January or February maybe were not born in the year of the Dog in the lunar calendar. Want to confirm your real zodiac sign? Just check the chart below or fill your birthdays in "Find your Chinese Zodiac".
| Dog Year | Start | End | Element |
| --- | --- | --- | --- |
| 1922 | Jan.28,1922 | Feb.15,1923 | Water |
| 1934 | Feb.14,1934 | Feb.3,1935 | Wood |
| 1946 | Feb.2,1946 | Jan.21,1947 | Fire |
| 1958 | Feb.18,1958 | Feb.7,1959 | Earth |
| 1970 | Feb.6,1970 | Jan.26,1971 | Metal |
| 1982 | Jan.25,1982 | Feb.12,1983 | Water |
| 1994 | Feb.10,1994 | Jan.30,1995 | Wood |
| 2006 | Jan.29,2006 | Feb.17,2007 | Fire |
| 2018 | Feb.16,2018 | Feb.4,2019 | Earth |
| 2030 | Feb.3,2030 | Jan.22,2031 | Metal |
Lucky Signs for People Born in Dog Year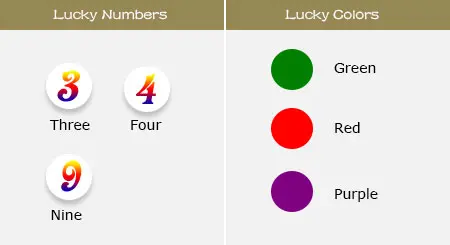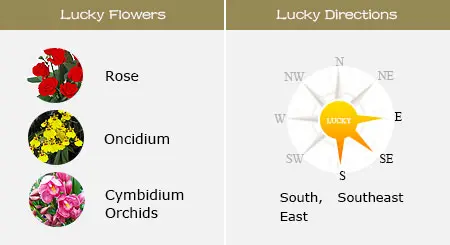 Lucky Things for Dogs:
Lucky Numbers: 3, 4, 9
Lucky Colors: green, red, purple
Lucky Flowers: rose, oncidium, cymbidium orchids
Lucky Directions: east, southeast, south
Things Should be Avoided:
Unlucky Numbers: 1, 6, 7
Unlucky Colors: blue, white, golden
Unlucky Direction: north, west
Personality: Dogs are honest, loyal, reliable, and quick-witted
The biggest characteristics of Dogs are loyalty and honesty. In fact, Dog people are cautious by nature, which means it may take a comparably long time for Dogs to accept new friends. However, once Dogs accept a friend, they will be very loyal to the friends and always be supportive. Dogs are loyal friends, honest lovers and reliable families.
Though being just and honest, Dogs are also very critical and sometimes make a sharp criticism. They are not good at taking the whole picture to consider things, which may lead to misunderstanding and blame their own mistakes on others.
Strengths: Brave, loyal, responsible, clever, lively
Weaknesses: Sensitive, conservative, stubborn, emotional
Dog Men: Men born in the year of the Dog are observant and straightforward. The outgoing characteristics always make them popular among friends and colleagues. However, they may feel sensitive inside and cannot stand any ambiguity. The stubbornness endows them the ability to march forward courageously and never give up easily.
Dog Women: Women in the year of the Dog are very cautious. It is hard for them to trust anyone easily but they will try their best to help trusted friends. And they care about their families deeply. Sometimes they may be a little sensitive, especially when enraged. But in most time, they care about others' feelings and are adept at working with people.
Personality by Five Elements: Which Type of 'Dog' Are You?
Based on 5 basic elements, people born in different years of Dog show diverse traits and horoscope. See what kind of Dogs you are.
| Types | Years of Birth | Personality Traits |
| --- | --- | --- |
| Wood Dog | 1934, 1994 | Honest, reliable, considerate, having a strong feeling for justice. |
| Fire Dog | 1946, 2006 | Kind-hearted, cautious, working in a down-to-earth way. |
| Earth Dog | 1958, 2018 | Persistent, meticulously attentive, with good fortune in wealth. |
| Metal Dog | 1910, 1970 | Conservative, accommodating, strong sense of self-respect. |
| Water Dog | 1922, 1982 | Foresighted, responsible, but some self-centered. |
Dog's Personality by Blood Types
• Blood Type O: With high self-esteem, they are competitive in work and love the idea of freedom. Outstanding work abilities and good tempers make them achieve a lot.
• Blood Type A: They are faithful and genuine but may not be very eloquent. It makes their popularity among friends but also brings some troubles at work.
• Blood Type B: Persistence and justice are defining characteristics. They always try to achieve success by their own efforts and abhor evils as deadly foes.
• Blood Type AB: With high self-control and prudence in their nature, they always obtain bosses' recognition but they are prone to be less communicative in life.
Love Compatibility of the Dog
The Chinese zodiac can not only tell you about the personality but can also predict the love compatibility in some way. Fill in your partner's name and birthday, and test if you find your soulmate.
Best Matches: Rabbit
Rabbits have the best love compatibility with Dogs. And Dogs are easily attracted by them as Rabbits are always gentle and considerate. Compared to Dogs, they care more about the details. Dogs and Rabbits just complement each other when they make up a family.
Bad Matches: Dragon, Sheep, Rooster
Different personalities cause many conflicts in their daily life when dogs get along with Dragons, Sheep, or Roosters. It may be a little hard for them to have smooth communication and share inner true feelings when dating with people of these three signs.

How to Get along with Dogs
Most Dogs are not good at expressing, which sometimes makes it difficult for others to feel their passion. So if you are too hasty and aggressive, they may not feel so comfortable. Dogs tend to be more thoughtful when being in a relationship so it is suggested to create a romantic environment and carefully arrange your date when getting along with Dogs. Also, remember to be genuine as Dogs hate all the cheats and betrayals.
Jobs & Careers for Dogs
Best Jobs: Lawyers, judges, teachers, doctors, civil servants, programmers, advertising planners, bloggers…
Dogs are always observant and have a strong sense of justice, so that they can quickly pick up useful information from the daily lives. The characteristics make Dogs suitable to do jobs like lawyers and judges. As Dogs are straightforward, they like to work with people face to face so that they can go straight to the point. Jobs like teachers and doctors are also their favorite. What's more, the persistence of dogs makes them try their best in work, qualified to do competitive jobs like civil servants, programmers, bloggers and advertising planners.
Health & Fitness Advice
Dogs' health don't have large problems and keep a stable status as always because most of the Dogs are active at sports and seem to be resilient to diseases. Some small illnesses like colds, coughs, headaches and slight wounds may occur but cannot strike Dogs down.

However, be careful about flus and pulmonary diseases, especially in autumn and early winter, as they just seem like common colds. Timely medical treatment and regular exercises are necessary. Stresses come from overwork may also cause indisposition. Doing some simple exercises after work like yoga, running, or bikes can boost immunity. Running a short-distance Marathon will also be an ideal option to keep fit and healthy.
Dog's Fortune in 2020
For Dogs, 2020 is a lucky year but also full of challenges. Dogs may encounter some difficulties in the first half year in career. However, in the next half year, they may get success in work and get the appreciation from a higher-up. Don't give up any chance and make a full preparation. In the financial aspect, this year is not a so good year for Dogs to invest. They may face financial difficulties in the first several months, but things will become positive in late 2020 as long as avoiding any risky investments. Dogs will also see a good fortune in the love relationship and they have a high possibility to find true love this year. For married Dogs, they may welcome a child.

Career: They will meet troubles in career, but new opportunities will appear in the second-half year. Be ready for chances and you will be paid off by the hard work and extra effort.
Wealth: Be more careful about your investment and avoid high risky financial programs. Though Dogs will spend a lot of money in January, they will see a financial growth in the last two quarters. Remember not to be anyone's guarantor.
Relationships: Dogs have good luck in relationships in 2020 and have more contact with the opposite sex. You may find your soulmate in some large activities. Don't miss any chance to take the initiative. February and April in the lunar calendar will be the best months for Dogs.
Education: Dogs may not perform well in the study this year and will meet many problems. To improve the grade, Dogs need extra effort and to be hard-working. Make sure to study hard even during the holidays.
Health: The busy work of the Rat Year may bring you some small diseases like headaches and disarrange the stomach. Proper diet is important. Also, try to avoid overwork and keep doing exercises.

Famous People: Dog Zodiac Eminent Personalities
Stan Lee: December 28, 1922, Water Dog
Donald Trump: June 14, 1946, Fire Dog
Michael Jackson: August 29, 1958, Earth Dog
Madonna: August 16, 1958, Earth Dog
Kim Jong-un: January 8, 1983, Water Dog
Justin Bieber: March 1, 1994, Wood Dog
- Last modified on Jul. 15, 2020 -
Questions & Answers on Year of the Dog
Asked by Lynn from MALAYSIA | Jun. 30, 2020 18:27

Reply
Born in 1970, 28th August
Currently unemployed, will my luck change soon. Would like to check on my career prospects
Answers (1)
Answered by Indie from NEW ZEALAND | Jul. 06, 2020 01:29

0

0

Reply
You need to make some breakthroughs to change your luck. When looking for a job, you still need to improve personal abilities at the same time. Don't worry.
Asked by Jennifer T from SINGAPORE | Jun. 22, 2020 11:00

Reply
DOB 26.9.1958 Female
Will I be able to sell my flat successfully in the next few months?
Will I be able to find a job soon?
Answers (1)
Answered by Cameron from DENMARK | Jun. 29, 2020 02:28

0

0

Reply
According to the prediction, the overall situation would change into a better stage. Thus you should be positive. You may have a stable job soon.
Asked by Sn from INDIA | Jun. 08, 2020 00:33

Reply
DOB 26 NOV 1994, I'm worried over my job and my career? And my financial problems?
Things are not working well lately.i am worried about my financial situation and about my job as well.my dob is 26 Nov 1994.hows things going to be like this year?
Answers (1)
Answered by Oliver from FINLAND | Jun. 15, 2020 00:28

0

0

Reply
You still have several chances to find a nice job in the following months. Thus please keep the positive attitude. After getting a good job, your pressure on wealth will be released a lot.
Asked by Jessica from UNITED STATES | Jun. 04, 2020 20:18

Reply
2020 luck
I am in a really bad situation. I work and work but seem to never get ahead. The only way I see myself being able to get out of this situation is to win the jackpotvlottery or come into a large amount of money. Is this a good year for me to win some money? Will I have monetary luck?
Answers (1)
Answered by Alaina from FINLAND | Jun. 07, 2020 22:57

0

0

Reply
Jessica, you are suggested to focus on your career rather than lottery. Finding a stable job is important job for you now. In this way, you can accumulate enough wealth step by step.
Asked by 2Bblessed from GERMANY | May. 03, 2020 05:39

Reply
Female dog 21.11.1982 selling house
Hi, will i sell my old house this month? And will we find a new great home to get children in soon?
Answers (2)
Answered by Confusious69 from TIBET | May. 03, 2020 16:10

0

0

Reply
Yes this is a very suspicious dog month for home selling, your new home must have a red door! It will give you many offspring and wealth. Congratulations.
Answered by 2Bblessed from NETHERLANDS | May. 05, 2020 15:30

0

0

Reply
Thank you for your answer! Red front door or is any red door in the house ok?