Year of the Dragon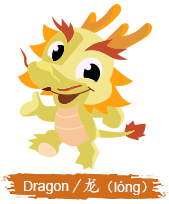 Dragon is the fifth in the 12-year cycle of Chinese zodiac sign. The Years of the Dragon include 1916, 1928, 1940, 1952, 1964, 1976, 1988, 2000, 2012, 2024...

The Dragon enjoys a very high reputation in Chinese culture. Chinese people regard themselves as descendents of the dragon. In ancient China, this imaginary creature was thought to speed across the sky with divine power. It is the token of authority, dignity, honor, success, luck, and capacity. Emperors entitled themselves exclusively as 'dragon'.

Earthly Branch of Birth Year: Chen
Wu Xing (The Five Elements): Tu (Earth)
Yin Yang: Yang
| Dragon Year | Start | End |
| --- | --- | --- |
| 1928 | Feb.23,1928 | Feb.9,1929 |
| 1940 | Feb.9,1940 | Jan.26,1941 |
| 1952 | Jan.27,1952 | Feb.13,1953 |
| 1964 | Feb.13,1964 | Feb.1,1965 |
| 1976 | Jan.31,1976 | Feb.17,1977 |
| 1988 | Feb.17,1988 | Feb.5,1989 |
| 2000 | Feb.5,2000 | Jan.23,2001 |
| 2012 | Jan.23,2012 | Feb.9,2013 |
| 2024 | Feb.10,2024 | Jan.25,2025 |
| 2036 | Jan.28,2036 | Feb.14,2037 |
Lucky Signs for People Born in Dragon Year:
Lucky Numbers: 1, 7, 6
Lucky Colors: gold, silver, hoary
Lucky Flowers: bleeding heart vine, larkspur, hyacinth
Lucky Directions: west, north, northwest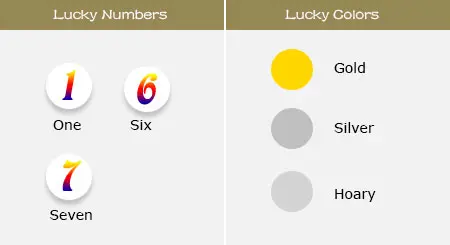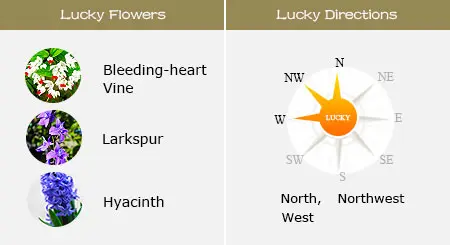 Things Should be Avoided:
Unlucky Numbers: 9, 8, 3

Unlucky Colors: red, green, purple, black

Unlucky Direction: southeast
People with Chinese zodiac Dragon sign are usually a group of people who are lively, intellectual and excitable. They can clearly tell right from wrong. They are upright and frank. However, they are also a bit arrogant and impatient. Female Dragons tend to be overly confident. They hate hypocrisy, gossip and slander. They are not afraid of difficulties but hate to be used or controlled by others.
Strengths
Decisive, inspiring, magnanimous, sensitive, ambitious, romantic
Weaknesses
Eccentric, tactless, fiery, intolerant, unrealistic
See more about Destiny by Birth Month, Destiny by Birth Date
Best Matches: Rooster, Rat, Monkey
They are born to be a couple, and they can build a good and happy family. Dragons give a lot of support and guidance to Roosters and Rats, and they get tenderness and care in return. Sharing similar interests and hobbies, they can be best partners in travel.
Bad Matches: Ox, Sheep, Dog
Quarrels and conflicts take turns to show up in their life, and they even become enemy at last. The reason for their split is that they cannot tolerant each other's flaws and they always put themselves in the first.
See more about Chinese Zodiac Sign Compatibility
Best Jobs: quality inspectors, cashier, financier, pharmacist, electrician, politician and priest ...
Best Working Partners: Rat, Monkey, Rooster
Best Age to Start a Business: 25-45
Best Career Fields: Bar, Hardware Store and Watch Shop
See more about Best Business and Career Fields for Dargon
Compared with the Year of Dog, people with Chinese zodiac Dragon are expected to see a rising inclination of their fortune in the Year of Pig. But the general situation is still not optimistic. They may suffer a financial loss for the competitive working environment and the involvement of friends' debts. Conflicts with colleagues might break out because of their stubbornness. They are not recommended to do some investments. However, their good luck in love aspect indicates that they might find their true love if being active. Drink as little alcohol as possible and focus on financial safety. The overall fortune of 2020 for people with Chinese zodiac Dragon is optimistic. The work performance is going ups and downs but it is still on the rise while the amount of wealth is also rising along with the career line.

Their personality differs according to western astrological signs, like courageous Aries, sensitive Taurus, novelty Gemini, curious Cancer, selfless Leo, determined Virgo, aggressive Libra, ambitious Scorpio, modest Sagittarius, considerate Capricorn, humorous Aquarius and tolerant Pisces.
Blood Type O: They are talkative and confident, and are good at leadership. With strong willpower, they will endeavor to realize their dreams. Sometimes, stubbornness will cause their failures.
Blood Type A: Upright, delicate and sensitive, they are strict with themselves and people around them. They are ambitious in politics, economy and art, but passive in relationships.
Blood Type B: They are imaginative and creative, and they are always the people who put forward ideas. In addition, their style of humor can make people feel relaxed.
Blood Type AB: They have a strong sense of principle, responsibility and justice, so they can always finish tasks perfectly. They are also generous in helping people in need, and keep a positive attitude towards life and work.
Dragon people show distinct characteristics due to their different years of birth with affect from the traditional Chinese Five Elements.
| Types | Years of Birth | Personality Traits |
| --- | --- | --- |
| Wood Dragon | 1904, 1964 | Introverted, taciturn, very talented but not fond of the limelight. |
| Fire Dragon | 1916, 1976 | Smooth and slick, good at seizing opportunities, easy to get success. |
| Earth Dragon | 1928, 1988 | Aggressive, smart and hardworking, but tend to give up halfway. |
| Metal Dragon | 1940, 2000 | Frank and sincere, moody, having creative ideas but lacking practice. |
| Water Dragon | 1952, 2012 | FFar-sighted, with strong willpower and persistence. |
Dragon Zodiac Eminent Personalities
Sigmund Freud, Joan of Arc, Bruce Lee, Martin Luther King, Louisa May Alcott, Susan B. Anthony, Pearl Buck, Theodore Seuss Geisel, Bernard Shaw, Pat Schroeder, Florence Nightingale, Robin Williams, John Lennon, Nicholas Cage, Mae West, Sandra Bullock, Reese Witherspoon, Russell Crowe, Keri Russell, Freddie Prinze Jr., Melissa Joan Hart, Salvador Dali, Frank Sinatra, Rihanna, Vanessa Hudgens, Michael Cera, Rupert Grint, Brooke Hogan, Calista Flockhart, Haley Joel Osment, Alexa Vega, JC Chasez, Liam Neeson, Rumer Willis, Ronaldo Luiz Nazario De Lima, Emperor Zhu Yuanzhang of China's Ming Dynasty (1368 - 1644), Deng Xiaoping
- Last modified on Jul. 26, 2019 -
Questions & Answers on Year of the Dragon
Asked by YL from MALAYSIA | Jul. 26, 2019 09:17

Reply
Love and wealth in 2019
Hi, I'm a male dragon born on 18th September 1988 at 10.40pm..May I know the status of my love and wealth in 2019? Thank you.
Answers (1)
Answered by Fay from FRANCE | Aug. 01, 2019 20:59

0

0

Reply
The good news that there would be several chances for you to fall in love with someone. If possible, you can join in more social activities on weekends. For your wealth, you can earn some extra money from your investments. In daily, you are suggested to record the daily expenses in order to keep the balance between income and expenses.
Asked by Tsering from NEPAL | Jul. 13, 2019 23:16

Reply
I am so confused with my age.my zodiac is dragon from zodiac i am 19 n from DOB i am 18.
So please tell me why is it different and which is correct?

Answers (2)
Answered by Camila from CANADA | Jul. 16, 2019 22:51

0

0

Reply
Well, you need to provide your detailed birth date. Then I can confirm your Chinese zodiac sign.
Answered by Sarah from CANADA | Jul. 18, 2019 07:36

0

0

Reply
Hi Tsering, even though the calendar year (for example the year 1999 or 2000) and the Chinese lunar year that the zodiac is based on are approximately the same length, they do not start and end on the same date. So if you were born in early 2001 before Chinese new year, it still is the year of the dragon and it hasn't cycled into the year of the snake yet. I hope that helps!
Asked by Mary from TEXAS | Jul. 13, 2019 13:07

Reply
Monkey metal zodiac. I been having bad luck this year of the pig.
Can I wear another zodiac sign for support?
Answers (1)
Answered by Eira from DENMARK | Jul. 16, 2019 22:56

0

0

Reply
Oh, I am afraid not. The prediction shows that the situation will be changed into a better stage at the end of the year. You need to have more confidence about yourself. In addition, you can find help from people around. Listening some suggestions will help you find ways to solve problems.
Asked by Komaljeet Kaur from USA | Jun. 27, 2019 23:02

Reply
Will I be able to get a new job in this year? I am female born on oct 14,1988.
Answers (1)
Answered by James from DENMARK | Jul. 01, 2019 02:29

0

0

Reply
Your Chinese zodiac sign is Dragon. It is suggested to treasure every chance of interview. Prepare them very well and learn more things during this time. In this way, there may have some opportunities to obtain an enviable job. :)