Year of the Rooster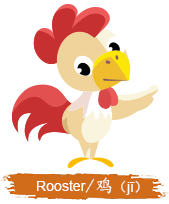 Rooster is the tenth in the 12-year cycle of Chinese zodiac sign. The Years of the Rooster include 1921, 1933, 1945, 1957, 1969, 1981, 1993, 2005, 2017, 2029...

Rooster is almost the epitome of fidelity and punctuality. For ancestors who had no alarm clocks, the crowing was significant, as it could awaken people to get up and start to work. In Chinese culture, another symbolic meaning of chicken carries is exorcising evil spirits.

Earthly Branch: You 酉
Element: Metal (Jin)
Yin Yang: Yin
Season: Autumn
| Rooster Year | Start | End |
| --- | --- | --- |
| 1921 | Feb.8,1921 | Jan.27,1922 |
| 1933 | Jan.26,1933 | Feb.13,1934 |
| 1945 | Feb.13,1945 | Feb.1,1946 |
| 1957 | Jan.31,1957 | Feb.17,1958 |
| 1969 | Feb.17,1969 | Feb.5,1970 |
| 1981 | Feb.5,1981 | Jan.24,1982 |
| 1993 | Jan.23,1993 | Feb.9,1994 |
| 2005 | Feb.9,2005 | Jan.28,2006 |
| 2017 | Jan.28,2017 | Feb.15,2018 |
| 2029 | Feb.13,2029 | Feb.2,2030 |
Lucky Signs for People Born in Rooster Year:
Lucky Numbers: 5, 7, 8
Lucky Colors: gold, brown, brownish yellow, yellow
Lucky Flowers: gladiola, impatiens, cockscomb
Lucky Directions: west, southwest, northeast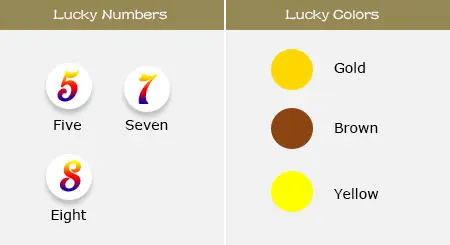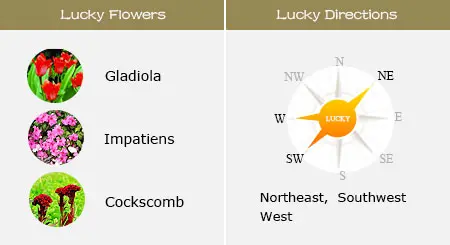 Things Should be Avoided:
Unlucky Numbers: 1, 3, 9

Unlucky Colors: white, green

Unlucky Directions: east, north
People born in the Year of Rooster according to Chinese zodiac have many excellent characteristics, such as being honest, bright, communicative and ambitious. Most of them are born pretty or handsome, and prefer to dress up. In daily life, they seldom rely on others. However, they might be enthusiastic about something quickly, but soon be impassive. Thus, they need to have enough faiths and patience to insist on one thing.
Strengths
Independent, capable, warm-hearted, self-respect, quick minded
Weaknesses
Impatient, critical, eccentric, narrow-minded, selfish
See more about Destiny by Birth Month
Perfect Matches: Ox, Snake
If combining with people in Ox or Snake signs, most of them will obtain everlasting and harmonious marriage lives. The connection between them can become tight. In addition, couples of these combinations always become enviable ones in other people's eyes.
Avoid: Rat, Rabbit, Horse, Rooster, Dog
They have a large chance to obtain a tough and unstable love life if they get married with people with the above five signs. During the whole life, they always meet difficulties and troubles. However, they don't have enough abilities to solve them because of their born different opinions and attitudes with each other. Lots of divergences will damage the relationship finally.
See more about Chinese Zodiac Sign Compatibility
In 2018, people with Chinese zodiac sign Rooster will make breakthroughs in all aspects. According to Chinese zodiac prediction, they will get improvement in career, wealth and love life. In order to avoid unexpected diseases, they are suggested to pay more attention to their healthy issues. In 2019, the year of Pig, they will be lucky in career or study, like a promotion or satisfying grades. Besides, the health condition of them could become better. However, this year might not be a lucky one to develop love life.

They have different characteristics based on western astrological signs, like ebullient Aries, serious Taurus, confident Gemini, kind-hearted Cancer, ambitious Leo, prudent Virgo, optimistic Libra, self-disciplined Scorpio, determined Sagittarius, righteous Capricorn, creative Aquarius and wise Pisces.
Blood Type O: Most of them are clever and wise. They can always find the fastest way to learn new things and adapt to new environment.
Blood Type A: They are gentle, generous and kind-hearted in ordinary life. Thus they always win high popularity among surrounding people.
Blood Type B: Type B people have keen insight when they need to make decisions. They are suitable for being the group leader because they usually can provide valuable suggestions.
Blood Type AB: They have outstanding working abilities that can easily attract others' attention. Most of them are willing to help others even though they have more important things to do.
People born in different years of a same zodiac sign vary in personality according to Chinese Five Elements of Wood, Fire, Earth, Metal, and Water. See what kind of Roosters you are.
| Types | Years of Birth | Personality Traits |
| --- | --- | --- |
| Wood Rooster | 1945, 2005 | Energetic, humorous, paying great attention to family. |
| Fire Rooster | 1957, 2017 | Holding strong sense of time, trustworthy; good at managing money. |
| Earth Rooster | 1909, 1969 | Active, perceptive, like traveling and making friends. |
| Metal Rooster | 1921, 1981 | Clear mind and exceptional logic, brave to overcome difficulties. |
| Water Rooster | 1933, 1993 | Smart and agile, sensitive, keen on art and niceness. |
Celebrities with Chinese Zodiac Rooster
Britney Spears, Justin Timberlake, Elton John, Jennifer Aniston, Anna Kournikova, Anne Heche, Alexis Bledel, Bette Midler, Cate Blanchett, Diane Sawyer, Elijah Wood, James Marsters, Jessica Alba, Matthew McConaughey, Matt Damon, Natalie Portman, Taylor Momsen, Catherine the Great, Amelia Earhart, Rudyard Kipling, Groucho Marx, Peter Ustinov, Tagore, Roger Federer, Serena Williams, Mencius, Mo-tse, Liu Che (Emperor Wu of China's Western Han Dynasty 202 BC - 9 AD), Li Longji (Emperor Xuanzong of China's Tang Dynasty 618 - 907), Zhuge Liang (Premier of Shu in China's Three Kingdoms Period 220 - 280)
- Last modified on Nov. 23, 2018 -
Questions & Answers on Year of the Rooster
Asked by Gugs001 from UNITED STATES | Oct. 20, 2018 12:36

Reply
Will it work out? I'm a metal pig, Scorpio 11/1971. My wife is a water ox, 02/1973.
I did something really stupid this year that has really put a stress on our marriage. I've apologized but she's still on the fence about forgiving me. Do you think she will and we'll have a good 2019 together?
Answers (1)
Answered by Claire from AUSTRALIA | Oct. 22, 2018 01:31

0

0

Reply
Well, according to your compatibility, you two are either a perfect couple or enemies. At present, there is no clear clues about your relationship in 2019. Try to communicate with her and apologize sincerely, hope you can be forgiven. Good luck to you.
Asked by Mahinda from AUSTRALIA | Sep. 30, 2018 22:37

Reply
What is my love life going to be like
DOB 4th July 1969, I have had many setbacks and just gave way to conditions to avoid drama. Now, I just want to have some respite.
Answers (1)
Answered by Sally from POLAND | Oct. 09, 2018 00:58

0

0

Reply
According to the prediction, the year of 2019 may not be so appropriate for you to develop a love life. You can keep a more positive attitude to life and make more friends. You will meet your true love in the right time. Good luck!
Asked by Aries from SINGAPORE | Aug. 21, 2018 09:49

Reply
Rooster 1969 Aries: when will my life get better this year
No job, losing my loved ones, having tremendous finance issues, not on good terms with my partner even though we are staying together.
I am like living in hell with no one to share my problems.
Is it retribution???
Answers (2)
Answered by David from USA | Aug. 21, 2018 19:05

0

0

Reply
Dear, Aries, cheer up! Everything is going well. You will find a good job and overcome the difficulties only if you pick yourself up and take efforts for it. To be honest, if you are always upset and constantly complain what you have suffered, it is no doubt that you will fail to do anything. SO cheer up and don't give up. Nothing will stop you and defeat you if you can stand up to face bravely. Good luck to you.
Answered by G Grunden from AUSTRALIA | Nov. 23, 2018 08:05

0

0

Reply
Start a new life. First think about what you would like to be doing and the next day start doing it. Even going outside and checking the weather to putting a breakfast of the table, then clean up afterwards.
Look into a new job, don't be too fussy. Wear clean clothes over a clean body this help wash away the lactic acid left on the surface of your skin. That can make you feel tired quickly. All this will give you something positive to do and plan. No longer a need to dwell on the past pain. Say to yourself "I can so this" and say it when required.

The above are only some if the millions of activities you can do for yourself and also by helping yourself you can help others. Speak calmly to your partner do not force your issue or tell them too much. Allow them to come to their own conclusions and you need to accept a response to your new behavior for any relationship to be strong.
Asked by Teresa from AUSTRALIA | Aug. 17, 2018 07:07

Reply
Hi there I am a Earth Rooster my long term partner a Fire Dragon
we have been experiencing a few issues of late which I'm hopefull we can work through. Will this relationship withstand the storm and progress to be a lastng union
Answers (1)
Answered by gaga from URUGUAY | Aug. 20, 2018 02:07

0

0

Reply
You are very compatible based on your Chinese zodiacs. If you give up this relationship, it is a great pity for each other. So you can have a good talk with your partner and tell him your feeling and ideas and seek the best solution together. I believe you can overcome this problem and be together forever. Hope to be helpful. Best wishes to you.