Kuala Lumpur Tour Package
TKL02: 4 Days Private Tour of Kuala Lumpur - Malacca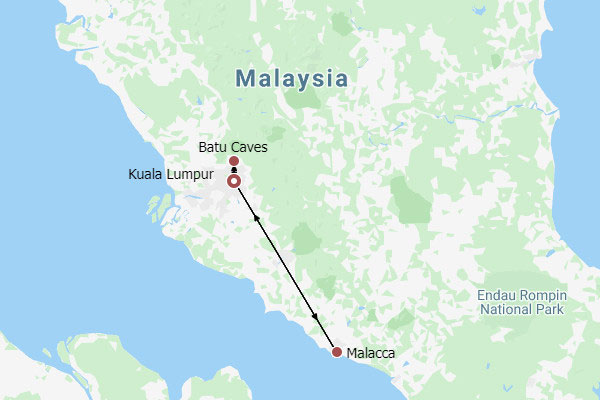 Tour Type:
Private Tour, any parts of the itinerary can be customized
Guide:
English-speaking driver guide, experienced and knowledgeable
Vehicle:
Air-conditioned car, spacious and comfortable
Accommodation:
4-star handpicked hotels, also be open to your own choice
Meals:
Authentic local cuisines and western-style food for your choice
Day 1
Arrival in Kuala Lumpur, Private transfer to Malacca
Welcome to join the Kuala Lumpur tour packages! Our English-speaking driver will pick you up at the airport and drive you to the hotel in Malacca. Then it's your free time.
Accommodation: Double Tree by Hilton Hotel Malacca




Day 2
Malacca city tour, Private transfer back to Kuala Lumpur
On the Kuala Lumpur tour today, the driver will accompany you to visit the oldest Chinese temple - Cheong Hoon Teng Temple first. Its architectural structure is rich in traditional Chinese art. Then, we are going to the Dutch Red Square Stadhuys for a free photo sightseeing. Walk through St. Paul's Church and the Fortress Porta de Santiago, we will arrive at Jonker Street where you can taste delicious local snacks such as fried egg ice cream. Lunch is on your own, your English-speaking driver will recommend some suitable restaurants for you.
In the afternoon, we will go to Taman Rempah Jetty and take a Malacca River Cruise to visit Malacca city for about 45 minutes, appreciating the beautiful natural scenery on shore. After sightseeing, you will be escorted to the hotel in Kuala Lumpur for check-in.
Meals: Breakfast
Accommodation: Traders Hotel Kuala Lumpur by Shangri-La




Day 3
Full day Kuala Lumpur tour with Batu Caves
After breakfast, the English-speaking driver will pick you up at hotel and drive out of the city to visit Batu Caves, the famous Hindu shrine in Malaysia. You need to climb 272 stairs to reach the main cave first, and then the rest sightseeing time is on your own. Afterwards, we will back to Kuala Lumpur and start our Kuala Lumpur city tour. First we will visit the Independence Square and take some photos freely. Here you can see the exterior of Sultan Abdul Samad Building. Lunch is on your own, and the driver will recommend restaurants based on your preferences.
In the afternoon, our Kuala Lumpur tour packages will start from the National Mosque. With the most remarkable layered umbrella roof, the mosque can accommodate 8,000 people praying at the same time. There are 18 stars in the main dome, representing 5 pillars of Islam and 13 states of Malaysia. The driver will introduce you this attraction on the way. Upon arrival, you will visit inside by yourself. Finally, we will go to the Sky Bridge (41F) and the Observation Deck (86F) of Petronas Towers to obtain the panoramic view of Kuala Lumpur.
Meals: Breakfast
Accommodation: Traders Hotel Kuala Lumpur by Shangri-La




Day 4
Airport see-off with a stop at the King's Palace
Today your Kuala Lumpur tour ends. After breakfast, you will be transferred to the airport and you can have a look of the exterior of the King's Palace on the way. We will leave you enough time to take photos.
Meals: Breakfast

Friendly Tips
An English-speaking driver is arranged for entire journey. Sometimes, the driver will introduce attractions to you in advance, and then you can have sightseeing by yourself.
B-- Breakfast
L-- Lunch
D-- Dinner
Itineraries you may also like: