Luxury Egypt Tour
TEG12: 12 Days Private Tour of Cairo - Aswan - Abu Simbel - Nile Cruise - Kom Ombo - Edfu - Luxor - Hurghada - Sharm El Sheikh - Cairo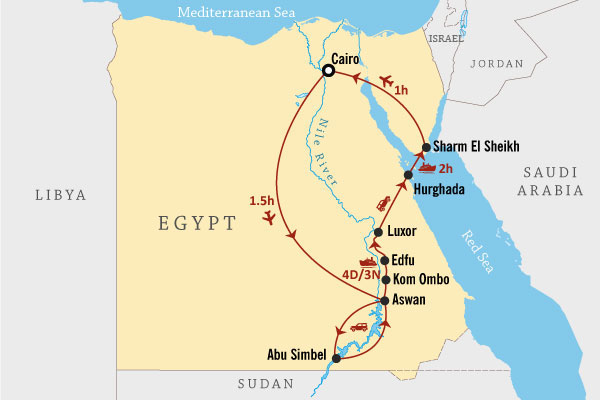 Tour Type:
Private Tour, any parts of the itinerary can be customized
Departure:
Every Tuesday, Friday and Sunday
Guide:
English-speaking guide, experienced and knowledgeable
Driver:
Private driver with a spacious air-conditioned car
Accommodation:
5-star handpicked hotels, also be open to your own choice
Meals:
Authentic local cuisines and western-style food for your choice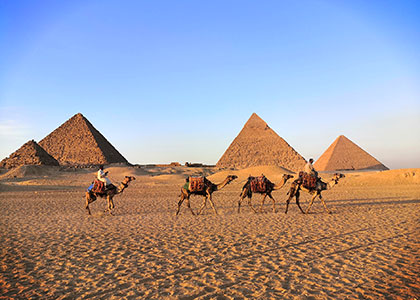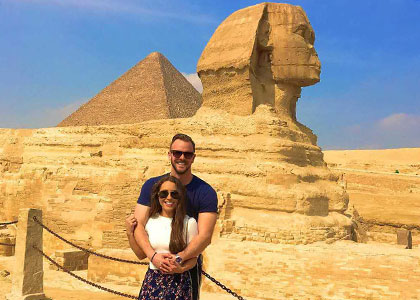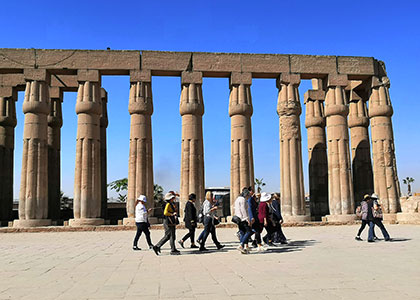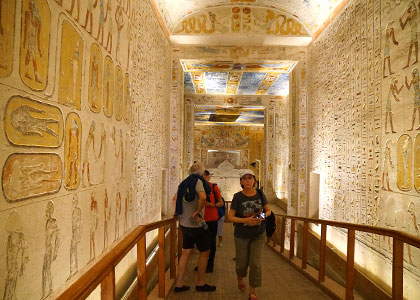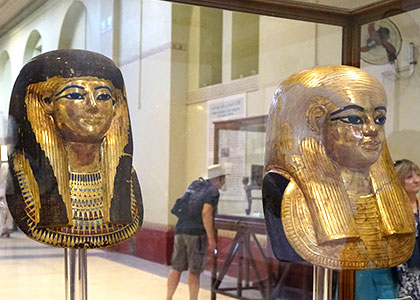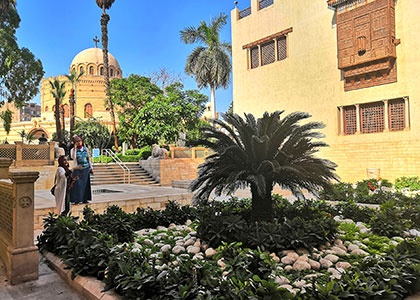 Upon your arrival, our local representative will welcome you at the Cairo airport. As you are picked up, the representative will transfer you to the hotel in Cairo. Then you will be free to enjoy yourself in the surroundings.
Meals: No meals, advice freely available
Accommodation: InterContinental Cairo Semiramis





Day 2
Cairo Pyramids Tour
You will be guided to have a pyramids day tour at the beginning of our luxury Egypt tours. We will go to the Pyramids of Giza, including the Great Pyramids of Khufu, Khafre, Menkaure, the Great Sphinx, and the Valley Temple. Then we will also pay a visit to Step Pyramid at Saqqara complex, which might be the first pyramid we have known. Return to your hotel at dusk.
Meals: Breakfast, Lunch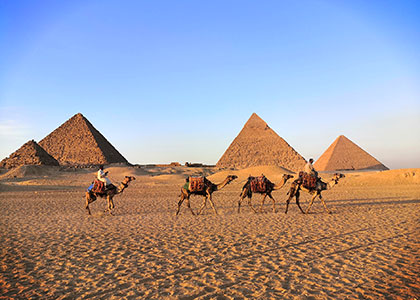 Pyramids of Giza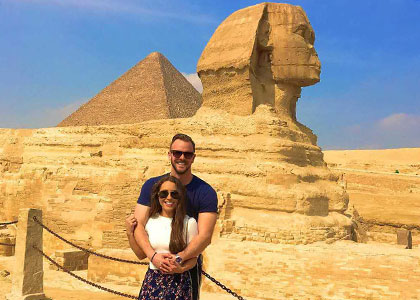 Our clients visit the Great Sphinx
Fly to Aswan. Aswan High Adam, Unfinished Obelisk, Philae Temple. (B+L)
Our driver will send you to Cairo airport to take a morning flight to Aswan. Our local guide will pick you up for your Aswan trip. First we will visit the supreme High Dam of Aswan; and then Unfinished Obelisk - the largest obelisk in Egypt, which was abandoned in the quarry site for the cracks on its top. At last, we will go to the Temple of Philae, or Temple of Isis, which is dedicated to the Goddess Isis. Due to the construction of High Dam, this temple was relocated to Agikia Island. Afterwards, the guide will escort you to the hotel in Aswan.
Meals: Breakfast, Lunch
Accommodation: Tolip Aswan Hotel





Day 4
Aswan - Abu Simbel - Nile Cruise
Private transfer to Abu Simbel, visit the Temples of Abu Simbel. Drive back to Aswan & board the cruise ship. (B+L+D)
In the early morning, our guide and the driver will drive you to Abu Simbel from your hotel, and we will arrive 3 hours later. The Temple of Ramesses II & the temple of his wife Queen Nefertari, also called Temple of Hathor, are the masterpieces of ancient Egyptian architecture. They were carved out of rock cliffs, looking like huge carving works. After the Abu Simbel trip, we will drive back to Aswan. On arrival, we will get on the Nile Cruise and have lunch on board at 1 PM. You could try felucca ride on the Nile River in the whole afternoon, to overlook Aswan, admire landscapes on banks and charming sunset. When you get back to the cruise, have dinner and stay aboard in Aswan.
Meals: Breakfast, Lunch, Dinner
Cruises: Concerto Nile cruise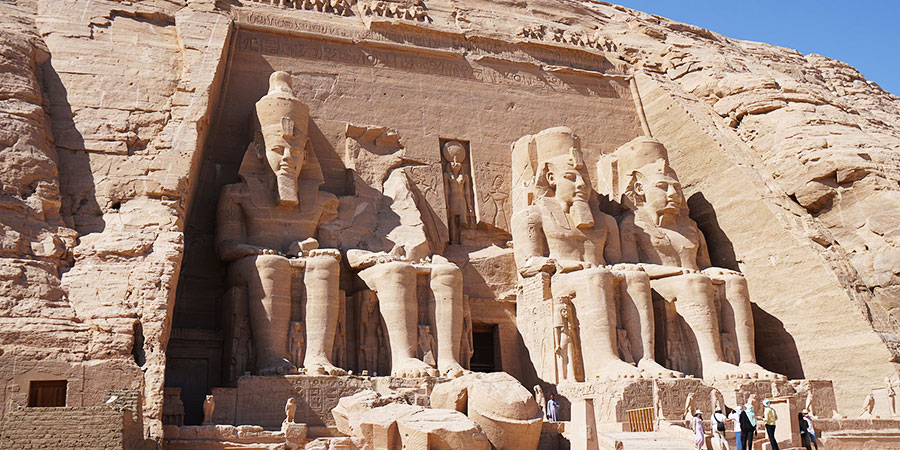 Appreciate the huge carving works at the Temples of Abu Simbel
Day 5
Nile Cruise: Aswan - Kom Ombo - Edfu
Sail to Kom Ombo, Kom Ombo Temple. Sail to Edfu. (B+L+D)
After breakfast on board, our luxury Egypt tours will continue. The cruise will take you to Kom Ombo for about 3 hours, where you will visit Kom Ombo Temple that both Haroeris, the God of Falcons and Sobek, the God of Crocodiles are enshrined. Then the ship will go on sailing to Edfu, the place we will overnight on board tonight.

Meals: Breakfast, Lunch, Dinner

Day 6
Nile River Cruise: Edfu - Luxor
Temple of Edfu. Sail to Luxor, Karnak Temple, Luxor Temple. (B+L+D)
After breakfast on the cruise, we are to visit the Temple of Horus, the 2nd largest and best preserved Egyptian temple. It's dedicated to Haroeris, the God who has a human body but a falcon head. Then the ship restart to Luxor, and you can have your lunch on it. As the cruise berths in Luxor, we will go ashore the east bank to visit the Temple of Karnak, the largest-scaled Egyptian temple as well as the world's largest ancient religious site; and Luxor Temple, the attached one with diverse statues of mythical creatures. Get back to the ship for dinner and stay overnight in Luxor.
Meals: Breakfast, Lunch, Dinner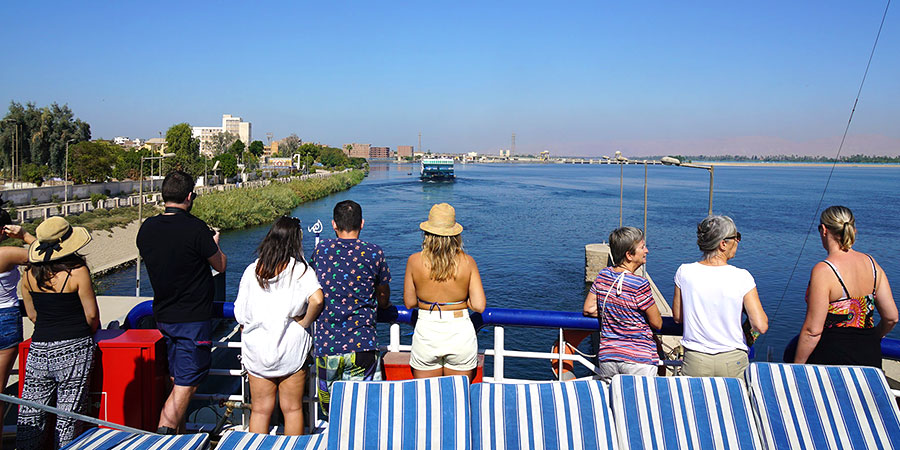 Take a leisurely cruise on Nile River
Day 7
Luxor - Hurghada - Sharm El Sheikh
Valley of the Kings, Temple of Queen Hatshepsut, Mortuary Temple of Ramesses III, Colossi of Memnon. Drive from Luxor to Hurghada and then take ferry to Sharm El Shaikh. (B+L)
In the morning, we will visit the Valley of the Kings, the Temple of Hatshepsut, the Mortuary Temple of Ramesses III at Medinet Habu and the Colossi of Memnon on the west shore of Luxor. Valley of the Kings houses more than 60 tombs of ancient pharaohs; Temple of Hatshepsut, the thousands-year-old site is full of reliefs of the legendary female pharaoh, Hatshepsut, whose name has been immortal. As for Colossi of Memnon, it features two isolated, marvelous, huge sitting statues on the fields.
After that, you will be driven to Hurghada, a coastal city by the Red Sea. Taking 3.5 hours to arrive in the city, and then you will take a 2-hour ferry to get to the destination of our deluxe Egypt tours today - Sharm El Sheikh located by the Red Sea. Upon your arrival in Sharm El Sheikh, you will be transferred to the hotel at local.
Meals: Breakfast, Lunch
Accommodation: Cleopatra Luxury Resort Sharm El Sheikh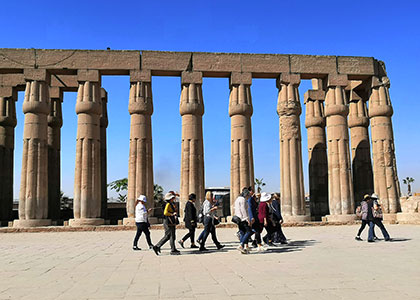 Luxor Temple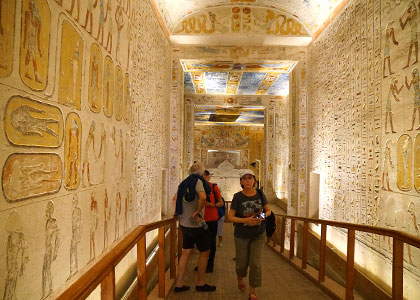 Valley of the Kings, Luxor
Enjoy the leisure time in Sharm El Sheikh. (B+L+D)
You can have a good time freely in Sharm El Sheikh, to enjoy the wonderful seascapes of the Red Sea: stunning beaches, warm sea water and ample sunlight all year round.

Meals: Breakfast, Lunch, Dinner

Enjoy the leisure time in Sharm El Sheikh. (B+L+D)
Another free day for you in Sharm El Sheikh. You may go to see varieties of corals, go windsurfing, diving, or go off-road riding on the beach. You will find a surprising underwater world in this city.
Meals: Breakfast, Lunch, Dinner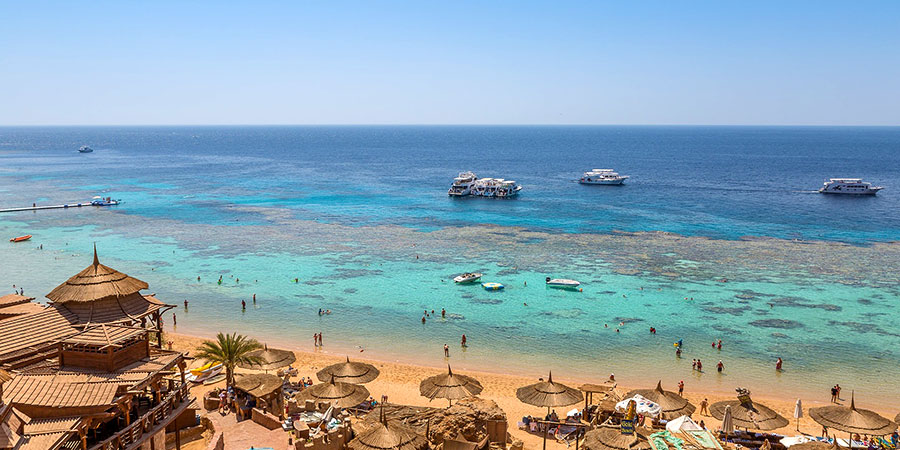 The charming beach resort along the Red Sea
Day 10
Sharm El Sheikh - Cairo
Free time in Sharm El Sheikh till noon time. Transfer to Sharm El Sheikh Airport for the flight back to Cairo & airport-hotel transfer. (B+L)
You will spend the last morning in Sharm El Sheikh, so you can enjoy yourself here heartily. Then you have to leave for Sharm El Sheikh airport and fly back to Cairo in the afternoon.
Meals: Breakfast, Lunch
Accommodation: InterContinental Cairo Semiramis





Egyptian Museum, Coptic Cairo, Khan El Khalili bazaar. (B+L)
A Cairo day tour will be arranged at the end of luxury Egypt tours. After breakfast, you will be escorted to visit the Egyptian Museum, the treasury of dazzling ancient relics of Egypt, especially those unearthed from pyramids. Then we will go for Coptic Cairo in the old city, to Hanging Church, Abu Serga Church and Ben Ezra Synagogue. We need to climb a long steps to reach Hanging Church on high; gorgeous Abu Serga is the oldest Coptic Orthodox Church; and Ben Ezra is the earliest Jewish synagogue in Egypt.
We will also drive to Islamic Cairo in the old town, where Egypt's best known Khan El-Khalil bazaar lies. It is centuries old with row upon row of shops selling Egyptian traditional handicrafts, local snacks, and Arabic coffee, etc. Finally, we will go back to the hotel.
Meals: Breakfast, Lunch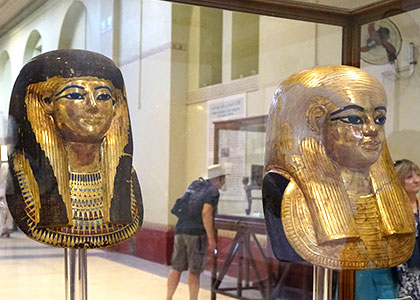 Golden masks exhibited in Egyptian Museum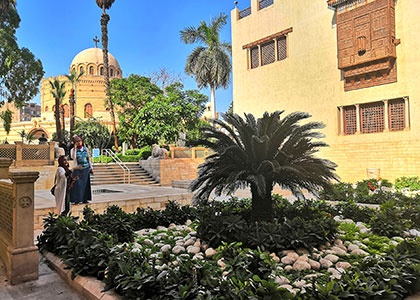 Coptic Museum
Day 12
Departure from Cairo
Hotel-airport transfer & airport see-off. (B)
After having breakfast at the hotel, we will drop you off to Cairo airport for your flight home. So far your tours in Egypt end successfully. Wish you a smooth return trip!

Meals: Breakfast

B-- Breakfast
L-- Lunch
D-- Dinner
Tour Prices
| Travelers | 2-3 travelers | 4-5 travelers |
| --- | --- | --- |
| Year Round | $2679 | $2509 |
Prices are per person in US Dollars based on double occupancy.
Any parts of the itinerary e.g. tour length, activities & hotels can be tailored to your individual interests.
Above prices are based on the sailing dates of 5-star cruises: M/S Concerto/ Blue Shadow/ AL Hambra/ Nile Style/ Princess Sarah.
Price Includes
Domestic airfares (economy class): Cairo/ Aswan & Sharm El Sheikh/ Cairo
Hotel accommodation in Cairo, Aswan & Sharm El Sheikh for 8 nights
Nile Cruise, 5 stars deluxe for 3 nights full board
Private English-speaking guide on land tours
All transfers in air-conditioned vehicles as per the itinerary
Meals as listed in the itinerary
Entrance fees to the mentioned sites
Free bottle of water
All service charges and taxes
Price Excludes
International airfares into and out of Cairo
Personal expenses (such as insurance, laundry, telephone, drinks, etc.)
Tips for guides and drivers
Personal travel insurance
Egypt visa fee