Malaysia Holiday with Langkawi
TMY07: 7 Days Private Tour of Kuala Lumpur - Malacca - Langkawi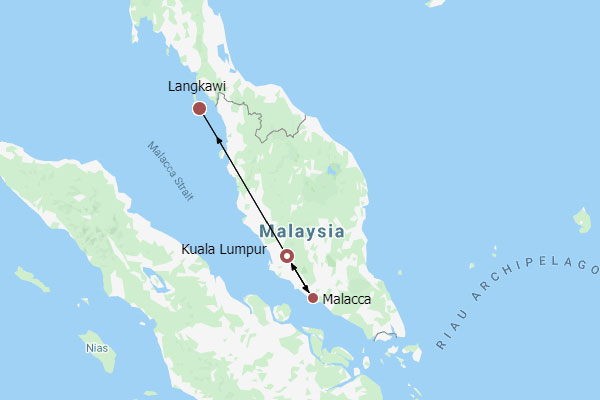 Tour Type:
Private Tour, any parts of the itinerary can be customized
Guide:
English-speaking driver guide, experienced and knowledgeable
Vehicle:
Air-conditioned car, spacious and comfortable
Accommodation:
4 to 5-star hotels, also be open to your own choice
Meals:
Authentic local cuisines and western-style food for your choice
Day 1
Arrival in Kuala Lumpur, Private transfer to Malacca
Welcome to Malaysia! Our English-speaking driver will pick you up at the airport and then transfer you to Malacca, the oldest city in Malaysia. Check in the hotel after arriving.
Accommodation: Ramada Plaza by Wyndham Malacca





Day 2
Malacca city tour, Private transfer back to Kuala Lumpur
Malacca is the first stop of your Malaysia holidays. First, you will visit the oldest Chinese temple, Cheong Hoon Teng Temple and you can freely control the time of the visit. Later, we will head to the Dutch Red Square Stadhuys for a free photo tour and then pass through St. Paul's Church and the Fortress Porta de Santiago. Later, strolling on the Joker Street, you can taste various local snacks. Lunch is on your own. Our driver will be delight to recommend some restaurants if you need.
In the afternoon, we will go to Taman Rempah Jetty and take Malacca River Cruise to visit Malacca for about 45 minutes. After the visit, the driver will take you back to Kuala Lumpur and check in the hotel.
Meals: Breakfast
Accommodation: Traders Hotel Kuala Lumpur by Shangri-La




Day 3
Full day Kuala Lumpur tour with Batu Caves
In the morning, the driver will pick you up at the hotel and drive out of the city to visit Batu Caves, the famous Hindu shrine in Malaysia. But before your visit to the main cave, you need to climb 272 stairs. After the tour, we will drive back to Kuala Lumpur to start a wonderful Kuala Lumpur city tour. Independence Square is the first stop where you can visit and take photos freely as well as see the exterior of Sultan Abdul Samad Building. Lunch is on your own. Our driver can recommend restaurants based on your preferences.
After lunch, a visit to the National Mosque will be arranged. The driver will introduce you this attraction on the way. Upon arrival, you will visit it by yourself. Finally, we will reach the Petronas Towers where you will be led to the 41st floor onto the Sky Bridge (including tickets to observation desk), overlooking the panoramic view of Kuala Lumpur city.
Meals: Breakfast
Accommodation: Traders Hotel Kuala Lumpur by Shangri-La




Day 4
Fly to Langkawi with a stop at the King's Palace
Today the driver will take you to the airport for a flight to Langkawi. We will stop by the King's Palace and leave you a suitable time to take pictures from outside. Then fly to Langkawi in 1 hour. Our local driver will pick you up and send you to the hotel. The rest of the day is free for you.
Meals: Breakfast
Accommodation: Casa del Mar Langkawi




Day 5
Full day Langkawi tour
Toady's Malaysia holiday packages will start with a visit to Oriental Village. Our driver will transfer you to the Oriental Village on time. As soon as we arrive at there, you will take the Langkawi Cable Car to reach Langkawi Sky Bridge where you can enjoy the panoramic view of Langkawi and take beautiful photos. The village also have a duty-free store and restaurants. Lunch is on your own and the driver will recommend you a suitable restaurant for lunch.
Going to Kilim Geoforest Park's pier to have a Mangrove River cruise tour is the itinerary arranged in the afternoon. It takes about 2 hours. When the boat moves through the mangroves, you can see different animals such as eagles. A thrilling exploration to the bat caves will definitely impress you. We will also visit a floating fish farm. You will be transferred to the hotel after finishing all the visits.
Meals: Breakfast
Accommodation: Casa del Mar Langkawi




Day 6
Free day at Langkawi
A free day is arranged for you today. You can enjoy swim, sunbath and enjoy the beautiful sunset on the beach.
Meals: Breakfast
Accommodation: Casa del Mar Langkawi




Here is the end of your Malaysia holidays. After breakfast, our driver will escort you to the airport and see you off. A pleasant trip home!
Meals: Breakfast

Friendly Tips
An English-speaking driver is arranged for you during the Malaysia holiday packages. The driver will explain attractions you are going to visit. Some scenic spots will be explained in advance by the driver and you need to visit inside on your own. Some attractions have their own natural guides taking clients to visit the sites.
B-- Breakfast
L-- Lunch
D-- Dinner