Hong Kong Maps

Click to enlarge it
.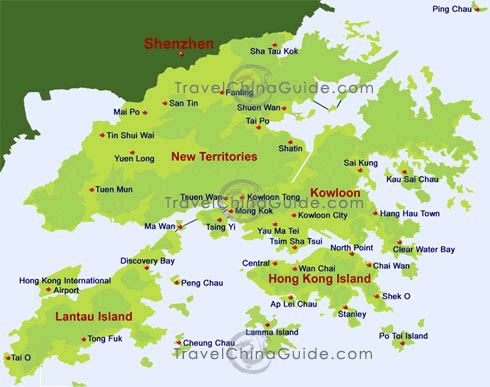 This is a map of Hong Kong SAR of PRC. The city is made up of the New Territories, Kowloon, HK Island and the other over 200 islands. As you can see, the New Territories covers most of the area, adjoining Shenzhen on the north. The well-known locations, such as Central, Tsim Sha Tsui, Mong Kok and Yau Ma Tei, mainly distribute by the Victoria Harbour. The Lantau Island is the biggest outlying island of Hong Kong, where the Hong Kong International Airport is located.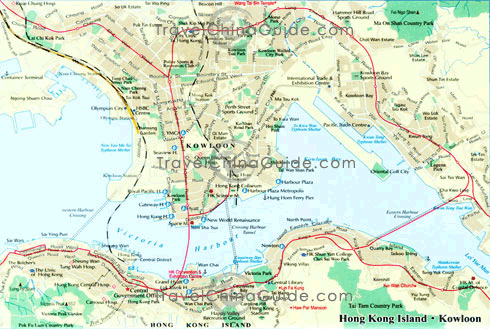 This is a tourist map of part of HK - Kowloon and HK Island. The transportation between the island and Kowloon relies on the Crossing Harbor Tunnel, the Airport Express Line, 3 MTR rails and ferry.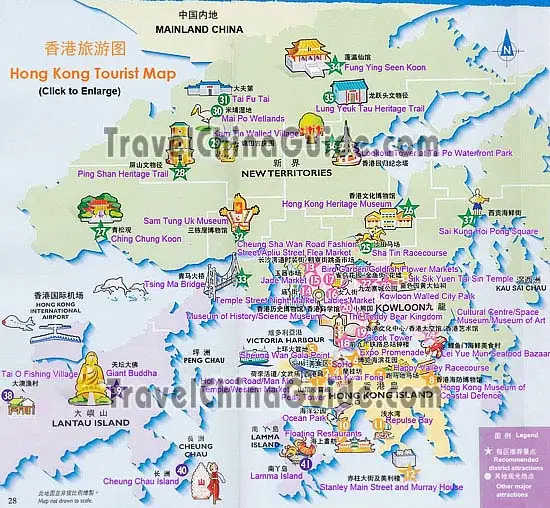 Hong Kong Transportation Maps
Hong Kong Attraction Maps

See more
Hong Kong Train Maps
- Last modified on Nov. 30, 2018 -
Questions & Answers on Hong Kong Maps
Asked by Lina Ru from INDONESIA | Nov. 19, 2018 06:09

Reply
Will landed in Hongkong at 11am and next flight at 01.55am.
please help me with itinerary to explore HK. No lantau island, been there before. I heard Victoria harbour has night show, what time that show and is it possible see the show and must be at the airport around 10-11pm? Thank you
Answers (1)
Answered by Hailey from USA | Nov. 20, 2018 00:36

0

0

Reply
The night show will start at 20:00 every day. The show may last about 15 – 20 minutes so you go on seeing the night scenery along the harbor or stroll around the downtown.
Asked by Piko from SINGAPORE | Oct. 30, 2018 22:14

Reply
My kids are going for an event at Hong Kong Tuen Mun.
I was told to stay at tsim sha tsui. Which is a good hotel to stay for 2 adults and 2 kids (8 and 10 years old)? Thanks.
Answers (1)
Answered by Dana from USA | Oct. 31, 2018 18:28

0

0

Reply
InterContinental Hotels & Resorts is recommended to you, located at No.79 Mody Road, East Tsim Sha Tsui, Kowloon.
Asked by Klinsi from MALAYSIA | Oct. 30, 2018 22:13

Reply
Are Hong Kong History Museum and Science Museum are recommended for kids?
Can we cover both museums in a day?
Answers (1)
Answered by Sansaui from FRANCE | Oct. 31, 2018 18:30

0

0

Reply
Yes, they are good places for kids, learning the history and the modern scenic. And you are advised to visit the history museum for about 4 hours and science for 3 hours. I think you can cover both in a day if you set out early.
Asked by Klinsi from MALAYSIA | Oct. 30, 2018 22:11

Reply
Which hotel do you suggest to stay in the Hong Kong Disneyland?
Answers (1)
Answered by Nelson from USA | Oct. 31, 2018 18:34

0

0

Reply
The Disneyland Hotel is recommended to you and it is near the scenic area, about 10-minute walk; about 30-minute ride from the airport. The transportation is very convenient and the environment is very nice for relaxation and fun.
Asked by Clarissa from PHILIPPINES | Aug. 17, 2018 21:49

Reply
Hong Kong & Macau 3 Days Itinerary
Please help me to make itinerary if ok with you.wer staying 3nights and days,the first day is in disney hotel,the ff day is in Macao,and the last is in the center wich is Tsim Sha Tsui.please can refer me witch hitel coz we sont have yet hotel at Tsim Sha Tsui.thanks
Answers (1)
Answered by Richard from SWITZERLAND | Aug. 22, 2018 01:29

0

0

Reply
I'd like to give you some suggestion:
Day 1: Explore HK Disneyland
Day 2: Macau: Macau Tower, Ruins of St. Paul's, Senado Square, and Venetian Macau-resort Hotel
Day 3: Back to HK: Victoria Harbor and Victoria Peak.