One Week Cancun Tours
TMX07: 6 Days Private Tour of Merida - Chichen Itza - Playa del Carmen - Tulum - Cancun
Tour Type:
Private Tour, any parts of the itinerary can be customized
Guide:
English-speaking guide, experienced and knowledgeable
Driver:
Private driver with a spacious air-conditioned car
Accommodation:
4 to 5-star hotels, also be open to your own choice
Meals:
Authentic local cuisines and western-style food for your choice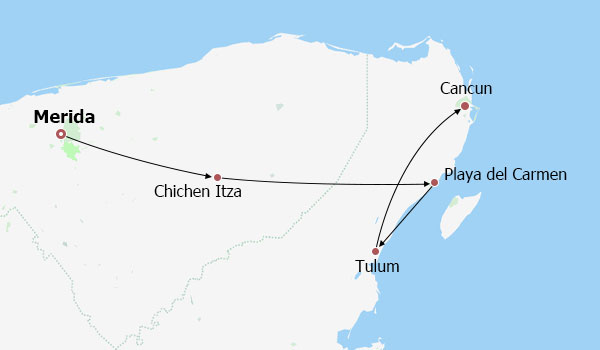 Day 1
Arrival in Merida city; Airport Pick-up
Welcome to Merida! Our driver and the guide will wait for you on time at Merida International Airport. After sending you to the hotel, you can arrange your own time in the rest of the day. Merida is a well-known cultural city in Mexico with rich history, where you can see many famous ruins featuring Mayan civilization and colonial times.
Accommodation: Casa Lucia Hotel Boutique




or similar
Day 2
Private Tour of Celestun Biosphere Reserve and Merida City
Today's arrangement of our Cancun vacation packages is as follows: After having breakfast at the hotel, our tour guide and the driver will take you to the Celestun Biosphere Reserve, 92 kilometers west of Merida city. We will take a boat through some lagoons, admire the primitive rainforest along the way, and observe different kinds of flora and fauna. If the weather is fine, you can swim in the clear water of the lake. If you avoid the rainy season, you will also have the opportunity to see a large number of flamingos gathering here. In the afternoon we will drive back to Merida and visit Merida Plaza Grande, Palacop del Gobernador, and Merida Cathedral.
Meals: Breakfast
Accommodation: Casa Lucia Hotel Boutique




or similar
Day 3
Private Tour of Chichen Itza Archeological Site; Drive to Playa del Carmen
On the 3rd day of Cancun tours, we will drive 4 hours to the famous Mayan ruins, Chichen Itza, which is also one of the New Seven Wonders of the World. Firstly we will visit the Pyramid of Kukulcan. 'Kukulcan' means the feathered snake god in Mayan language, and he was in charge of the rain and harvest. The Pyramid of Kukulkan is a wonderful display of Mayan knowledge of architectural geometry, and its design is extremely elaborate. Then we will visit the Grand Ballcourt, the largest ballpark ever found in all American cultural Indian sites. The last attraction of today's Cancun vacation packages is the Holy Well. After that, we will head to the hotel in Playa del Carmen, the central region of Riviera Maya.
Meals: Breakfast
Accommodation: Fairmont Mayakoba





or similar
Day 4
Explore Sian Ka'an Biosphere Reserve and Tulum Archeological Site
Today we will drive about two hours to one of Mexico's most important natural habitats, the Sian Ka 'an Biosphere Reserve. Located on the eastern coast of the Yucatan Peninsula, it consists of tropical forests, mangroves and swamps, as well as Marine areas separated by reefs. A great variety of animals and plants live here. After arriving at Sian Ka'an, the guide will lead you on a hike to the Muyil-Maya temple and then a short walk along the waterside path. Later we'll explore this reserve by boat, looking for natural wells below the surface. You can also swim in clear waterways or float on the rivers during the journey. After landing, we'll drive to Tulum, the only Mayan city in the Caribbean. The guide will take you on a tour of the ancient Mayan archaeological area of Tulum to learn about its history and architectural style. Finally we will go to Cancun, taking about 1 hour on the way.
Meals: Breakfast
Accommodation: Hampton Inn by Hilton Cancun Cumbres




or similar
After breakfast, we'll take a 34-foot catamaran tour around Cancun Bay, where you can enjoy the stunning views of the resorts along the coast. Today we are going to the beautiful island of Isla Mujeres, while all activities on this island are at your own expense. It is recommended that you rent a golf cart, travel around the island with your friends, go snorkeling, or do nothing but just relax on the deck to enjoy sunbathing. Finally we will go back to the hotel in Cancun.
Meals: Breakfast
Accommodation: Hampton Inn by Hilton Cancun Cumbres




or similar
Day 6
Cancun Departure; Airport See-off
Your Cancun tours will be over today. Our driver and the tour guide will pick you up from the hotel to send you to Cancun International Airport. Have a nice trip!

Meals: Breakfast
B-- Breakfast
L-- Lunch
D-- Dinner