Wonders of Yucatan Peninsula
TMX10: 9 Days Private Tour of Cancun - Tulum - Palenque - Campeche - Uxmal - Merida - Chichen Itza - Cancun
Tour Type:
Private tailor-made tour
Guide:
English-speaking guide, experienced and knowledgeable
Driver:
Private driver with a spacious air-conditioned car
Accommodation:
4-star handpicked hotels, also be open to your own choice
Meals:
Authentic local cuisines and western-style food for your choice
This trip can be customized to meet your individual needs!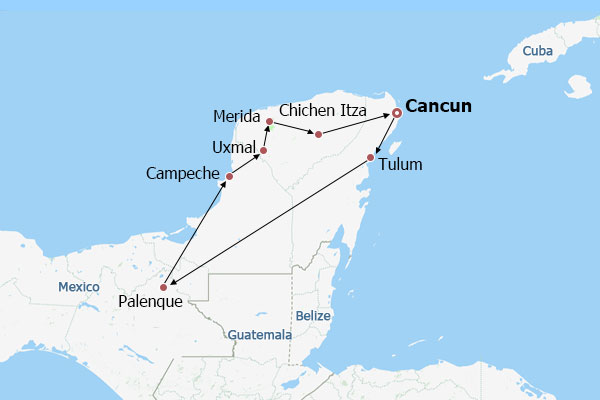 Day 1
Welcome Pick-up at Cancun Airport
Welcome to join our Yucatan Peninsula tour! Upon your arrival, our English guide and an experienced driver will meet you up at Cancun International Airport on time, holding your name sign. Then you will be transferred to your hotel and have free time in the rest time of the day. As a popular international tourist city, Cancun attracts a large number of tourists from all over the world with its charming island views.
Accommodation: Hampton Inn by Hilton Cancun Cumbres
or similar
Day 2
Cancun - Tulum - Bacalar - Chetumal
Today we will drive about two hours to Tulum, an important site of the late Mayan culture on the Caribbean coast. Nowadays, most of the city's buildings are stone shrines, palaces and columns, which the tour guide will show you and help you understand their history. Later, we will visit the gorgeous Laguna Bacalar, also known as the Lake of Seven Colors. Laguna Bacaral is the second largest fresh water lake in Mexico. It is called the "the Lake of Seven Colors" because it has clear divisions varied in color, due to different depths, and under different light during a day. It is not only a resort, but also a great place for locals to meet. Finally we will arrive in Chetuma and stay overnight.

Meals: Breakfast
Accommodation: Fiesta Inn Chetumal or similar
Day 3
Chetumal - Maya Heritage in Rio Bec Region - Palenque
After breakfast, we will visit Chicanna, a Mayan site in the Rio Bec region. It was probably the place where the aristocratic elite of the Rio Bec region lived, and you can see the ornate buildings and the Itzamna mask here. Becan, near Chicanna, is one of the most exquisite Mayan sites in the Rio Bec region. The main feature of it is the 2 km long moat around the city, which protects the people and buildings from attack. After the tour, we will go to Palenque and stay at the hotel.
Meals: Breakfast
Accommodation: Hotel Quinta Chanabnal
or similar
Day 4
Palenque: Visit Maya Ruins and Agua Azul Waterfalls
In the morning we will explore the tropical rainforest of Palenque and visit the ancient Mayan ruins. Then go to Waterfalls of Agua Azul. You can see the rushing white waterfall with a thunderous sound falling into a clear pond, surrounded by the verdant forest, which is breathtaking. Finally we will go back to Palenque.
Meals: Breakfast
Accommodation: Hotel Quinta Chanabnal
or similar
Day 5
Palenque to Campeche
Leaving Palenque in the jungle, we will next drive through the stunning landscapes of coastal plains of Sabancuy and Campeche on the Gulf of Mexico. In the afternoon, we will go to visit a must-see attraction in Campeche, Historic Fortified Town of Campeche. Campeche is a port city in Mexico. There are many old buildings, which are the masterpieces of Baroque architecture from the colonial period.
Meals: Breakfast
Accommodation: Campeche Ocean View
or similar
Day 6
Campeche - Uxmal - Merida
On the 6th day, we will leave for Uxmal in the morning, which is about a 2 hours' drive. On the way we will pass through typical Mayan villages. After arriving in Uxmal, we will visit the world-famous Mayan ruins, the spectacular Pyramids, the Governor's Palace and the Nunnery Quadrangle. Puuc style can be seen everywhere, and the dominant architectural decoration style of Puuc is the result of the influence of foreign cultures on the Mayan civilization. We will also visit the Yaxcopoil Estate to learn more about how people lived in the past and to trace the history of sisal production in the 19th century. Afterwards, we will leave Uxmal, and arrive in Merida 1 hour later. You can check into the hotel for rest.
Meals: Breakfast
Accommodation: Casa Lucia Hotel Boutique
or similar
Day 7
Merida - Celestun Biosphere Reserve - Merida
After a hearty breakfast, your guide and the driver will take you to the Celestun Biosphere Reserve, 92 kilometers west of Merida city. The Celestun Biosphere Reserve is the largest flamingo colony in North and Central America, where you can see thousands of pink flamingos in the wild. Large mangroves along the coast form the core of this natural system, and flamingos cluster in saltwater lakes between them. We'll take a boat tour of the reserve, float through narrow waterways surrounded by mangroves, look at the dense, root-tangled jungle on both sides, and look for different species of flora and fauna. The best time to see flamingos is from March to September.
Here you can feel the harmony between man and nature. If the weather is fine, you can swim at Celestun Beach. In the afternoon, we will return to Merida city, and then visit Merida Grand Square, Merida Cathedral, and Monument of the Motherland. In the end of the day we will take you back to the hotel.
Meals: Breakfast
Accommodation: Casa Lucia Hotel Boutique
or similar
Day 8
Merida - Chichen Itza - Cancun
We will head to Chichen Itza today, with a 4-hour drive on the way. It was inscribed on the World Heritage List in 1988 and is a famous Mayan civilization site. In this guided tour, you will learn more about the architectural culture of the Mayans and the Toltecs. After lunch, we will drive to the colonial city of Valladolid. Along the way we will stop at Cenote Ik Kil and take pictures. Afterwards, it will take us about 2 hours to drive to Cancun to check into the hotel.
Meals: Breakfast
Accommodation: Hampton Inn by Hilton Cancun Cumbres
or similar
Day 9
Cancun Airport See-off
Today our driver will wait for you at the hotel in advance according to your flight schedule, and then drop you off at Cancun International Airport. May you have a nice trip home and have had a great time!

Meals: Breakfast
This trip can be customized to meet your individual needs!
Tour Prices
Christmas & 2024 Special:
12% off
- Book before Dec 31, 2023
Travelers
2-3 travelers
4-5 travelers
Year Round

USD5189

USD4566

USD3379

USD2973
Prices are per person on twin sharing basis.
The prices in red reflect 12% discount.
Price Includes
Accommodation with daily breakfast at selected hotels
Service of English speaking guide as per itinerary
Service of private driver and air-conditioned vehicle
Entrance fees for all tourist sites as per the itinerary
Price Excludes
International flight into and out of Mexico
Personal expenses
Tips for guides and drivers
Personal travel insurance
Mexico visa fee
Itineraries you may also like: