Mubus is an excellent bus service offering single and round-trip transfers between Mutianyu Great Wall and downtown Beijing. Deducting time spent on the way, you will have about 5 hours for exploring the Mutianyu Great Wall, more than enough for a relaxing trip. It's a perfect choice for travelers wanting an independent tour. An English tour guide is available on the bus, ready to give you a hand at anytime! Now, let's see how it works.
Book the direct Mubus ticket and you will get a reservation confirmation.
On the appointed date, catch subway line 2 to the boarding point. Our tour guide in a red uniform will wait for you there. Present your confirmation and our guide will lead you to the bus.
As the bus sets off, your Mutianyu Great Wall tour starts. It takes 1.5 hours to the scenic area and you can appreciate the suburban scenery of Beijing along the way.
Upon arrival at the entrance of Mutianyu, we will leave a few minutes for you to use toilets and take pictures.
After buying entrance tickets for Mutianyu Great Wall, the Mubus will take us uphill directly, so we don't need to queue up for the shuttle bus like others. This not only saves the shuttle bus fare of CNY 15, but also saves our time. If you book a Mutianyu Great Wall ticket from TravelChinaGuide in advance, it is even more hassle-free.
Now it's time to have fun on the Mutianyu Great Wall. The well-preserved wall and magnificent watchtowers are really breathtaking.
After the tour, you need to return to the parking lot to take the Mubus back.
Where to board the Mubus?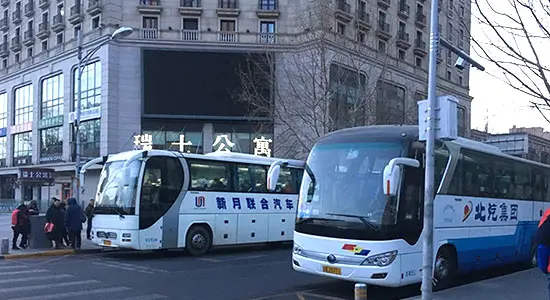 Mubus waits for you before Swissotel Beijing Hong Kong Macau Center
East gate of Swissotel Beijing Hong Kong Macau Center (near Hang Seng Bank)

How to get to the boarding point?
Take
subway line 2
and get off at Dongsishitiao Station. Get out from Exit C and you will see the hotel. It's strongly advised to take subway during morning peak hours. If the distance from your hotel to the boarding point is longer than 4km, you had better not take a taxi.
Time Schedule:

Morning Departure:
07:40: get on the bus at the boarding point
09:10: arrive at Mutianyu Great Wall Scenic Area and start your trip
14:30: return to the parking lot to take the Mubus back to downtown
16:00: arrive at the Swissotel Beijing Hong Kong Macau Center

Afternoon Departure:
12:00: get on the bus at the boarding point
13:30: arrive at Mutianyu Great Wall Scenic Area Scenic Area and start your trip
18:00: return to the parking lot to take the Mubus back to downtown
19:30: arrive at the Swissotel Beijing Hong Kong Macau Center